By
Jamie Dunn
Chelsea fans do not want Rafa Benitez at Stamford Bridge
Well, it finally happened. After eight months of fighting the urge, serial manager sacker Roman Abramovich had to scratch the itch and got rid of another tactician. Andre Villas-Boas,
WWLTW
hardly knew you.
And so once more begins the search for the boss who has to deliver Premier League and Champions League glory, but has just 12 months to do it. Are you out there, Super Man?
The early candidates have been identified, and among them is Barcelona manager Pep Guardiola, while Roberto Di Matteo has something of an audition period to stake his claim to the job.
But the immediate favourite with the bookies was former Liverpool boss Rafael Benitez, who has won the Champions League and once ran Manchester United close for the title.
Despite his credentials, however, Chelsea fans made it abundantly at the Blues' FA Cup victory over Birmingham City on Tuesday that Benitez is not their choice.



Tweet of the Week

"At safari park yesterday with kai. A monkey has stole my back window wiper. Cheeky monkey."

- Wayne Rooney is outfoxed by a furry hooligan
"You're not welcome here, you're not welcome here, f*** off Benitez, you're not welcome here," they sang in their droves, before launching into a round of the classic hit 'You're Just a Fat Spanish Waiter', a favourite during the goateed one's stay with Liverpool. It's on Youtube, you'll find it.
The obvious favourite among Stamford Bridge regulars is London house-hunter Jose Mourinho. It makes sense, after all, as his shadow still lives there. Several managers have been engulfed by it since he parted ways with the club in 2007.

Roy Keane hates having his ears flicked
Prior to that 2-0 Chelsea victory over Birmingham, ITV presenter Adrian Chiles sat in the gantry at St Andrew's with former England defender Gareth Southgate and Roy Keane, pitching questions and floating analysis to pictures of the players during the pre-match warm-up, as standard.
During that time, Southgate, who was undoubtedly just about to crack the whole reason behind Fernando Torres' continued slump in form, broke away from a Eureka moment at the sight of John Terry and Frank Lampard flicking Romelu Lukaku's ears. Keane was not impressed.
What we will learn this weekend...


"He's been unlucky," Harry Redknapp will say after dropping Jermain Defoe from the starting XI to face Everton on Saturday, despite his two goals in the FA Cup against Stevenage on Wednesday.

Mario Balotelli will give up football and join Noel Gallagher's High Flyin' Birds after hitting it off with the former Oasis man in a recent interview. Their first single will be called 'Why Always Us?'

"It's so childish, it's crazy," Keane said, his stony face a picture of terror. "All that carry on is ridiculous; they've just let their manager down. They should be focused on trying to win a game of football."
Southgate afforded himself a nervous chuckle, no doubt terrified of what may happen to him and Chiles, unsure of how to proceed so as to see both of their lives spared by the former Manchester United hard man and grower of exceptional beards.
Keane allowed them to live, but continued: "All that carry on just reflects what mood must be in the camp.
"They're carrying on like that in the warm-up, flicking each other's ears. They've let their manager down badly. It's an absolute disgrace, they should be professional, focused on the games and not behaving like that."
Pre-match ear flicking: a microcosm for everything wrong with the modern game in this country. Who'd have thought it? Keane for England,
WWLTW
says.
England revelled in Arsenal's heroic failure
Ah, England. We love a heroic failure, because we've had to get used to it while watching our national side. Revelling in what could have been is the closest we ever get to winning anything, and it made Arsenal's defeat to AC Milan all the more bittersweet for the neutral on these shores.
Arsene Wenger's side were left a mountain to climb after showing up and having their collective belly tickled in a 4-0 defeat at San Siro two weeks ago, courtesy of goals from Kevin-Prince Boateng, Zlatan Ibrahimovic and two from Robinho.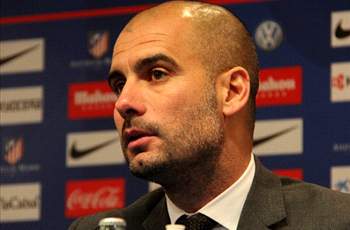 Quote of the Week

"Yes, yes, sure, I speak to Chelsea every day"
- Sarcasm, thy name is Pep Guardiola. The Barcelona boss is giving nothing away.
Unperturbed, Arsenal gave it the good old go, scoring three goals in the first half, through Laurent Koscielny, Tomas Rosicky and Robin van Persie - who scores when he wants, apparently, though if that were true surely his team would always win - before eventually running out of puff at around the hour mark.
Arsenal ran Milan ridiculously close in the end, and it's the sort of story we love. As the quintessentially British John Cleese once said in the film, Clockwork: "I can take the despair, it's the hope I can't stand."
Still, at least we can all go back to saying Ibrahimovic is rubbish in the 'big' games, because although
WWLTW
championed the Swede two weeks ago, he was thoroughly uninvolved at the Emirates Stadium, save for a moment of near magic afforded him by Wojciech Szczesny that trickled just wide.
Never mind his brilliant hat-trick against Palermo a few days before on his return from a suspension. We don't want to hear it, do we British media? If it didn't happen here, it simply didn't happen.