The Welsh striker showed up his faltering team-mate against Manchester City, while the FA continues to be inconsistent and try as they might, Real Madrid just can't beat Barcelona
By
Jamie Dunn
Craig Bellamy is everything Andy Carroll is not
Liverpool booked a place in the League Cup final on Wednesday with a 3-2 aggregate victory over Manchester City, after dominating a second leg 2-2 draw. Where was this Liverpool side when Nigel Reo-Coker, of all people, was bossing a 3-1 win for Bolton at the Reebok Stadium on Saturday?
Craig Bellamy - who started the game after scoring against Bolton while Andy Carroll dropped to the bench - was on fire (not literally, Jamie Redknapp). Bellamy pressed and harassed Stefan Savic for the entire first half, and the centre-back looked like the kid in the playground who just wanted to be left alone while he played with a cup and ball… not that
WWLTW
was ever that child… honest.
Savic was replaced at the interval but Bellamy, with the assistance of Dirk 'Mr Industry' Kuyt continued to cause havoc in a dominant Liverpool display and, despite City scoring with two of only six shots on target, the Welsh striker settled the tie with a late goal.
Persistent, energetic and currently Liverpool's top scorer, Bellamy is the anti-Carroll. They are chalk and cheese, night and day, Jeckyl and Hyde, Alien and Predator (whom they actually bare a likeness to). You get the point. They are different.
But this column is not one to pick on Carroll – mainly through fear of Kenny Dalglish.
WWLTW
has nightmares about being caught in that steely Scotch mist of a glare.
Then again, Dalglish displayed his softer side at full time in Wednesday's semi-final as he was moved to tears of joy by the result.
At least the League Cup still means something to someone.
Smashing someone with your forearm is ok, stamping on them is not
You know what your parents used to say: "It's all fun and games until someone loses an eye."
Well, this week, you could very nearly apply that phrase to Mario Balotelli, because for all the bib-struggling, the botched showboating and the in-house fireworks displays, the Italian showed us something a little more spiteful in the 3-2 victory over Tottenham on Sunday.
Balotelli was hit with a four-game ban by the FA after appearing to aim a stamp at Scott Parker at the Etihad Stadium, before going on to score the winning penalty to rub the salt firmly into the Spurs wound.
City decided not to appeal the ban with assistant manager David Platt suggesting to do so would be "futile" – probably because Balotelli aimed a stamp at Parker, but we're left to fill in the blanks for ourselves.
It's a good job Parker's head is full of bulldog spirit, grit and British beef, else the Italian could have done some serious damage.
Earlier, in a move more Frank Bruno than Franco Baresi, Joleon Lescott threw an arm into the face of Younes Kaboul, flooring the centre-back in the process. Given the French defender has more than a passing resemblance to Dwayne 'The Rock' Johnson, that is no mean feat.
Lescott faces no further action, as match official Howard Webb suggested had he seen the incident as it happened, he would only have given the defender a yellow card, thus redressing the balance in the rumours he is a Manchester United fan... but you didn't hear that here, ok?
Meanwhile, Stoke City striker Peter Crouch faces no action for indulging in a casual bit of eye-gouging on part-time West Brom defender, full-time heavy metalhead (probably) Jonas Olsson, no matter how clearly caught on camera it was. The mind boggles.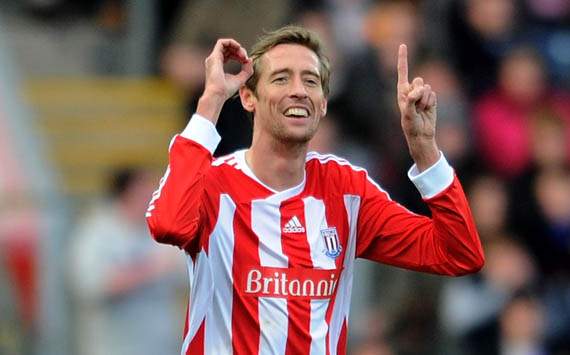 "Crouch one, Olsson nil!" | Oh, Crouchy. Such a cheeky chap
What we will learn this weekend...


Whether or not Anton Ferdinand is preparing to 'do a Wayne Bridge' and snub a handshake with John Terry when QPR face Chelsea, as the racism row involving the pair continues.

The transfer window is finally going to kick into gear before promptly closing on Tuesday night, as Manchester City and Chelsea pay a combined £500 million for half of Lionel Messi each. At least that's what WWLTW is hoping for. January has been dull as dishwater thus far.

One of Liverpool or Manchester United will be eliminated from the FA Cup and cry conspiracy, blaming a contentious decision or an anti-club agena *hides behind office chair*

Jose Mourinho is damned if he does, and damned if he doesn't
And now, an apology.
Last week,
WWLTW
suggested El Clasico was becoming a little tedious as Real Madrid failed yet again to get the better of Barcelona in the Copa del Rey quarter-final first leg.
But, on Wednesday at Camp Nou, Madrid gave it a ruddy good go. Jose Mourinho's men were the better side for most of the first half, nearly taking the lead after seconds through Gonzalo Higuain, before Mesut Ozil sent a rapier cannoning off the crossbar and post from 30 yards, which nearly smashed through the pitch and halfway to China on its way down.
Yet, somehow, Madrid went into the interval two goals down, as Pedro opened the scoring before a Dani Alves thunderbolt appeared to have put the tie beyond doubt.
Madrid fought back though, and levelled the scores through Ronaldo and Karim Benzema while playing some attractive stuff, rather than trying to suffocate the life out of the game. But you just can't beat Barcelona, Jose,
WWLTW
sees that now. Unless you're the mighty Getafe, of course.
Some things never change, though. The referee was hounded throughout – have a look at yourself, captain Carles Puyol – and Sergio Ramos was sent off for two yellow cards, receiving the second in an incident involving none other than Sergio Busquets.
A few of these players must only have narrowly missed out on the running for a Best Actor gong at the Oscar nominations earlier this week.
Nobody is laughing at Bayern Munich's PR stunt
Bayern Munich looked set to kick the transfer window into gear on Thursday when they announced they would be broadcasting a press conference live on Facebook, in which they would be unveiling a new player.
"Finally!" proclaimed
WWLTW
. "Who could it be? Dimitar Berbatov? Didier Drogba? Surely not Eden Hazard?!"
Opening Facebook, this column located and 'Liked' *shudder* Bayern and waited patiently. Who could possibly appear?
Well, nobody, it turns out. What appeared was just
WWLTW
's mug staring back at him, wearing a Bayern No. 8 shirt. Hook, line and sinker.
A clever PR stunt? Maybe, but as a German
Goal.com
colleague pointed out, the timing was a little off considering the recent humbling at the hands of Borussia Monchengladbach, whose star player, Marco Reus, had recently turned down Bayern and opted instead to join Borussia Dortmund in the summer.
Countless Bayern fans are unlikely to have seen the funny side.