By Gianluigi Longinotti-Buitoni | Goal.com Founder & President
Fifa's choice of
Russia
and
Qatar
as hosts of
2018
and
2022
World Cup celebrates football as the world's sport, and demonstrates the capacity of our game to reach far beyond its athletic role into the social sphere. For Fifa to choose these countries must have been difficult because of the quality of the alternatives.
MORE...
Consider England - the cradle of modern football, known for its efficiency and its wealth of top-class stadia, and of course its passionate fans. In Spain and Portugal we find some of the world's top stars, an excellent infrastructure and, again, football aficionados who would make any event memorable. The United States, the number one sporting country in the world, made a great success of USA '94 and would certainly be the choice for making a viable business out of sport. Australia, too, is a culture that takes sport seriously, and the warmth of the people and the excellent facilities on offer would see the country's first World Cup a successful one. The Netherlands and Belgium, meanwhile, enjoy superb transport links, a fine footballing heritage, and no small amount of experience in welcoming fans of all nations to their countries.



"

Russia has always been something of a closed book for outsiders, and perhaps this tournament can help open the country up to the world

"






With such strong bids - why Russia and Qatar? They don't immediately leap out as an obvious choice - in fact, they're potentially risky ones. Fifa's decision to expand into unknown territories was courageous for this reason, and also because 2018 and 2022 follow closely on from the South Africa World Cup. This event was criticised for its logistical failings and the country's safety record. It was not the best organised tournament of all time (few can outshine Germany when it comes to organisation, after all) but even so it remains one of the most extraordinary World Cups of all time. It was a celebration of true football: its glory, its drama, its humanity. Despite the tournament's flaws, despite football's Hollywood pretentions, its technical incongruities, South Africa showed that of all sports, only football can unite the world. Soon it will be Russia's and Qatar's turns to make the same stand. They can grasp this opportunity to show that football can make a social and political contribution to our fragile planet.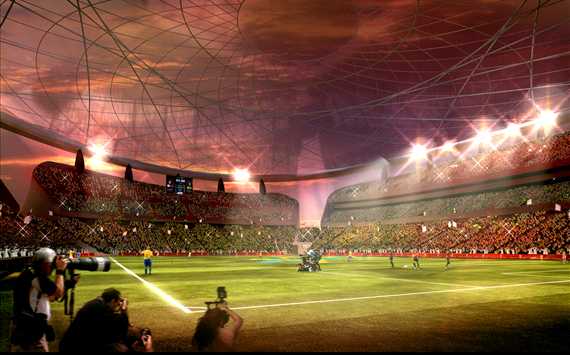 Rising from the desert | Qatar awared 2022 Fifa World Cup
The World Cup comes to Russia - a country with one of the oldest and deepest football traditions - for the first time. Russia has always been something of a closed book for outsiders, and perhaps this tournament can help open the country up to the world. There is a sense that Russia is stuck between the old world of the Cold War and the new - indeed, this historical syndrome is a challenge that virtually the entire world faces right now. With global friendship and co-operation more important than ever, the joy of sport may well be the catalyst we need to welcome a new Russia to a new World. In a footballing sense, too, there's much to look forward to: we all remember legendary players like Lev Yashin from the Soviet days, but now we look forward to seeing a generation of young Russians defend their shirt on home soil.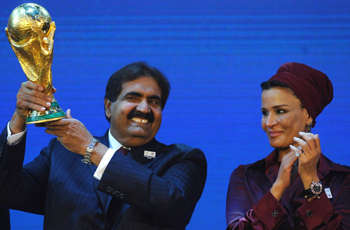 "
Today Fifa have acknowledged [the World Cup] is not exclusive and not only for certain countries
"


Current captain Andriy Arshavin, who'll be 37 by the time of the tournament, declared so insightfully, "Russia is in the process of shaping a new country, and its new and future generations." It's as true off the pitch as it is on it, and it's as true beyond Russia as it is within it: football needs to define its own future by expanding its role from being the world's greatest form of entertainment into one that can shape values, inspire social commitment, and create sustainable business models.
From this point of view Qatar is a profound choice, too. It synthesises perfectly what football needs to do. Football must succeed in Asia: as the world's largest potential market, Asia can help football overcome its endemic business weaknesses. More importantly, football must succeed in Asia to help the world overcome its vast cultural differences. If we're all united by sport, who knows what other boundaries and divisions we can overcome? Thus a World Cup in the Middle East is the strongest politically unifying statement football can make. This sport breaks down barriers and fosters co-operation, and as we've seen so many times in the past it can be the start of a common dialog towards peace. In such a sensitive region of the globe, it is no exaggeration to say that football could prove to be the first step, however slight, towards world peace.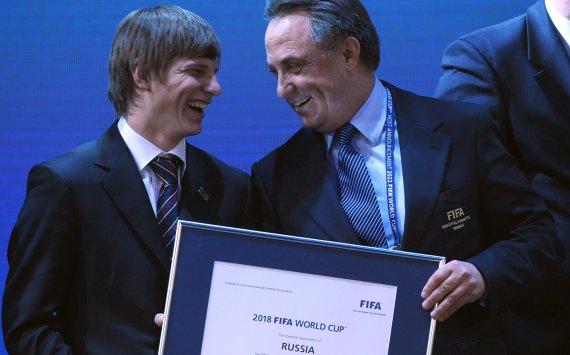 2018 | Russia have earned their chance to host football's illustrious tournament
What's more, for the future evolution of football, Qatar's an ideal test market. It has a passion for football like few others in the world. It may be small but it's got a great location, being just an hour's flight away from core Middle Eastern areas – and it is rapidly becoming a great travel hub for the world, too. It's true that weather conditions in summer are unforgiving, but Qatar's resources, willpower and its commitment to technology, will combine to overcome the heat issues, potentially helping football grow in other harsh climates. Russia, meanwhile, has vast areas to cover and much work to do ahead of the tournament. But that's part of the beauty of the World Cup: the idea that countries can do the unthinkable, that we can push the boundaries of the possible. By spreading the tournament to new lands, and introducing it to new people, we ensure that the world's game becomes truly multicultural.
Some will ask why Russia and Qatar - neither of whom qualified for the last World Cup - will now earn the chance to play in a major tournament without first qualifying. Given that South Africa were themselves struggling on the pitch before the World Cup, yet went on to miss out on the knockout stages by only the narrowest of margins, this seems a strange question. Examples abound, too, of surprises in the international game in general: Greece's European Championship victory is fresh in the memory, and who woud have thought that Uruguay had what it took to reach the semi-finals in 2010? Bulgaria in '94? Iraq winning the Asian Cup of 2007? It's the element of surprise that makes international football so thrilling. But there is one aspect of the game in which we don't enjoy surprises: that of running a tournament itself. Here, we need not worry. Russia and Qatar will do us all proud by hosting the World Cups that we know they're capable of.