By
George

Ankers
Arsenal 'til I die
"Honey, I'm home! And I brought the Premier League title with me!"
Some people just can't win. Robin van

Persie

is an Arsenal man through and through. Everything he has ever done has been for the Gunners' good and yet he was rewarded with hearty boos every time that he touched the ball on Sunday.
First he dragged the north Londoners near-single-

handedly

into the Champions League last season. Then he raked in £24 million for them by joining Manchester United.
GOOD WEEKEND


Liverpool
Not only did they win without Luis Suarez but the Reds' merciless rending of Newcastle pioneered the game-changing innovation that you do not have to bite people to succeed.

Gareth Bale
So clear was his domination of both the Player of the Year and Young Player of the Year prizes at the PFA awards that it was surprising not to see him win the Championship gong as well.



Emmerson

Boyce
Yes, he scored an own goal at the end, but the

Wigan

defender netted a priceless reply to Tottenham's comical opener. Without it, the

Latics

would have folded, their goal difference in tatters.
Arsenal were in no danger of winning the title even if he had stayed so it was a win-win – wrap up glory in double time, thus scratching his itch for trophies, then return to the Emirates Stadium immediately afterward to help their push for top-four football.
And so it was that, with nearly his first touch, Van

Persie

started a sizzling Gunners counterattack that resulted in Theo Walcott's opener. Yet the home fans still booed. He had even walked into the 'wrong' dressing room before the game, as if his continued allegiance could be more obvious.
He would not even have had to equalise if Bacary Sagna had not rushed over to him just before the half-time whistle to give him a big hug.
Unfortunately, the hapless right-back slipped and clattered into the Dutchman instead. From the spot, instinct took over; Arsenal would never have wanted him if he were not so primal a goalscoring force.
The players knew; they set up a guard of honour for him as he emerged onto the pitch, to make it clear to the supporters that this was a man to be loved and respected, who was on their side, not an enemy. That this message was not heeded is a tragedy for the loyal Van

Persie

.
Perhaps he will even be moved to abandon his fealty in the summer. "It didn't have to be like this," he will sob as he lifts the Premier League trophy in a United shirt, having scored the goal that dumped Arsenal into fifth the week before. "You drove me away."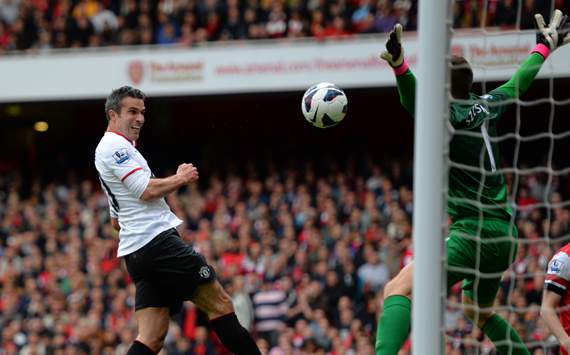 "Oh, yes, Wojciech, I will give you a hug! I'm so glad to be home"

Quote of the weekend

"If you saw where Joey lived in Marseille, I think it would be very difficult to get him back."
- Harry Redknapp, shortening the odds on Marseille in the 'where will Harry Redknapp go when he inevitably bails on his QPR car crash' market

Dignity: The Chelsea divide
As Bobby

Tambling

was paraded around the Stamford Bridge pitch at half-time on Sunday, it was a moment that made you realise: One day, Frank

Lampard

will be doing this. So will John Terry. The difference will be that

Lampard

will be doing so in a dignified suit and Terry will be doing so in full Chelsea kit, touting himself for an England recall.
While the midfielder carries on carrying on, quietly closing in on

Tambling

's all-time Blues goalscoring record and not making a fuss about his contractual situation, reports emerged on Saturday that Terry is itching to return to national duty.
BAD WEEKEND


QPR and Reading
OK, let's face it, just QPR. Reading have barely even noticed that they were promoted in the first place and will probably have won the Championship by October. The Rs, though, are up Leeds creek without a paddle.

Bobby

Madley


"Hey, Bobby! How would you like a quiet, nothing-to-play-for, mid-table clash between Southampton and West

Brom

for your first Premier League refereeing gig?" "Yes, please! What could possibly go wrong?"

Emmerson Boyce
Yes, he scored the equaliser in the first half, but the

Wigan

defender bundled in a catastrophic own goal at the death. Without it, the

Latics

would have been firmly on the way to another miracle survival.
Convenient that the Chelsea captain should have such a change of heart just as his club were realising how little they need him these days. Just as the scorn bubbled over from his farcical snub of David Bernstein's handshake, one or two biting columns eviscerating his egotistical delusions. Just as Nelson Mandela derided him as a "pretty poor bloke" ... OK,
MTW
made up that last part.
The Bee on his knees
Sometimes in football, it just isn't your day. Luck conspires against you and there isn't anything that you can do.
Sometimes, however, you can do things like not let the overenthusiastic young

loanee

take the most important penalty of the season instead of the battle-hardened captain, the designated taker.
Yet, when

Brentford

were given a 95th-minutes spot kick that would have returned them to the Championship after 20 years away,

Fulham

-owned Marcello

Trotta

barged his way through and insisted that he be trusted with it. He hit the bar;

Doncaster

ran down the other end to score, taking them up at the Bees' expense.
The Italian's extraordinary, rank-ignoring confidence,
MTW
can only assume, must have been prompted by some nonspecific deity reaching into his very soul the moment before and explaining to him that he was some sort of prophesied Chosen One. Either that or a particularly high score on 'Tetris' at half-time.
For now, however, and for probably quite a long time into the future, the only thing that

Trotta

is likely to be Chosen to do is brew the tea, pick up the next round at the pub and stay very quiet indeed.
Follow George

Ankers

on