By
George Ankers
The vampire who sparkles
Luis Suarez, eh? He'll bite you and then he'll come back to, erm, bite you. Despite his last-gasp equaliser against Chelsea, the Uruguayan may just have entered the 'Twilight' of his Liverpool career.
Yes, 'Twilight'. Finding a frame of reference to describe the Reds star has always been difficult but perhaps we can finally settle on the vampire who sparkles. Across the stage, his Bella, Branislav Ivanovic – though, where Kristen Stewart is wooden, the giant Serbian is made of pure stone. It's a wonder that Suarez's teeth didn't crack.
Is this one PR disaster too many for Liverpool to bear? This is football, where money is king and goals beget money, so probably not. For now, they can just call him "unacceptable" again and Ctrl+C the apology ready for next season's first outrage.
GOOD WEEKEND


Steve Sidwell
The Fulham midfielder's plan to carve out an extra 12 weeks of summer holiday by chaining red cards is going swimmingly well so far.

Alisher Usmanov
Newly crowned as the richest man in Britain, the Arsenal stakeholder can happily fritter his money away on booze and vice, knowing that the Gunners are unlikely to be relieving him of it any time soon.

Stoke City
It was always going to be very difficult for the general public to get excited about a match that made Stoke less likely to be relegated. However, in having Peter Crouch score to help send down former mentor Harry Redknapp, the Potters have actually stumbled upon the one laudable strategy. Heroes.
If they did decide to get rid, however,
MTW
would miss Suarez. The English game has arguably never before had such an outright supervillain, hatching so many nefarious schemes and popping up to thwart the heroes at the last moment in cartoonish style. You have to laugh.
Does he make it harder to cheer for Liverpool as a neutral? Sure – but, whichever your club, you will have at least 18 other Premier League sides to enjoy objectively. Until then, he will continue to be one of the only players making the Reds genuinely interesting to watch.
Celebrating with the Bhoys
Half-past two at Celtic Park. The final whistle blows. In the glorious Sunday sunshine, Celtic confirm themselves as SPL champions. Their great battle is won. All zero of their serious opponents have finally been defeated. Glory is theirs.
A wave of cathartic joy sweeps the stadium like a comatose caretaker. Gary Hooper smiles a bit. After a quick round of applause for their fans, the victors walk off the pitch.
Some minutes later, Neil Lennon sits down for his press conference. "So, you've wrapped up the title," begins erstwhile scribe Archie Twelveworms from
The Glasgow Wordsoup
.
"Oh, have we?" Lennon looks up from his crossword, taken by surprise. "Well, that's nice. How many did we score in the end?"
Later that evening,
MTW
is invited by the club's second reserve 'false seven-and-a-half', Barnabas McGarlicpaste, to the team's victory party. "Just me, you, Emilio Izaguirre and the first series of Bruce Parry's 'Tribe' on DVD," he enthuses. "Lights-out at 10.30."
MTW
politely declines.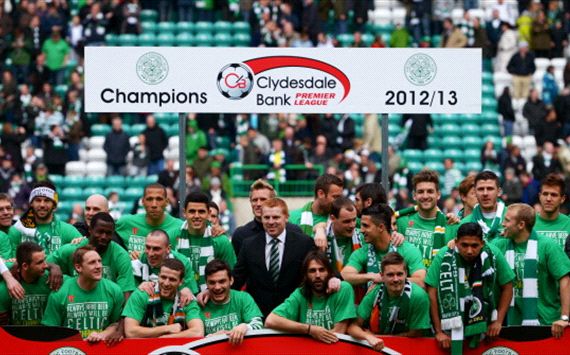 "All together now: MEH!"

Quote of the weekend

"We need to tweak the nose of fear and stick an ice cube down the vest
of terror"
- Ian Holloway plants a whoopee cushion under the seat of dull press conferences
Mancini the mastermind
After ceding the managerial initiative to counterpart Andre Villas-Boas as Tottenham roared back thanks to a tactical shift to beat Manchester City 3-1, Roberto Mancini has come in for a fresh round of criticism.
BAD WEEKEND


Michu
No wonder that the Swansea City forward failed to score against Southampton - he must have pulled an all-nighter on Friday picketing the PFA headquarters, screaming: "WHAT PART OF 'ONLY £2 MILLION' DO YOU PEOPLE NOT UNDERSTAND?"

Susan Black
After this kind of a first weekend on the job, Liverpool's new director of communications would surely be forgiven for running off into the wilderness with no explanation other than a bloodcurdling shriek.

Branislav Ivanovic
Dude got BITTEN.
But consider this: Was a lack of preparation to deal with a second-half onslaught deliberate? Could the man who brought on Joleon Lescott in stoppage time to play at centre forward actually have a plan behind it all?
MTW
suspects that these are, in fact, acts of obfuscating stupidity designed to surreptitiously boost Tottenham's chances of edging out Arsenal for a top-four place. After all, buying from the Gunners has more or less been City's business plan over the last few years and Jack Wilshere would surely prefer Champions League football...
Manhunt
Police are investigating the whereabouts of QPR manager Harry Redknapp after the person standing in the Loftus Road dugout was discovered to be a crude waxwork model with a mobile phone in its mouth.
Officers examining the animatronic model admitted that the melted wax on its face made for "very convincing jowls" and that the fake Redknapp could have been in place for "upwards of three months".
"It does explain a lot," noted one source from the QPR dressing room. "When we asked him who was playing left-back against Stoke City, he said 'Tal Ben-Haim' distractedly. When we asked him who was playing every other position after that, he said 'Tal Ben-Haim' again. We just took his first answer and got on with it."
All golf courses within a 20-mile radius of the manager's Sandbanks home are being locked down. "We're pretty sure that line about 'I can only play golf once or twice a week' on the television was designed to throw us off the scent," said one officer.
Follow George

Ankers

on