By
George Ankers
Life on Mars
My name is English Football. I had an accident and woke up in 1985. Am I mad, in a coma, or back in time? Whatever's happened, it's like I've landed on a different planet. Maybe if I work out the reason, I can get home...
Well, not really. But you could not be blamed for thinking as much, no? Hooliganism and fighting sweeping the sport and Margaret Thatcher constantly in the news. David Bowie's been in the charts recently, too. The only thing missing is football's equivalent of Gene Hunt (even if Jose Mourinho were parachuted in from Madrid, he still wouldn't be cool enough).
Of all the things from the 80s to bring back, though, why punching each other (or, in one frankly heroic Newcastle fan's case, punching a horse)*? There are things worth saving from those more innocent (ahem) times; short shorts, for example, or leather footballs. Maybe Wham!.
GOOD WEEKEND


Wigan
Special Agent Roberto Martinez took advantage of a public brawl to stage a widely unreported, top-secret mission to reach the FA Cup final, in doing so guaranteeing Europa League football next season. MTW can hardly wait to see Dave Whelan trying to talk to the chairman of the third-placed Belarusian club about pies.

The relegation battle
If Sunderland had folded to Newcastle, the momentum in the race to avoid the drop would have been deader than a dinosaur in a minefield. The Magpies have done a service to all neutrals.

Penalties
As if sensing that controversial goal-line decisions are soon to be completely and permanently eradicated (right?), the dubious penalty claim has rocketed back into prominence. Shirt-pulling is the new black.
This, though, is all the bad adjectives, from 'appalling' all through to 'downright boring'. A message, then, to Millwall fans, Newcastle fans and whoever else is feeling a bit fighty this week: Stop, would you? Ta. That's that sorted, then. What's next?
*For the record, Goal.com discourages the physical harm of animals. Focus on defeating them in a battle of wits.
The Carroll Conundrum
It is that time of year when teams start running out of things for which to play, thoughts turn to next season, who might stay and who might go. It is also becoming tradition that this is the time of year when Andy Carroll bucks up his ideas for a few weeks. The two are not unrelated.
For Brendan Rodgers, this presents a problem. Farming the big man out to West Ham and then tactically watching him get injured for a good while was an excellent way to kick the can down the road but the Liverpool boss is about to hit a T-junction.
Now, though, it must be decision time. The Reds cannot realistically loan out a £35 million striker again without officially changing their club badge to trollface.jpg. Rehabilitate or excommunicate: Your choice, Brendan.
Why, yes, Liverpool's goals have dried up a little of late and Carroll has coincidentally done the opposite. But would a ponytail have been enough to overcome Alex McCarthy, for whom the planets aligned in perfect harmony, on Saturday? And, perhaps more pertinently, is Rodgers willing to buy the entire West Ham squad in order to better accommodate Carroll?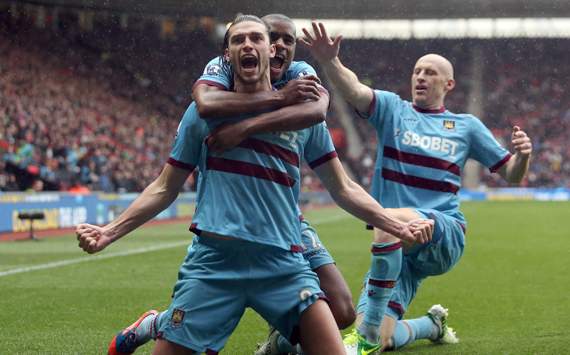 "Why-aye, I reckon Liverpool need someone who can adequately hit a free kick along the ground!"

Quote of the weekend

"You have a linesman who makes a decision from 40 or 50 yards away and the referee who is eight yards away and has the perfect view"
- Presumably Chris Hughton will wake up on one day this week and realise that he's just explained how refereeing really is supposed to work
Potters protests
BAD WEEKEND


Tottenham
No game of their own to watch, just stewing on the Basel balls-up. And then Arsenal do that. Please don't be alone right now, Spurs fans.

Luis Suarez
Just when Robin van Persie's goal drought was about to extend long enough to rule him out of Player of the Year contention...

Defending
If you believe Vincent Kompany, actually stripping an opponent now qualifies as "great defending". Someone is going to have to step in before it becomes impossible to show matches before the watershed.
In a weekend over which we saw what happens when football fans are angry and divided, it was comforting to see that there are some issues on which we can all come together in hope: Stoke City may yet be relegated.
MTW
is not a colours-to-the-mast, evangelistic Potters protester. Their fans are admirably passionate and Robert Huth is hilarious. Tony Pulis occasionally gets naked and headbutts his own players. There have even been worse teams to watch than them this season (Yes, Martin O'Neill's Sunderland, that means you).
But Pulis's philosophy is less progressive than a Windows update. Every season is a refreshed nothingness, barely even bothering to stick the roller in the paint can before half-heartedly scraping it against a lonely corner of the grey wall – and the paint cost around £70 million.
In the Pulis era, Stoke's permanent aspiration is to crack the top 10. Their wait has been for nearly five years now and looks set to go on; Southampton and Swansea City, to name only two candidates, look likelier to do it in just one or two.
Is it funny to watch a team go down? No. Is it satisfying? Often. If
MTW
were not already staying up all night, every night, watching clips of Emmanuel Adebayor's penalty, it would lose no sleep over a Stoke drop.
Follow George

Ankers

on