By
James McManus
The Bale Diary

Thursday:
When did they start letting people play in Europe by themselves? This Swiss bloke called Basil is bloomin' everywhere against us and he kicked ma bad ankle. Not sayin' it was on purpoise or anythin but if I hear Charlie Adam has been talking to him, that's gonna get me well mad. Sort it out Platini. This is a conspiracy against British teams!
Friday:
Getting ready for a big trip to the zoo today. A few of the boys - Thud, Liverless and Naughts - decided to treat me. Is this what they get up to every day before a game? Could get used to this life. Playing football is for losers. Might have to get another virus soon, what's that one going around at the minute called again? Nacho Novo virus? Yeah, that's the one. I'll get that. I'll just stop in at Nandos' for lunch and give the floor a good lick. Sorted...
GOOD WEEKEND


Bayern players
After clinching the Bundesliga title, the beers are on boss Jupp Heynckes after a campaign of tee-total discipline. Reports that Thomas Muller has been seen driving to Dundee in his bare feet while gorging on Toblerone are as yet unconfirmed.

German Denis
The Argentine striker called German bagged a magnificent hat-trick away at Champions League-chasing Inter Milan, helping his side to overturn a two-goal deficit to claim a famous victory for Atalanta.

Mauricio Pochettino
Southampton's 2-0 win over Reading on Saturday marked the first time the new manager had tasted victory against a side in England that has not been in the Champions League in the past five years. There are easier ways of doing things, you know, Mo Po.
Saturday:
Tryin' to keep ma mind off the game today by being busy with my bucket list. So far I've wrestled a bear topless, beat ma nine-year-old cousin at Ludo, fixed the lawnmower and put the bins out using my right foot. The boss said I need to practice my keepy-uppy's and perfect my weaker foot, so keeping up with ma chores with my bad peg should count double. Lads were unlucky without me against those geeza's made of toffee. They propa Willy Wonka'd us.
Sunday:
Today I played Azza at Scrabble. Did I win? Does a bear do his doo doos in the woods...? Of course I won! Azza's highest-scoring word? Cat. GB11 absolutely stormed it with 'Zymurgy' - just the 75 points...
QP-ARGH
Harry Redknapp
has earned himself the nickname Harry Houdini among the media for his escapades in helping turn struggling teams around the past few years. However, that's a bit like saying he's a great escape artist except that one time he did it wrong and died.
Hoops fans shouldn't fret much, though, because the club's owner
Tony Fernandes
has a fool-proof plan to help get them back into the top flight at the first time of asking that doesn't involve selling off the club's china collection - playing every potential transfer target at Fifa 13 on the PS3 and losing to them.
You see, footballers have gigantic egos. They love 'tekkers', whatever that means -
MTW
has an inkling it could be a breed of mongoose - and when Swiss Tony invites them round to chew the fat and convince them that Loftus Road really is the stadium where everyone knows your name and they're always glad you came, he lets them win. This makes them happy and then they choose
QPR
.
It worked on
Loic Remy
and it will work on others. It wasn't the money that convinced the France international to sign on the dotted line in January. It wasn't even the chance to work for a top, top, triffic manager like Mr Houdini. It wasn't even the guaranteed relegation release clause in his contract should this latest escape act end in a blood-stained disaster of ruinous proportions. It was that the owner appeared 'human' after getting tonked in the world of fictional football.
Fernandes even managed to skillfully negotiate any future club vs. country rows between Remy,
les Bleus
and QPR by being Argentina to the striker's Bayern Munich. With relegation looming, though, Fernandes is going to need to do some serious gaming to get the team in any sort of shape for what promises to be a brief soir
é
e in the second tier and a busy summer of transfer activity ahead.
We're talking really uneven contests - Accrington Stanley vs. Brazil in a move for
Scott Dann
. Rochdale vs Spain in a optimistic swoop for
El-Hadji Diouf
or a titanic clash between Gillingham and Germany to try and tempt
Joey O'Brien
to drop down a league for a year.
These are sort of players required to restore the glory days to the west London club. The era of overpaying for old players is over. The time to overpay for Championship-quality players has begun, because at the moment, being left with Rob Green, Clint Hill and Shaun Derry is enough to see Swiss Tony snap his copy of Fifa 13 in half.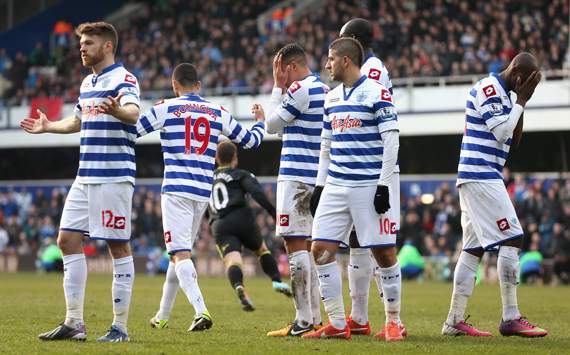 "What do you mean the transfer window isn't open until August?"

Quote of the weekend

"Thiago Silva. That the same p**** thats been injured all season. Another over rated Brazilian. Sort your hamstrings out FatBoy..."
- English emissary in France Joey Barton does his bit for Franglish relations
Mourning the passing of Tony Clueless
Very few actions are capable of uniting the apathetic masses these days; the election of a new Pope is one, and taking to the streets to lambast George Osborne's distaste for the poor is another, but the fate of Stoke this season promises to be a rare occasion when the footballing world cries with one voice - 'we demand relegation! We demand sacrificial blood! We demand Wilson Palacios' head on a stick!' Well, it worked for Ancient Rome at least.
BAD WEEKEND


Paolo Di Canio
After talk of his hand grenade style of man-management, the only thing to blow up at Stamford Bridge on Sunday were Sunderland's fragile hopes of securing a first win in nine games. Snazzy jumper, mind.

Harry Redknapp
Blaming his England snub last summer on his Tottenham contract seemed a bit rich, especially with the famous wheeler dealer stating the terms of his deal weighed heavily in the club's favour. Note to 'Arry: read the small print in future.

Fernando Torres
Man alive. Looking like a camp cross between Robin and Batman is not a good look on any player. Thankfully, the bat nipples haven't quite made the transition yet.
The demise of Tony Clueless and his Space Jam impersonators (70s funk band name material?) has been coming for a long time now. Who knew filling your squad full of players that can't either pass a ball or score goals from open play was a recipe for disaster?
They say it always helps if you're cooking with the right ingredients, but what meal can you make out of Steven N'Zonzi, Geoff Cameron and Michael Owen aside from a grisly footballing omelette of underachievement, shattered dreams and spindly legs? Give me a horse burger any day of the week.
The hang-ups over the team's style, which is akin to saying Jeremy Clarkson has a particular 'style' of attire, have been present for five years now as the side have stagnated, unable to improve upon the 'Wimbledon mark II' tag. Being 'treated' to a Stoke game is like getting a trip to the dentist for your birthday. Then having all of your teeth removed. Then stuck back on with crazy glue. By a four-year-old. Who happens to be blind.
Shouting will always have a place in football and Clueless, that squat little chap with the funny hat, is a master of the art of looking angry and gesticulating furiously. The comically oversized tracksuit and the baseball cap do make him seem a little more like a dad on the sidelines than a top-level manager, though, one that's just got really into the game and nobody has had the heart to tell to stop coming back every week. If he starts running the line in the club's remaining games this season, then we should all start worrying.
There are teams that contribute plenty to the league without every really holding any ambitions of silverware beyond a useful cup run, but Stoke have continued to smash their head against that glass ceiling for so long now that they're in danger of suffering from long-term brain damage. Despite spending large amounts of money, they've got very little to show for their investment aside from a trip to Israel in Europe and a few ropey bottles of frankincense and myrrh. They passed on the gold - they don't do silverware.
With the beautiful game becoming a hotbed of contentious opinions, elitist thinking and outright snobbery based around a loose moral hierarchy attached to style of play, Stoke are bringing up the rear in the popularity stakes, but ugly teams need love too. Their passing won't be mourned by many, nor will most even shed a tear if Clueless departs. But, if you like your teams honest, brutish and in dire need of a half-time orange, he's your man.
Follow James McManus on