By
George Ankers
Blunderland
By the time you read this, Paolo Di Canio may already have hacked a hole in the walls of the Stadium of Light with a chainsaw and stormed out through it in protest at the font used on the club's official notepaper.
Perhaps we will all wake up on Tuesday from this frankly ridiculous dream and find Mark Hughes in the hotseat, ready for one last crack at grinding the dust of his reputation into total, underwhelming oblivion. But, for the time being, Di Canio is the man for Sunderland.
GOOD WEEKEND


Gervinho
Rewound the clock to the start of the season on Saturday with a barnstorming performance against Reading. Then the clocks went forward again that night, so don't hold your breath for next week.

Andy Carroll
For the second year running, seems to have realised "aagh! It's nearly the summer, better buck up my ideas!". His second against West Brom was even more of a heart-throbber than those topless pictures on his old Bebo page.

Youssouf Mulumbu
And the award for 'Best Red Card of the Season' goes to...
Why this has come to be is unclear. Not the part about Martin O'Neill being sacked, of course – goodness, no.
Though firing the Northern Irishman before the international break would have made more sense than after, taking umbrage with the timing here is like turning a plumber away from your door if he arrives while you're eating a curry dinner; your toilet is still broken and there's going to be a mess all over it before long.
It is Di Canio's involvement that confuses and, frankly, annoys. The former West Ham striker has been quite successful since starting at League Two level in 2011 but has no experience of even the Championship - expect this to change in, oh, seven games' time.
If that is what Ellis Short wants, Crewe's Steve Davis would probably have asked for a much lower wage and would be less likely to a) break into the stadium when he eventually leaves the job or b) alienate people with ha-ha-hang-on-why-are-we-laughing-about-this fascist politics. Perhaps Davis should put on an Italian accent and assault one of his players; it would apparently improve his job prospects no end.
So Sunderland are opting for the scare-the-squad-into-action approach. OK, fair enough, although it may require some repeated explanation that, no, this is not an April Fool's joke.
It might even work in the short term. But, if Di Canio's reign lasts any longer than O'Neill's did,
MTW
will get a tattoo of the crazy Roman's face on its backside and fart 'Il Canto degli Italiani' from the rooftops.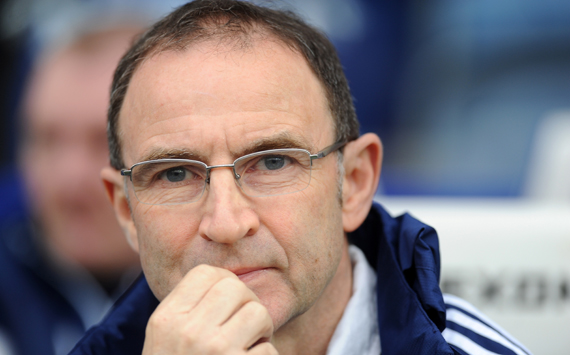 "If only I'd made the trains run on time..."

Quote of the weekend

"I don't see any reason why Mancini won't be there again next year"
- To translate Sir Alex Ferguson: "Please let Mancini be there again next year"
Rough-track bullies
Say what you like about Mauricio Pochettino – no, seriously, whatever you like, as long as his interpreter isn't there to translate for him – but he knows how to win a big game.
BAD WEEKEND

Chelsea fans
Yeah, sorry. That late-Sunday-night Twitter rumour about Rafa Benitez being sacked was an April Fool. Hang on a bit longer yet.

Cardiff City
Defeat to Peterborough? It wouldn't be a Cardiff promotion push without a hilarious choke at the end but this really would take the biscuit.

Bayern Munich
MTW doesn't care about Dortmund's result - nine goals should be enough to mathematically confirm a title! Sort it out, DFB.
Since he took over from Nigel Adkins in the most uncomfortable, puppy-kicking coup that football has ever seen, the Southampton boss has led his side to victories over Manchester City, Liverpool and Chelsea. And that's it.
In between these sensational results, there have been losses to Newcastle and QPR (QP
F
R!) and opportunity-missing draws with Wigan and Norwich City. It is as if, for Saints, the table has been flipped upside-down (in which case, Adkins is top of the league, so firing him looks like even more of a mistake).
To congratulate Nicola Cortese on this managerial switch is to do so with teeth more gritted than a motorway in winter but Pochettino has indeed perfected a squad the polar opposite of flat-track bullies.
Morgan Schneiderlin continues his near-comical topping of almost every statistical table. Jay Rodriguez seems to have been convinced that his name makes him Spanish and has improved to match. The defence... well, maybe later. It might not be consistent at St Mary's right now but it certainly is entertaining.

THE SLIDING SCALE OF OPTIMISM | Roberto Mancini's press conferences

| | | | | |
| --- | --- | --- | --- | --- |
| February 4 | February 15 | March 4 | March 16 | March 30 |
| "The title isn't over, no. Absolutely no way." | "I don't think like this, never. I have another mentality, I always think we can win everything" | "You never say never. The championship is not finished." | "We hope we can play the derby with a gap of nine or seven points, certainly less than 12." | "It is impossible to win the title but it is important to finish well." |
| April 8 | April 17 | April 27 | May 12 | May 19 |
| "We couldn't be more out of the race if we had crashed our car into an advertising hoarding." | "Why are we even still playing? We're all just dust in the wind, meaningless specks. All of us will one day die." | *sob* | "Joe Hart reckons we could still do it, you know. COME ON, BOYS!" | "Unbreak my heeeaaart..." |
Follow George

Ankers

on