By
George Ankers
The fat lady's bumper Saturday
The fat lady flew into Goodison Park in a diamond-encrusted helicopter. As the blades slowed to a stop, Roberto Mancini took her hand to help her out of the aircraft before leading her into the VIP section.
"Well, this is a nice surprise," she purred demurely to the Manchester City boss. "I have to ask, though: I've been humming insistently for weeks – why invite me to a game now?"
"We cannot win now," said the Italian. "No, no, it is too difficult, I think. For me, United will be champions."
GOOD WEEKEND


Morgan Schneiderlin
The curious curse of a defensive midfielder; you only get talked up when you score. After finally netting in a game that Southampton did not go on to lose, the Frenchman is becoming the Mohamed Diame of the second half of the season.

Arsenal
Are MTW's eyes deceiving it, or did the Gunners actually do something straightforwardly? Heavens!

Generosity
Chapeau to Ipswich Town's Tyrone Mings, who spoke to a fan on Twitter who was too "skint" to attend their game against Bolton and promptly bought him a ticket. If you try really hard, you can enjoy this display of simple human kindness for what it is even while knowing that Ashley Cole does it too.
"We've prepared this for you," added David Platt, pushing in between the two and shoving a well-thumbed sheet of music into her hands. "It's a duet with Seamus Coleman. We'd like you to sing it at Everton today."
"Losing to Everton, eh? Change the record sometime, why don't you," the fat lady replied, "though I suppose the audience have come to hear the classic hits." So she sang.
Almost before the final lonely note had escaped her lips, she was whisked away to Villa Park in an open-windowed car. "Look, it was the chairman's call to bring you, I don't deal with that," insisted Harry Redknapp as he pulled into a parking space. "But if you ask me, it's too early for any of that."
"Listen to yourself!" the fat lady fumed. "You should have saved yourself a lot of money and called me sooner. Now let's get on with this." Over the following 90 minutes she stopped and started like a high-bandwidth video stream before finally letting off a full Pavarotti right in the QPR manager's face.
Away she fled, shouting "do I make myself clear?" over her shoulder as she turned back north to Old Trafford. Arriving just before kick-off, she wandered into the Manchester United dressing room, sending her red-shirted audience off to sleep with a gentle fat-lady lullaby – for they, after all, had been watching her Goodison gig.
When the game was up, the Reading players came to her one by one, falling into her pudgy arms and crying like a baby. One by one, she sang for them, too, and congratulated herself on a big day's work well done.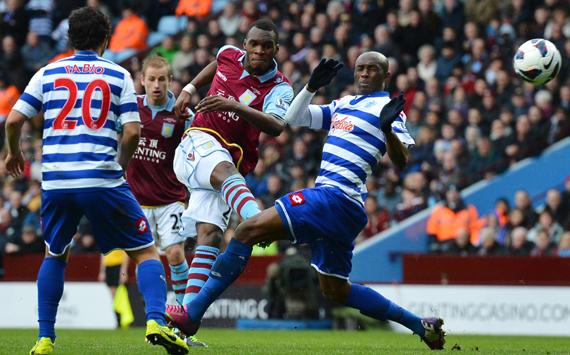 "How's this for an encore, Harry?"

Quote of the weekend

"He's not that sort of boy"
- We all saw Callum McManaman's tackle, Roberto Martinez. We're not that sort of idiot.
Fab Frank
Ask a football hipster and they will tell you that Juan Mata, with his down-to-earth blogging and laudable love of listening to Beirut, is the acceptable face of Chelsea. Ask a football yob and they will tell you that there is no acceptable face of Chelsea.
BAD WEEKEND


Tottenham
A formational snafu, a third straight defeat, a renewed fear that their gloating over Arsenal came too soon. And Dimitar Berbatov could not even be bothered to make them a T-shirt to celebrate.

Sunderland
MTW does not want to belabour the point as the Black Cats rarely have a good weekend ... but failing to score more than a penalty against 10 men, including a distinctly average midfield, in 60 minutes is a candidate for their lowest low yet.

Martin Skrtel
"At the moment I'm not among the first XI. It makes me sad..." Not as sad as your performance against Southampton made Brendan Rodgers, Marty. Get back on the bench and think about what you have done.
Both of these hypothetical football people have a point; the shrunken Spanish spellbinder is a lovely bloke surrounded by a gaggle of overshadowing, high-profile turboweasels (on and off the pitch). But, as Frank Lampard nodded in his 200th goal for the Blues against West Ham,
MTW
wants to doff its floppy hat of motley in the midfielder's direction.
More than one Chelsea manager has tried to accelerate his fading-out but, like a Polaroid footballer, Lampard has faded in instead, his focus becoming clearer when shaken. He could not be more professional short of adding a collar and tie to his Blues shirt.
All that plus a cameo appearance in David Walliams's Red Nose Day sketch on Friday that deserved more praise for its understated footballers-against-homophobia stance. Opposition fans may brainlessly deride him for his love of a good sandwich but
MTW
is proud to wear its membership badge for Team Frank.
WANTED
Have you seen this man?
MTW
has been shown disturbing footage from Wigan's 2-1 victory over Newcastle at the DW Stadium. A white male is wanted for suspected crimes against humanity as he enraged spectators with his catastrophic error of judgement.
If you have any information on the whereabouts of Alan Pardew and his shaggy half-grey, half-white beard, please contact the authorities and DO NOT APPROACH IN PERSON.
Follow George

Ankers

on