By
Matt Scott
Luis Suarez is the most honest man in football

While the beautiful game often hides behind lies and deceit, it is about time we stood up and applauded those good honest professionals, who are only out to do the right thing.
Especially Luis Suarez.
The Uruguayan did his level best to inform referee Andre Marriner that he handled the ball ahead of his FA Cup winner at Mansfield, and he didn't even dive once!
Sometimes life just isn't fair. Luis, MTW has your back.
Abramovich is doing it his way
GOOD WEEKEND


Luis Suarez
With panto season quickly drawing to a close, the Uruguayan ensured another 12-month run as everyone's favourite villain with his handball at Mansfield.

Tradition
Manchester United saving themselves in injury time, promotion-chasing Championship clubs desperately trying to get knocked out of the FA Cup and Arsenal being rubbish. Just like always.

Demba Ba
Well he did have a good weekend, didn't he?
And now, the end is here,
And Frank must face, a move to Everton.
Lam-pard, I'll say it clear,
You're far too old, of that I'm certain.
You've scored, a lot of goals,
You're the reason, we're here today.
But I, I just don't care, I'm doing it my way.
Coaches, I've hired a few,
And may I say, too many to remember.
They did what I asked them to, and then got fired with compensation.
You want your Chelsea back? The crumbling shell of your yesterday.
Well tough, trophies will do, I'm doing it my way.
Yes, there were times, I had not a clue,
When Avram came in and bored all of you.
But through it all, when there was doubt,
I paid them off and chucked them out.
I'll wait for Pep, with baited breath, and do it my way.
I've watched, I've laughed and cheered,
I've stormed out, when we look like losing.
And with, Rafa in charge, I find it all so amusing.
To think, the fans hate him,
And even if, results are a gift.
They will, boo him madly, but I'm doing it my way.
Fernando Torres, what does he do?
He should score goals, but can't seem to.
So I must pay, for Demba Ba and and maybe then, get Radamel.
But fear not Blues, we cannot lose, cause I'm doing it myyyyy wayyyyy!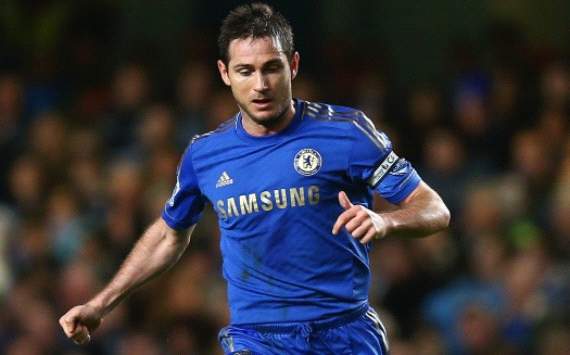 'The Boss' has no need for Lampard anymore

Quote of the weekend

"I try to help Mario. I talk to him on and off the pitch. I talked to him just before a free kick we were about to take, and I let him take it so he could improve his confidence, so things can get better for him."
- Carlos Tevez. Seriously.
BAD WEEKEND


Papiss Cisse
He has seen his side get eliminated at the first hurdle in the FA Cup. He' has seen his side sell their best player for peanuts. He has seen the large majority of his shots go over or wide this season.

He wears the No.9 shirt for Newcastle United.

No pressure, then.

Michael Laudrup
Semi-finalists in the Capital One Cup, a replay at Arsenal in the FA Cup and a Premier League campaign to sustain. The games are mounting up for the Swans' one-man team. Trouble looms.
Mourinho's exit plan backfires

The Special One had it all figured out. It was going perfectly.
Drop Iker Casillas. Lose a few games in humiliating circumstances. Finish mid-table in La Liga. Win
la Decima
. Go out in a blaze of glory.
The first part had been done, the second was in the pipeline.
But no, Antonio Adan had to get himself sent off, forcing St Iker on to the pitch, as a Cristiano Ronaldo-inspired Real Madrid beat Real Sociedad 4-3 on Sunday.
Mourinho has only one option now, if he truly wants to determine that his departure from the Bernabeu is the single-most incredible thing to have ever happened in the history of football.
Order Casillas to get himself sent off and concede a penalty in the very last minute of the next
Clasico
, bring himself on as a replacement and save Lionel Messi's effort from 12 yards with a Rene Higuita-esque scorpion kick.
It is surely the only way.
Sepp
Blatter is the king of reverse psychology
Surely that is the only explanation he has left now, isn't it?.
Follow Matt Scott on