By
George Ankers
School bully Luiz leads the Chelsea gang
When you're a new face at school you often learn the hard way about what to do and what not to do.
Aston Villa, made up as they are of a collection of teenage schoolboys, rocked up at Stamford Bridge Senior School all puffed up. "We beat Liverpool at our last college," they boasted in squeaky, unbroken voices. Then they looked at David Luiz.
GOOD WEEKEND


Arsene Wenger
If the Frenchman finds it this easy to fix a crisis, somebody needs to get him out of Arsenal and into the Gaza strip as a peace envoy ASAP.

Daniel Sturridge
Congratulations, Sturdgeon! A £12 million transfer to a club desperate enough to be incapable of leaving you out while you are still young enough to force them into persisting with you "just in case" for at least two solid years. Well played.

Michu
A performance against Manchester United so good that some Goal.com followers on Twitter were moved to include him in their Greatest XI of all time. No, really.
David Luiz is a funny-looking young man with silly hair. Occasionally, he can be clumsy and absent-minded. Giggling at him is understandable – but that doesn't mean that he'll accept it.
"DON'T! LAUGH! AT! ME!" the Brazilian bellowed at the suddenly petrified Villa kids.
And then he whistled over his buddies from his Remedial Public Relations course for a good old-fashioned session of bullying.
For 90 minutes, Luiz led his cohorts in a masterclass of schoolboy violence. He held Andreas Weimann's head in the toilet bowl and flushed it.
He convinced everyone in the class to start calling Ashley Westwood "Poopybrains". And he pulled Chris Herd's pants down right in the middle of the playground.
The Villa players' mums will hug them tight this week and reassure them that it gets better, that they'll go on and graduate from some lovely university like Oxford United and everything will be OK.
But that won't be much comfort right now for the poor, spotty, weeping Villans. School is hell.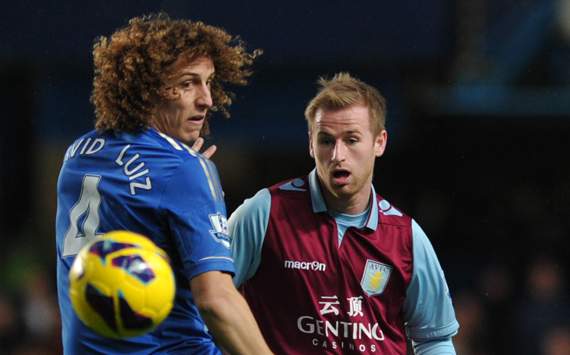 Luiz hands out a lesson to Aston Villa

Quote of the weekend

"At one stage, he covered 12 kilometres [in a match] and it was a record for him"
- MTW hopes that Martin Jol gave Dimitar Berbatov a serious dressing-down after running that much. Nobody wants to see that
BAD WEEKEND


Romelu Lukaku
On the face of it, a good weekend: Lukaku showed yet again that he's got everything to succeed in the long term at Chelsea.

Unfortunately, the continued averegeneration of Fernando Torres against such limp fare as Aston Villa will probably be enough to convince Roman Abramovich to force whoever his next manager is that persistence with the Belgian will not be tolerated.

Sam Allardyce
An injury crisis forces the West Ham boss to cancel training in case anyone else gets crocked. But how will the players know to leave everything to Mohamed Diame if they're not training?

Fulham
Being five points from the top half doesn't sound so bad - but one point ahead of Sunderland and as many goals conceded as Southampton certainly does. #JolOut #KeanIn
The MTW Christmas appeal

One last thought before
MTW
disappears to its bath of eggnog and worn-out DVD copy of the episode of 'Chuck' where the car crashes into the BuyMore: This column would like to issue a holiday appeal to 19 of the 20 clubs in the Premier League.
Stoke City have not finished in the top 10 since they were promoted back into the top flight in 2008. Tony Pulis is not taking it well.
Driven into a deeper obsession every summer with grinding out the most unimaginative, short-term transfers possible "to add that bit of experience", Pulis has hewn himself a team that currently sit ninth. To do this, the Potters have conceded 13 goals – the lowest in the league – and scored just 15 – the joint-lowest in the league.
It is time for this to stop.
MTW
cannot take it anymore. To watch a Stoke match is to wish upon yourself physical harm (perhaps playing in a Stoke match would do the trick).
For the love of all that is good and true, this column urges all other Premier League teams to comprehensively and remorselessly fix their games to ensure that the Potters finish in the top 10. Then Pulis can finally wake up from his madness and we can all move on.
Merry Christmas.
Follow George Ankers on