By
George Ankers
Chicharito, Lord of the Inevitable
A strange, dark cloud hung over Villa Park this weekend. Time and the stars aligned. As Sir Alex Ferguson was hailed for his 26th anniversary at the helm of Manchester United, there was no doubting what was to occur.
"No! No, you're playing right into their hands!" shouted Aston Villa boss Paul Lambert in desperation as Andreas Weimann put his side 2-0 up.
GOOD WEEKEND


Steven Fletcher


A great burden is lifted! Adam Johnson finally became Sunderland's third scorer of the season (after Fletcher and Newcastle's Demba Ba)- no longer must the beleaguered Scot do it all himself.



Vito Mannone


A happy profiteer of Do Well Early In The Season And Enjoy Nobody Pillorying Your Subsequent Hilarious Mistakes Syndrome.



Spanish groundsmen


That Levante v Real Madrid was allowed to go ahead despite a farcically waterlogged pitch was essentially a license to slack off for groundsmen across La Liga. Double siesta, anyone?

[Disclaimer:
MTW
has attended several Paul Lambert press conferences and has therefore used a degree of artistic license in describing how he spoke. More likely is that he muttered briefly and tersely about effort, which is presumably why his players didn't heed his warnings.]
Of course, playing into United's hands was exactly what Villa were doing. Against a side who have gone behind so many times already this season, not to mention over 26 years of the Sir Alex era, it was footballing suicide.
On came Chicharito and, before you could say "why isn't that commentator pronouncing the second 'H'?", it was 3-2. The Dubious Goals Panel will decide whether or not the Little one scored a hat-trick but nonetheless he was a poacher with a capital Pea.
As the Mexican continued his resurgence as United's go-to scoring substitute, there was an ominous gesture from fate just 24 hours later.
In Norway, Ole Gunnar Solskjaer celebrated as he led his Molde team to a second consecutive league title. It was as if the universe were pointing first at Chicharito, then to Solskjaer, then back to Chicharito again and declaring in a booming voice: "This is the one."
With the Premier League a defensive bomb site this season, Javier 'Lord of the Inevitable' Hernandez may well be the Chosen One of goals. Manchester City are clearly learning but nobody knows more about the annihilating certainty of scoring even when behind than United.
So, until other clubs wise up and steadfastly refuse to take the lead, the Red Devils appear to have the title sewn up. We might as well all go home and do something else instead.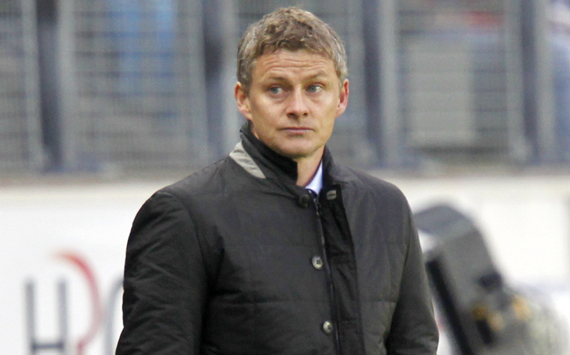 "Waaaait a minute ... is that kid inheriting my legacy?"

Quote of the weekend

"I insist I don't dive in the penalty area"
– Luis Suarez with what is generally known as a Suspiciously Specific Denial.

MTW Mailbag

Dear
MTW
,

PLEASE REPLY! I need to know that you can see this letter! Are you there? Can anyone hear me? Hello?

Over a weekend, it's like I've disappeared! Friends and family – and, worst, my bosses – are acting like I'm not here. Why are they ignoring me?

Just last week I scored a hat-trick. People were tripping over themselves to shake my hand. Now I've vanished from the England squad – while no-hopers like Daniel Sturridge and untested Championship youngsters take my place – and in the blink of an eye I turned invisible in Manchester despite my heroics just one game ago.


BAD WEEKEND

Edin Dzeko
As press talk of "super subs" reached fever pitch, no goal could have pigeonholed the Bosnian any more than his winner against Tottenham. Oops.


Aston Villa
That ragtag bunch of no-hopers pulled out a superb performance against all odds - and it came to nothing. Do they have another one in them?
West Ham
Flying high in sixth? Lovely. Wait, what's that coming over the hill? Is it Stoke City, Tottenham, Man Utd, Chelsea, Liverpool, West Brom away, Everton and Arsenal in their next eight matches? Yes, it is. Oh. That's a shame. The Hammers are staring down a very tall cliff of pain.

Please, anybody, talk to me. Am I mad? Am I ghost? HELP ME!

Yours in existential crisis,

J. Defoe, London
Eau de Berb

Ingenuity. Touch. Vision. Creation. Slow down and be.
Are we watching a commercial for a new fragrance or are we watching Dimitar Berbatov play football? It's hard to say.
Where other footballers evoke bombastic movie trailers, everything about witnessing the Bulgarian ballmensch on the pitch conjures the woozy, feeling-driven sell of a cologne advert. Except that these adverts work.
To see Arsenal 3-3 Fulham on Saturday was to be captivated by Berbatov. He moves in a different way to his peers, on a slightly lower frequency. He seems surrounded in an invisible mist while brooding strings rustle in the background, compelling you to cheer for Fulham.
His subtle persuasion tricks you into thinking that Fulham are something you want, something you need. In the end, they're just a football club – but too late, you've bought it. And you're glad that you didn't go for Eau de Giroud instead.
So give in to the moment. Embrace it. Joy. Man. Ball. Berb –
pour homme
AND
pour femme
.
Follow George Ankers on