By
George Ankers
Be afraid for Van Persie
When Robin van Persie scored within three minutes for Manchester United against Arsenal, some would have spat out their coffee with laughter. Even more brayed on Twitter about how ironic it was (it wasn't).
Not
MTW
. This column was immediately filled with a sense of dread and worry for the Dutchman's well-being.
By scoring the goal that seemingly crowned his excellent decision to leave for better pay and even better prospects at the peak of his career, Van Persie had clearly put himself in grave danger.
Things have never gone this well for the striker By nature, he is a luckless man. For the vast majority of his time at Arsenal, he couldn't go two weeks without stepping in a bucket of manure and somehow fracturing a rib as a result. He was to football what Kenny is to 'South Park'.
But now ... now he is late. Late like a woman is 'late' when it turns out that she is, in fact, pregnant. The Manchester United man is similarly pregnant. Pregnant with DOOM.
Just look at the way in which he didn't celebrate his goal. Any unworried person would have indulged the desire to rub their success in the faces of the many fans who had given him extensive and unfair abuse over a perfectly sensible life choice.
GOOD WEEKEND


Juan Mata


Despite each member of the vaunted Chelsea attacking trio being hyped to high heaven, only one of them is proving essential. Out of the Swansea City clash with a hamstring injury, the Spaniard could sit back, relax and watch as his value went up even further.



Steven Gerrard


That weird is-it-a-Liver-bird-or-an-Oscar trophy for making 600 Liverpool appearances must be a very satisfying reward for rejecting a move to greener grass and opting for years of frustration and meltdown instead.



Mark Clattenburg


Refereeing mistakes this weekend: Zero.

But, instead of baring his backside to reveal a tattoo of the United crest on one cheek and a tattoo of a middle finger on the other, he just walked off. Van Persie knows that the fall is coming.
The longer that the good times go on, the worse it will be. Will an anvil fall from the sky? Will a bomb made by the ACME corporation lodge itself in his throat, stretching his neck comically into its outline before exploding? Will Lee Cattermole tackle him?
Five or 10 more goals and we might even have to get '#praying' - and nobody wants to see that.
Haunted by Harry
Hallowe'en has been and gone but Mark Hughes still can't exorcise the ghost of Harry Redknapp. Over his shoulder the spirit hovers, writing spectral cheques and hissing "triffic ... triffic ... triffic ..." in an ethereal voice.
Driven increasingly to distraction by the spectre of his certain successor (come on, let's not kid about this), the QPR boss is starting to realise that we can all see 'Arry just as well as he does.
It got worse after a 1-1 draw with Reading that leaves the Rs winless with four points from 10 games, a situation that will have Redknapp's jowls bouncing with excitement, when a journalist at the post-match press conference "accidentally" called Hughes "Harry".
"No, my name's Mark," replied the Welshman, so at least he hasn't got everything wrong this season. But the figure behind him grows ever more corporeal by the day. Literally*.
*Sorry, wrong Redknapp.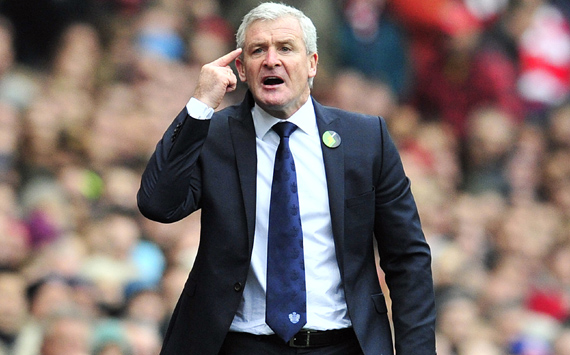 "I'm not crazy! Can't you hear him shrieking about 'two points from eight games'?"

Quote of the weekend

"In terms of us, it's been a bad day for us"
– Thanks for clearing that up, Alan Pardew. Presumably, in terms of Liverpool, it had been a great day for you...

MTW Mailbag

Dear
MTW
,

I am writing to correct reports that went out this weekend which quoted me as saying that "I won't ever be going to a top-four club".

I would have thought that the inference was obvious but not enough people have praised my team's glorious 0-0 draw with Manchester City, so I suppose that I'll have to do it myself. If I can inspire my players to get a point from the league champions while the majority of them were a bit rubbish, then clearly I'm already at the top-four team.

Two points off fourth already AND I'm using Carlton Cole to do it? You people leave me no choice. I'm changing my name. Maybe now you'll give me the respect that I deserve.


BAD WEEKEND


Andre Villas-Boas' keyboard
They came to White Hart Lane expecting another 9-1. They got a 0-1. To be fair, the numbers are right next to each other.


Ryan Giggs
Manchester United have suddenly postponed talks over extending the veteran's contract until after the season's end. Uh-oh! Turning 39? Playing terribly? Not pointlessly and sentimentally selected to start in a massive game against a rival team? Bad signs all round for that last pay-day.
Roberto Mancini
October 24, after Manchester City lose to Ajax: "

It's my fault. I didn't prepare the players well for this game

."
November 5: "

I don't think we're ready to win the Champions League

."
Trophies which City are yet to win: The Capital One Cup and the Champions League.
Trophies in that category AND about which anyone cares: The Champions League.
You do the maths.

Yours waiting-by-the-phone-for-Real-Madrid-to-callfully,

S. Allardici, London somewhere foreign
Derby County were underappreciated geniuses

At this point in 2007-08, Derby County had six points and only one win. Oh, how we laughed.
The Rams made history that season as the Premier League's worst ever side. That victory was their only one of the entire campaign, equalling an English league record. Their points total of 11 plumbed new, hilarious depths. In retrospect, however, they were Brazil circa 1970.
Now, after the same amount of games, QPR have not a single win and just the four points. Derby had Jay McEveley; the Rs have Esteban Granero. What's their excuse?
Reading have played one fewer game but, let's be honest, they're not going to win that one either. Southampton have some flair but are on course to beat Derby's goals-conceded tally that year by a full 20 per cent. These teams are so bad that Aston Villa, one of the most eye-wateringly awful Premier League teams in recent memory, are above the relegation zone.
Thanks to this dross, the roundly terrible Norwich City, Stoke City and Sunderland are all sitting pretty. Even Arsenal are sixth!
MTW
misses the glory days. Bring back Derby! They'd probably make the Europa League at this rate.
Follow George Ankers on