By
George

Ankers
Who stole Vincent Kompany's mojo?
Last season, Vincent Kompany was the best player in the Premier League. Please, no arguments; if you dare to doubt just how colossally the Belgian colossus, er, colossed, you will be shunned and ignored.
So what on earth has happened to him?
Thus far in 2012-13, the Manchester City captain has been wobblier than a Jenga tower on a water-bed. No longer titanic; more of a wooden raft. The Kompany has gone bust.
Against Real Madrid, the defender shied away from Cristiano Ronaldo's last-minute shot like it was covered in slime. He was sluggish against Dortmund. Brushed off by renowned battering ram Peter Crouch for Stoke City to score.
And on Saturday the City stalwart dunked his team in the inkwell of uncertainty when his awful positioning essentially forced James Milner to get sent off in order to stop Shane Long. He might as well have just walked up and red-carded his team-mate himself.
Only West Brom's total failure to bother defending a 1-1 draw with the league champions in the final moments stopped Kompany from costing his side some valuable points.
Where, then, has the Belgian beast's mojo gone? Were the City squad's post-title celebrations in May so raucous and unhinged that he heaved it all over the floor on the next morning? Has the arrival of Spanish proto-Clooney Javi Garcia driven him to distraction with feelings of manly inadequacy? Because if so, Vincent, you are not alone.
GOOD WEEKEND


Wayne Rooney


Having not scored at club level all season before the international break, fair play to the Manchester United for making sure that he broke his duck as quickly as possible - no matter in which net he stuck the ball. A terrific, instinctive finish for that own goal...



Southampton


Twenty-four goals conceded in your first eight Premier League games - smile, Saints! You're record-breakers!



Jack Wilshere


Expectations had been too high for poor Jack. After spending approximately half of his lifespan out injured, the assumption was that he would slot into an impressive Arsenal midfield and take it to the next level. He could so easily have disappointed. Now, thanks to the Gunners' coma-riffic showing against Carrow Road, anything he does on comeback will appear godlike.

Please, dear reader: If you have any information on the whereabouts of Vincent Kompany's mojo, please call the helpline on 0700-DEFENCE. His friends and family are worried sick.
Too good for Spain
Juan Mata (Chelsea)
At the opposite end of the good-or-bad-this-season scale (not to be confused with Wayne Rooney's actual scales, the weight reading on which determines whether he is good or bad) is Juan Mata.
Chelsea's main man was omitted from the Spain squad for the international break just gone by despite being in the form of his life (though admittedly, at 24, the tiki-taka tyro has barely lived at all).
After Mata replied to his being overlooked with a performance of wart-popping incision against Tottenham, inspiring a comeback from his opponents' comeback, it is becoming clear that
La Roja
are simply showboating - or worse.
Perhaps feeling guilty about gently but insistently prodding every other nation to a slow death at every major tournament over the last six years, Vicente del Bosque has decided to bring out the ultimate insult: Pity.
We, as a world, are not ready for Juan Mata. It would not befit a nation's heroes to wet themselves and run away while lining up for the anthems. Del Bosque offers us the illusion of being merely light-years behind Spain instead of entire galaxies.
After all, defences in Spain are going down the toilet just as they are everywhere else. If
La Roja
just abandoned their back line altogether – Sergio Busquets and Jordi Alba half-heartedly keeping one eye on their own half just in case – the full force of a Mata-powered eight-man attack would simply wipe out the entire notion of international competition.
So thank you, Juan Mata. Thank you for sacrificing your international stardom so that we all might share this humble game called football together on a level-ish playing field.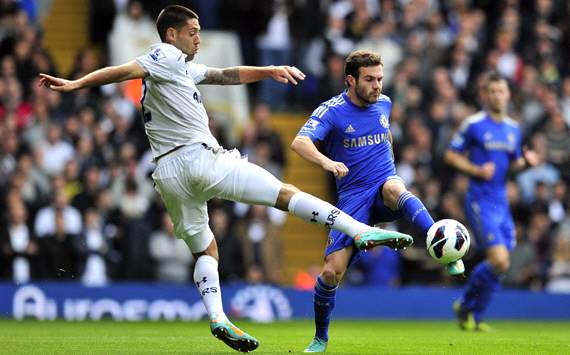 "Don't embarrass yourself, Clint."

Quote of the weekend

"He went down like a ton of bricks"
– Neil Warnock misses the point spectacularly after a Leeds fan assaults Chris Kirkland on the pitch

MTW Mailbag

DER MTW STOP.

I WAZ SAD TO HAR QPR NW HAF 3 PONTS FRUM ATE GAMES STOP.

N DISRPCST TO MAR KUGHES WHOS A TRIFFIC FELLA BT 2 PAINTS FRM 8EIGHT GEMS IS ME CALING CARD STOP. MY BAT SINGLE STOP. I CULD HVE BEN A CONTUNDER STOP. WHT DU I DO NW STOP.

H. REDNAP, SANDBKANS STOP.


BAD WEEKEND


Demba Ba
In becoming Sunderland's second-highest league goalscorer this season, the Newcastle forward is presumably in for one heck of a bad reception when he returns to St James' Park. What a betrayal!


T-shirts
Just when you thought that it was safe to go back into the wardrobe... it turns out that the previously innocent T-shirt is actually the battleground over which society's thought-war against itself will be fought. MTW has chucked all of its own ones out and replaced them with waistcoats.
Deportivo La Coruna
"Hey! We scored four goals against Barcelona! We must be THE GREATEST TEAM IN THE WOR-oh."
P.S. SORY FR Y TYPNG STOP. THE CHARIMAN USLLY TAKSE CAR F THT STOP.

P.P.S. I CNT COMEMNT ON RUMERS LNKING ME TOO A £10TEN MELYUN MUV FOR GERMAN DEFOE BT HES A TOP TP PLAIR STOP.


Always nice to get a telegram.
Here's an excuse we made earlier...

Arsenal
Arsenal's reason for losing to Norwich City – and, worse, letting Carrow Road's horde of brainless defence-cattle keep a clean sheet? Easy. They were jet-lagged.
Nothing to do with the international break, of course. It had been literally days since the various members of the Gunners squad returned from their World Cup sojourns and they're far too professional to let that sort of time get in the way.
The 15-minute flight from Luton airport to Norwich on Saturday, though, must really have taken it out of them. Yes, that's a thing that Arsenal actually did. It takes more time to check in at Luton airport than it does to drive from there to Chez Delia.
So, due to the time-dilation effects of air travel, when the game kicked off at 17.30BST, all of the visitors' body clocks were tuned to 17.29BST. The smallest margins make the difference at the top levels of sport...
Follow George Ankers on