By
George

Ankers
One-man team

Gareth Bale
It happened on Sunday afternoon.
It followed Gareth Bale's singular brilliance turning things around in Wales' 2-1 victory over Scotland, a match that otherwise screamed loudly about all the other things that you could have done on a Friday night. It followed San Marino conceding five goals to England, of all people.
Fifa, for once, finally listened to the general public and decided to do something about it. It decided to answer the question: Could Bale, on his own, beat the entire San Marino team? So they faced each other at the Millennium Stadium on Sunday.
Incredibly, the game appears not to have been widely reported upon, so
MTW
is pleased to be able to EXCLUSIVELY share with you the following extracts from its play-by-play commentary...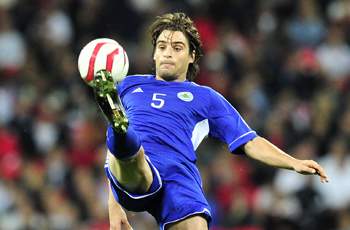 "Does this count as a goal, Gareth?"

1'
Gareth Bale kicks off.
1'
PENALTY TO GARETH BALE!
The winger falls to the floor in the centre circle to avoid injury as the away side walk slowly towards him. The referee, Mark Halsey, points to the spot for some reason.
2'
GOAL!
Bale thumps it easily past Aldo Simoncini, the goalkeeper having spotted a robin on a nearby advertising hoarding and run off to chase it. 1-0.
4'
There is a delay at the restart as San Marino, confused, appear uncertain as to how to kick off as it would mean having possession.
9'
The tiny European nation have the ball 30 yards from goal. Forward Danilo, confronted with it, nervously reaches out to prod it with a stick, as if it were a cobra that might spring up and attack. Bale arrives in time to make the tackle.
22' GOAL!
San Marino's central defenders accidentally walk into each other. They stand there, chest-to-chest, for a full minute, allowing Bale to rush into space and score. 2-0.
GOOD WEEKEND


Manchester United
Anzhi Mackhachkala are weighing up a £33 million bid for Red Devils permacrock Nemanja Vidic. Sir Alex Ferguson, as any good stockbroker would tell you: "SELL! SELL! SELL!"


Danny Welbeck
Having had 'The Welbeck' enter the general football lexicon thanks to pulling off his second backheeled-flick goal in four months, the striker is set for life. No matter how bad he may be in years to come, people will always point to the Welbeck and insist that he's brilliant. Result.
Mark Hughes
Blessed relief for the QPR boss as he bravely avoided defeat this weekend. Will wonders never cease?

38'
The Tottenham star finishes his crossword (Three down, "Ultimatum ender, 2,4". Answer: ORELSE), stands up and shoots narrowly over from 60 yards.
HALF-TIME:
Bale 2-0 San Marino. Substitute Lorenzo Buscarini gets so muddled in trying to take off his training bib that he is literally consumed by the garment and disappears from existence. Andy Selva comes on instead.
56' GOAL!
Simoncini throws the ball into his own net for no discernible purpose. 3-0.
59'
Bale finally comes out for the second half.
60' GOAL!
The Wales star plays a smart one-two with himself and rounds Mirko Palazzi not once but five times before curling a shot between Simoncini's legs. 4-0
77'
It has been a full 13 minutes since anyone kicked the ball. Bale is now concentrating solely on his GameBoy.
82'
Substitution for Gareth Bale: Spurs youngster Kenneth McEvoy (Google him) replaces Bale.
90+2'
Selva, two yards from goal and utterly sedate, suddenly exclaims: "Eureka!" Just as he pulls his leg back to finally shoot, eyes wide with discovery, Halsey blows his whistle and the game is over. Bale has won 4-0.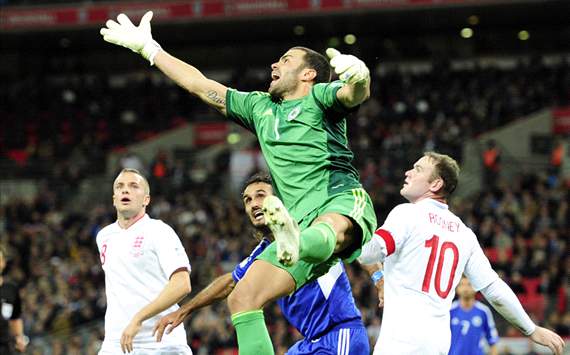 "Am I helping? Is this what I'm supposed to do?"

Quote of the weekend

"How can Manchester United's revenues be £320 million and Aston Villa, who are completely useless, get £250m?"
– Well, Rangers chief executive Charles Green, that's because they're still better than every Scottish team not called Celtic put together.
BAD WEEKEND


Andy Keogh
Ninety-two minutes into a 6-0 humiliation by Germany, the Ireland striker scored what will surely be the least relevant consolation goal of his career. It devalued the very concept of a goal.


Aston Villa
Paul Lambert revealed on Sunday that he calls Sunderland boss Martin O'Neill for managerial advice. That's one-win-in-14-games Martin O'Neill.
Ashley Cole
Foul-mouthed Tweet about the Football Association + Leighton Baines being younger and generally superb against San Marino = you do the maths.

The tiki-taka test-tube

Like many on Sunday evening,
MTW
was glued to Felix Baumgartner's record-breaking skydive from the edge of space. The Austrian daredevil leapt from 120,000 feet over New Mexico in four incredible minutes, much to the world's amazement.
The official reason why the project got off the ground (pun very much intended) varies from "for progress" to "because we could" but there probably was a really interesting scientific reason.
Football is a forward-thinking, cutting-edge industry, keen to jump on the latest bandwagon, so
MTW
thinks that the sport should pick up this baton and run with it. This column has been considering some candidates who could perform similar incredible feats FOR SCIENCE!
Clive Tyldesley:
ITV's stalwart commentary irritant should have a crack at the world record for holding your breath as long as possible. If it proves too hard, maybe he could just breathe quietly through his nose. Just so long as his mouth isn't open, really.
Dimitar Berbatov:
In contrast to Baumgartner's sound-barrier-shattering feat,
MTW
suspects that the Bulgarian forward could do the opposite. It's all very easy to fall really fast from a great height but the Fulham striker, who verily defines the word "languid", could definitely do a "slow jump". This column's money is on a super-stylish 15-minute float to Earth but it would not be surprised by a full hour.
Luis Suarez:
The Liverpool forward is ripe for having a go at the record for going further down underwater than anyone has before. Yes, it's a diving joke!
Joey Barton:
Baumgartner's dive was impressive but – just for scientific curiosity's sake, of course –
MTW
would like to see the Marseille midfielder attempt the same jump. Without a parachute this time.
Follow George Ankers on