By
George

Ankers
Nananananananana-PULIS!

Tony Pulis
In the neglected streets of Stoke City (twinned with Gotham), crime is king.
Villains, crooks and the mafia all rule this part of the world. Not a day goes by when shady gangs of ne'er-do-wells do not burst into a bank, rush up to the armed security guards, then fall over clutching their legs and waving imaginary cards before getting up and bagging all the money while the referee has a word.
In the city's darkest hour, a hero is needed. He's not the hero that Stoke deserves but he is the one that it needs right row. Step forward, Tony Pulis: Batman.
Clad in black cape, black armour and black baseball cap (except for when he needs to headbutt James Beattie in the nude), Pulis is the only one willing to take the law into his own hands and take a stand against simulation.
His nemeses are two. The Diver, A.K.A. Gareth Bale, so dastardly that he would throw himself to the ground in an attempt to get a foul off Brad Guzan despite there being enough space between him and his opponent to fit a juvenile elephant. He leaves a
really silly
heart-shaped calling card at the scene of each of his crimes.
The Foreigner, A.K.A. Luis Suarez, is the other constant supervillain standing in Pulis' way. His superpowers are basically the same as the Diver's, except that he speaks in riddles which are often misinterpreted (allegedly). His foul playacting involves an unstoppable three-part fall that bamboozles the authorities into inaction – only Batman Pulis knows the truth!
GOOD WEEKEND


Olivier Giroud
The Arsenal striker squirted goal-ketchup all over the faces of his premature naysayers with an important strike against West Ham. More monkeys off his back than a zookeeper in a blustery gale.


Harry Redknapp
A loss in QPR's next game will mean two points from eight games. The ex-Tottenham manager must be rubbing his hands with glee at the chance to take the reins of the ultimate wheeler-dealer nonsense club from his specialist miracle-worker position. Mark who?
AC Milan
Thanks to a Spanish Clasico of mind-bending media pull, only approximately 15 people noticed the Derby della Madonnina in Italy on Sunday. Any opportunity for the Rossoneri to hide just how much of an awful mess they've become is definitely a good thing.

Luckily, Pulis is not alone. His trusty sidekick, Robin Huth, is always by his side to give those baddies something to really dive about! His chest-kicking methods may be extreme but so is the threat to the city, country and sport. Their vigilante justice may be our only hope. Keep fighting the good fight, Tony!
Ballon d'Oh!
Lionel Messi and Cristiano Ronaldo
It was supposed to be a straight shootout. Trying to pick which of Lionel Messi and Cristiano Ronaldo is currently the best footballer on the planet is trickier than a competitive bridge player. You can hardly blame
Ballon d'Or
voters for thinking that they'd just see who did better in the
Clasico
and decide based on that.
So, of course, the pair conspired to be equally superb, each scoring twice in a 2-2 draw with some sumptuous goals.
Now how are people supposed to make their minds up? Time is running out to make a choice but Messi and Ronaldo are not set to meet on the pitch again between now and the January awards ceremony.
Clearly, it will not be possible to make a decision based on what happens on the football pitch. It's too close to call there. We shall have to widen the field.
MTW
suggests the following disciplines as tiebreakers for any voters reading: A keepy-uppy endurance test, a diving competition judged by an Olympic panel, a game of Scrabble, a dance-off, a karaoke competition, a thumb war, a staring contest or who can hold their breath underwater for the longest.
Failing that, just give it to Andrea Pirlo.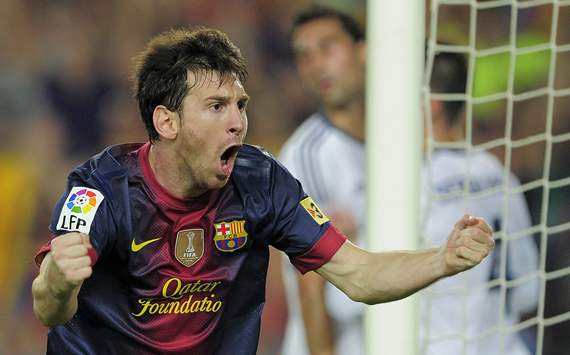 "YES! Triple word score!"

Quote of the weekend

"Of course I meant it!"
– Yeah, yeah. We've seen what happens when you mean it, Tom Cleverley. England's No.10!

MTW Mailbag

Dear MTW,

I recently came out of a two-and-a-half-year relationship with a winger – let's call him "Adam". He walked out on me this summer after complaining that we didn't spend enough time together and that he could have been The One if I'd let him.

We don't really talk any more but he's been telling anyone who'll listen that I'm no good and any prospective new companions should keep their distance. My parents might be loaded but that doesn't mean that I can buy self-esteem and I found his comments very hurtful.

Then he shows up at my home on Saturday with his new friends – he's fallen in with some weird gang called "the Black Cats" – and I was expecting a shouting match. We both need closure, you know? But he was just so quiet – it was like he was hardly there. I think he left after an hour or so, before his friends.


BAD WEEKEND


Hugo Lloris
Handed a sympathy start for Tottenham against Aston Villa, just to (maybe) stop him losing his France place. Not a bad performance at all - but still Andre Villas-Boas predicts the return of Brad Friedel ASAP. The £12 million man, ladies and gentlemen.


Jos Hooiveld
If you can't be the best, score one-and-a-half own goals, defend terribly and generally be the worst instead. At least the dubious honour of being the Premier League's worst player is the only competition in which a Southampton man is likely to come out on top this season.
Juan Mata
Yet another sublime performance with yet more assists - yet no room in the Spain squad for Chelsea's chief ball-elf. Ah well - no Mata, eh?

Am I worrying over nothing? Should I reach out to him and try to patch up the relationship or just appeal to him not to badmouth me in public anymore? Or am I just letting my fears about getting fired from my job make this whole thing seem more dramatic than it really is?

Yours heartbrokenly,

R. Mancini, Manchester


Home truth time, sister: You didn't spend enough time with him, he could have been special, you've probably ruined him for future relationships now. Stop sniveling over how he ended it and look at yourself.
What Ashley Cole should have Tweeted instead

"I respectfully disagree with your deduction"
"Arsenal suck since I left! 7 years without a trophy! Ha ha! #pleasepleasepleasemakethisthestoryinstead"
"Have you guys heard about this great new Slovenian folk singer, Bunchoft Wats? #class"
"NO I WONT B ANSWERIN QUESTIONS ON THIS SUBJECT YET. PLEASE BE DISTRACTED BY THIS CAT PLAYING THE PIANO INSTEAD.
http://tinyurl.com/9sdvqll
"
"The FA can ***** my ***** ***** with a *****, *****ly on a ***** for all I care. The *****."
"not gna talk about it bt difficult day. Gna get the air rifle out 2 relieve some stress."
"John Terry? I don't know a John Terry. You must have the wrong verified account. I'm a plumber."
"Steven Spoonaar #footballercutlery"
Follow George Ankers on