By
George Ankers
Taking compliments badly

Roberto Mancini (Manchester City)
Sometimes you just have to hold your hands up and admit that your opponents are better than you. But why bother when, having raised those hands, you could then use them to control the ball and score a goal?
So lighten up, Roberto Mancini. Can't you see that Peter Crouch's "NBA" dribble to get past your defence was in fact nothing more than sincere flattery?
Football is a results industry but some managers get too bogged down in minor details like winning, fair play and the possibility of being sacked if terrible decisions end up cheating you out of reaching your lofty ambitions.
But if your adversary has to resort to playing an entirely different sport in order to beat you, take it as a compliment!
MTW
is sure that it'll be absolutely fine. After all, it's not as if any coach has ever come under undue fire for a disappointing early result (er, more on that later).
GOOD WEEKEND


Debutants
Christian Benteke, Javi Garcia, Alexander Buttner, Nick Powell; take a bow, fellas, for your first-game goals. Statistically, for at least one of you it's probably all downhill from here - enjoy it while it lasts!

The Championship
Twelve games, 42 goals, not a nil-nil in sight. Even a team managed by Steve Kean scored five (and conceded three). England's second tier is arguably more consistently brilliant fun than its big brother.

Chart music
The Hillsborough-inspired propelling of 'You'll Never Walk Alone' to No.12 in the UK hit parade gave everyone a few minutes of blessed relief from 'My Wallawoogas Are On Fire' or whatever it is that Rihanna is peddling these days.
At any rate, the fans can't complain. After everyone was so taken with the Olympics, a little bit more handball on prime-time telly was exactly what the doctor ordered, right?
Premature e-speculation
Andre Villas-Boas (Tottenham)MTW
is not impressed with you, Twitter. Not at all.
From the very first game of the season (some even before then!) there have been more knives out for Andre Villas-Boas than a seven-course banquet on 'Downton Abbey'.*
From crazy short-termites (tee hee, 'termites') calling themselves fans to Proper Journalists who should know better, there's been talk of shifting him out of the door post haste. Some reputable publications even claimed that he had three games to turn it around!
The 3-1 win over Reading, of course, was only one out of those three games. And Reading were awful, despite the best efforts of Brian McDermott, who appears to have been promoted from a middle-management role at supermarket sponsor Waitrose.
But Spurs were generally super and basically just proof that it takes more than three ruddy games. Give Villas-Boas a season at the absolute least - it should really be two or three - then get '#AVBout' trending if you must.
In the meantime, though,
MTW
hereby issues a cyber-slap around the faces of anyone who used that ridiculous hashtag.
*MTW
hasn't seen 'Downton Abbey'. If they don't have banquets on that show, just forgive us, eh?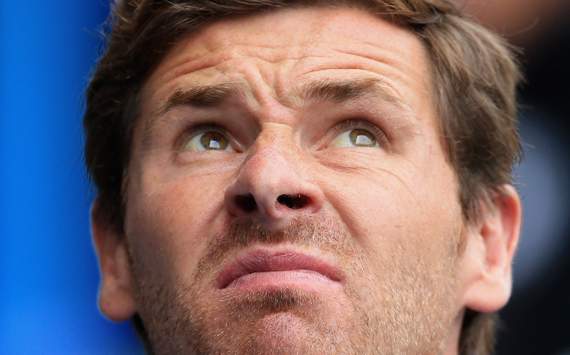 "Darn it - I got such good odds on my being sacked next week..."
MTW Mailbag

Dear
MTW,
A new colleague of mine recently did my job better in one afternoon than I have done for three years and I was caught on a TV camera pulling the single most blatant "oh fiddlesticks" face in history.

Ideally I would prefer not to broadcast publicly what shade of brown my undercrackers are at any given time and I am seeking ways to develop my 'poker face'.

Could you recommend a tutor or pass on any helpful techniques to keep my face calm and unreadable?


BAD WEEKEND


Sam Allardyce
The West Ham boss revealed that Liverpool can recall Andy Carroll in January if they should so wish. In other words, Liverpool will be recalling Andy Carroll in January.

Manchester City
The Premier League holders might have been harbouring some hope but now they will have to face Real Madrid on Tuesday in the first match following one of 'those' Jose Mourinho press conferences. Expect a reaction, i.e. a monster-thrashing from the Spaniards.

Puns
When the left-back's goal for Manchester United went in, so heavy was the deluge of "I cant believe it is/it's not Buttner" jokes that the entire concept of humour had to be taken offline for 15 joyless minutes and reboot itself. Try harder, everyone.
Yours transparently,

P. Evra, Manchester


You've come to the right place, Mr/s Evra. Here is
MTW
's three-step guide to keeping a straight face.
1. Remember any one of those oh-so-hilarious Photoshopped pictures of John Terry celebrating victories in which he had no part.
2. That's it.
3. You're all done.
Bad luck charm

Robin van Persie
Think you're doing well so far, Manchester United fans? Think again. The signing of Robin van Persie has clearly been a massive mistake.
All this time at Arsenal, we thought the Dutchman was doing well. Brilliantly, even. But suddenly, as soon as he gets sold, strange things are happening at the Emirates Stadium. It's all going ... right.
How do you explain Vito Mannone becoming a more reliable goalkeeper than Wojciech Szczesny? How do you explain three clean sheets from a back line containing Carl Jenkinson? How can you possibly comprehend Gervinho showing any kind of composure in front of goal? A 6-1 win over a defence featuring Jos Hooiveld ... OK, actually, that one can be explained. Ignore that part.
There is only one explanation: Van Persie is some kind of paranormal bad luck charm who was holding Arsenal back for years. Can you imagine how good Manuel Almunia must really have been? And they let him go on a free transfer!
Sure, United might sound pleased with a 4-0 win over Wigan, but compared to the 10-0 thrashing that it clearly would have been without the grey-haired albatross around their necks, it's a massive disappointment and to pay the Londoners upwards of £20 million to lift the curse is nothing short of a disgrace.
#FergieOut!
Follow George Ankers on