By
George Ankers
World's greatest dad

Jose Mourinho
Sometimes it's hard to imagine footballers as real people. They can often seem like chess pieces, emotionless kicking machines sent from the future to win sporting contests and overthrow the organic populace by the year 2016. But that's not true.
Footballers are human beings who have children, siblings, lovers, pets and hamstring injuries. And parents. Well, sort of. That's what separates us common folk from the beautiful-game robots; where we have fathers, they have father figures.
Sometimes they mean the father figures who "bred" them in their manufacturing plants (insidiously called "academies") from should-be-illegally young ages, but often not.
For Michael Essien, it certainly isn't. After completing a surprise deadline-day loan move to Real Madrid, the midfielder declared "I see him as a father" of Jose Mourinho for taking him to Chelsea all those years ago.
The Portuguese is, of course, a dedicated family man, but
MTW
imagines him as a rather strange parent – although the image of Mourinho and Essien attending the Chelsea Flower Show on a bonding trip is a touching one.
GOOD WEEKEND


Abou Diaby
To be fair, any weekend over which Diaby doesn't get injured must count as a good one these days, but this one went some distance further as the Frenchman did a rather excellent Yaya Toure impersonation for Arsenal against Liverpool. Alex who?

Arsenal's scouts
Why bother doing any work when you can just watch the likes of Morgan Schneiderlin, James Ward-Prowse and Adam Lallana excel for Southampton against Manchester United? The Gunners have got all sorts of options for their next inevitable pilfering from the St Mary's production line.

Adam Morgan
When the young Liverpool forward was pointed at by Brendan Rodgers in that clip doing the rounds of the Ulsterman having a go at Raheem Sterling in the Reds' soon-to-be-aired fly-on-the-wall documentary and told that he would be "rewarded" for his good attitude, he probably didn't expect that he would immediately become the club's third-choice striker. What a promotion.
The Special One strikes
MTW
as a particularly intense father. "Pressure? What pressure?" he once retorted to an English journalist. "Pressure is poor people in the world trying to feed their families." He'd take it seriously, at least.
But you wouldn't want him being the thoughtful-yet-somehow-careless dad making you breakfast before school. "It depends on the quality of the eggs," he'd bark grumpily from the kitchen before serving you a burnt omelette. "In the supermarket you have class-one, -two or class-three eggs and some are more expensive than others and some give you better omelettes."
"I just wanted some toast," little Micky Essien would reply, bemused and hungry. And, of course, Jose would be wearing that awful 'World's Greatest Dad' T-shirt EVERYWHERE and embarrassing you in front of other people as only a father can.
Surely there are managers out there who would make better dads. Maybe Mark Hughes, the gruff one who'd only speak to you at the dinner table with a cursory "doing your homework, I hope" but drive straight to the bully's house to have some stern Words at the slightest hint of mistreatment.
Perhaps Martin O'Neill, who'd sit down to play chess with you every Sunday afternoon and flip the board around when you weren't looking if you were losing. Or Michael Laudrup, the ultimate cool dad who'd take you and your awed mates out for an ice cream before charming the mums at the school parents' evening.
MTW
's choice, though, would be Southampton boss Nigel Adkins, the positive influence who'd be there encouraging you no matter what you did, who'd be the first one on the scene with an arm around the shoulder to help mend a broken young heart. In fact, he's such a good-natured man, he'd probably adopt this column right now if it asked nicely. Be right back...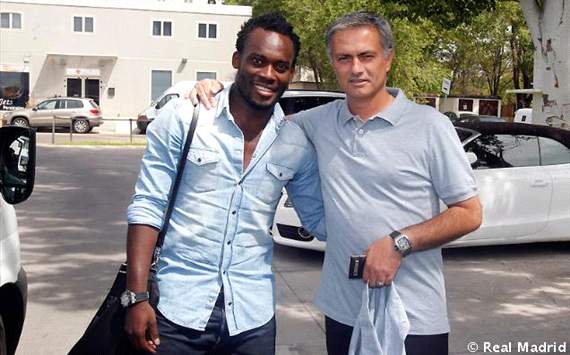 Special Son | Jose and little Micky, probably before playing catch together
Quote of the weekend

"Diaby is a player don't know why he doesn't play more games "
– Wayne Rooney, probably wondering why he and his gashed leg were left out against Southampton.

MTW Mailbag

Dear
MTW
,

Last year I decided that I didn't fancy going in for work one day and told the boss to do one before flying home for Mama's home cooking and a round of golf in the full knowledge that I would probably be fired. Hey, go out on a high, right?

Only thing is, I wandered back into the office a few months later to collect my things but he just acted like nothing had happened and put me back to work! I actually won Employee of the Month this weekend to top it all off!


BAD WEEKEND


Roman Abramovich
The Chelsea owner must have been crying into his oil when watching his side being royally brutalised by Radamel Falcao in the Super Cup. Turns out that Atletico Madrid strikers are like the mythical hydra; if you buy one head, a more powerful one grows back in its place.

Wayne Rooney
As Robin van Persie sealed a vital hat-trick to see off Southampton, grinning and whooping and sending Manchester United fans into an irony-laden chorus of "he scores when he wants", the England man Tweeted his excitement to the Dutchman. But MTW bets you a tenner that he was really wishing that he'd turned down that extra cheeseburger over the summer.

Jez Moxey
Only £14 million to sell Steven Fletcher to Sunderland? Two goals in his first league game against the division's form team? After all that talk, it turns out that the Wolves supremo has, against the odds, ripped himself off.
I should probably be concerned about the man's memory and be seeking professional advice - he has gone grey, after all, so it's only a matter of time until he's waving a walking stick angrily at the television and calling it Brenda - but this seems a like a golden opportunity to try all of those classic work pranks that you always dream about but never get a chance to actually do.

Can
MTW
recommend any good practical jokes? I've already ordered 10 million boxes of staples on the company credit card and loosened the screws in the boss' office chair. One of our interns, Mario, has promised to let off some fireworks in the break room next week, too. Any more ideas would be welcomed.

Yours in mischief,

C. Tevez, Manchester

Owen goal

Liverpool
Take a bow, Ian Ayre. Take a bow. No, really, well done. The Liverpool managing director has done what many thought impossible: He's made Andy Carroll look like he's worth £35 million.
The managing director's spectacular hardball negotiating over Clint Dempsey, a player for whom Liverpool were reliant upon signing following loaning Wor Lump out to West Ham, backfired spectacularly as their £3 million offer proved unsurprisingly unappealing to Fulham, who promptly flogged the American to Tottenham instead.
And now the Reds sit uncomfortably with a stable of just two first-team strikers, wishing for all the world that they'd not let their third go. What price the target man, now, eh? How on earth will they fill this void?
Hang on, did you say 'stable'? Never fear, then, because Michael Owen's ears just perked up!
Yep, it looks like Liverpool may now have to suffer the embarrassing climbdown of running to their former icon, a man who has scored goals over the past few seasons at Manchester United just occasionally enough to stop his poacher's license from expiring.
Oh, yes, there's the Manchester United thing. That won't be awkward, will it? Ah, I'm sure the fans will forgive him. They don't hold grudges in Liverpool.
But when the ex-Red Devil rides into Anfield on his favourite horse, plops merrily onto the bench, gabbering: "Hey, guys, great to see you all again! What have you all been up to since I was last here? I picked up this sweet medal..." one suspects that the crowd will be singing Carroll's name louder than they ever have before.
At least this way Kenny Dalglish gets to retroactively become a genius again. It's important to have a hero, after all.
Follow George Ankers on