By
George Ankers
Rodgers perfects King Kenny tribute act

Liverpool
Thanks, Liverpool. We knew that we could count on you.
After the unending excitement of the 2011-12 Premier League season, what we wanted was more of the same, please. We know what we like and we like what we know. Entertain us.
And so it was that Brendan Rodgers masterminded a breathtaking re-enactment of the Kenny Dalglish glory days for fans who couldn't quite let go. Fair enough. His predecessor's style had a famous season and deserved a testimonial outing.
The Reds' 3-0 defeat to West Brom had all the classic hallmarks of a Dalglish disaster. Totally superior at 0-0? Check. Luis Suarez hitting several thousand shots off target? Check. Weakly fading away once behind? Check. Zoltan Gera? Czech. (Wait, no – Hungarian. Oh, close enough.)
There were, of course, some refereeing bloopers from Phil Dowd, a Machiavellian schemer who appears to have been fixing it for himself every week for the past decade to win those be-a-referee-for-the-day contests.
GOOD WEEKEND


Terrible puns
It wouldn't be the football season without ready-made headlines, preferably based on the summer's hottest recruits. Lo and behold, "Hazard the dangerman" and "Pleased to Michu" wrote themselves almost immediately. Wham, bam, thank you ma'am.

Promoted sides
Welcome home! West Ham successfully Allardyced their way to a 1-0 win over Aston Villa to mark their top-flight comeback. Reading submitted an early goalkeeper's gag reel contender but fought back to draw, while Southampton were arguably the best of the three. They lost a lead and took home precisely zero points, but MTW isn't sure that they noticed.

Demba Ba
Not eaten for a month thanks to Ramadan? No problem! Newcastle's other Senegalese strikemaster curled an absolute thronker home against Tottenham in a 2-1 win. Imagine how good he'll be after a well-earned pizza.
Daniel Agger's red card that took Liverpool down to nine men (
MTW
isn't counting Stewart Downing) was a foul call softer than an otter's belly-button fluff, as well as being quite clearly not in the penalty area. At least Martin Skrtel's penalty a moment later proved that the FA's new vicelike clampdown on defenders falling for the old "poke-him-on-the-shoulder-but-run-away-before-he-can-turn-round-to-see-you" trick is off to a good start.
None of that would have mattered, though, if the Reds had a striker who could shoot straight. Oh, wait, they do. Fabio Borini's supposed to be quite good, isn't he? But, er, he was shunted awkwardly wide while Suarez, who is a goal addict in the same way that Ted Striker has a drinking problem in 'Airplane!', merrily blazed every which way but netwards.
Still, though. 60 per cent possession!
Shutting up the fantasists
Sergio Aguero (Manchester City)
Cards on the table:
MTW
is a fantasy football tragic. It can only apologise. Whether you play the game within a game or not, your Twitter feed more than likely came in for an insufferable barrage of joyous bragging and agonised laments, with only two central themes: "Yay, I've got him!" or "Blast, I don't have him!"
MTW
is only too aware, therefore, of the fact that this must be beyond infuriating for those not in a league. Acknowledging the impulse to shut up about it and stop clogging up timelines with banal exclamations is not, however, enough to deny it, especially when RUDDY MICHU scores two fantastic goals and YOU'D ONLY DECIDED TO GET RID OF HIM TWO DAYS AGO!
Ahem.
... And Eden Hazard, too! (OK! OK! Promise to stop now.)
Step up, therefore, heroic Southampton full-back Nathaniel Clyne, who delivered a swift,
schadenfreude
-powered kick to the plums of huge swathes of would-be managers by accidentally forcing universally drafted* Manchester City goal-man Sergio Aguero off the field on a stretcher.
MTW
generally takes no pleasure in injuries to any player and wishes the Argentine a speedy recovery – but it was probably worth it just to get everyone to stop talking about fantasy for a bit and just watch the real game in front of them. Which turned out to be a cracker, so everyone wins!
*Yes, MTW had him too. Vice-captain. Alas.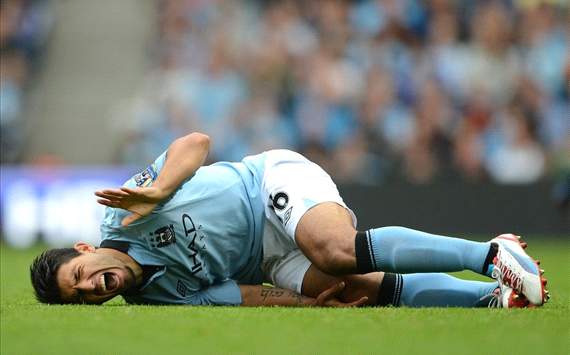 Down to earth | That sound you're hearing is a million wannabe bosses sobbing. And Aguero.
BAD WEEKEND

Olivier Giroud
Sunderland have parked the bus for 82 minutes and resolutely offered Arsenal's forwards a steaming plate of nothing-to-see-here. Your new club's fans are fuming at their captain's departure. You come on off the bench. The perfect pass finds you. You can't miss ... you do. First impressions, eh?

Penalties
Goodness gracious, people, put your foot through it! Shane Long and David Silva were locked in an epic duel to take the league's most rubbish spot-kick this weekend, each applying as little force to the ball as humanly possible while still physically kicking it. Both teams should have been summarily disqualified for the shame of it.

Manchester United
The Red Devils usually at least have the courtesy of waiting for the season to start before having all of their defenders sprain ankles, fall off ladders or contract the bubonic plague. As it is, with Rio Ferdinand the latest out, it looks like midfielder Michael Carrick and Nemanja Vidic, himself only just back from death's door, will be holding fort at centre-back against Everton. Until an anvil falls on one of them, at least.
Quote of the weekend

"When I have to make tough decisions in my life I listen to the little boy inside me. That little boy was screaming 'Manchester United'!"
– Robin van Persie's contract is later judged to be void after he spills ice cream over the signature. Cue an awkward reunion with Arsenal.

MTW Mailbag

Dear
MTW
,

I'm soon to be starting a new job – just waiting for the paperwork to go through! – but I'm worried that my perfectly sensible name might prevent me from making the right first impression.

I'm afraid that I may be bullied by my new co-workers and tabloid headline writers alike and am concerned that such laughter could affect my performance just when I most need to impress. Can you offer any advice?

Yours,

A. Buttner, Arnhem (soon to be Manchester)


Do you have Danny Shittu's number?
Y U NO DEFEND?

Everyone

Look here, Premier League. It's not that we don't all love goals. We really do. We think goals are ace. But would it kill you to at least try to keep them out? Anyone?
2011-12 was widely acknowledged as something of a nadir for defending in the top flight. A thrill-a-minute rollercoaster ride of a nadir, sure, but it is a pretty major aspect of the sport and it would be lovely to see at least a token attempt to prevent them.
So ha ha, QPR, very funny. You've had your fun.
MTW
has watched you sign any mid-level midfielder that moves, but picking up Rob Green, the human embodiment of a "days since an accident in the workplace: 10" calendar, paid off about as well as you would expect when he dropped a clanger on debut for Swansea's opener. It is, however, a thankless enough task already standing guard behind Anton Ferdinand and Clint Hill. Does Mark Hughes know that he's allowed to buy defenders?
They shipped five. A hapless Norwich City back line shipped five. Liverpool were hit for three. Even Manchester City conceded twice. A horrendous Adam Federici error caused Reading to go behind against Stoke City. Wigan debutant Ivan Ramis provided a masterclass in how to stuff everything up from the first minute while partner Gary Caldwell just aimed random kicks at people for 90 minutes. At 2.89 goals per game so far, this Premier League is already on course to exceed last season's record total. For goodness' sake – come back, Djimi Traore, all is forgiven.
Follow George Ankers on