By
Andrew Kennedy

The Olympics? Pfffft

Football, beautiful football!

MTW woke on Sunday morning with a big lump in his throat, a trembling bottom lip and a flood of tears just ready to pour out.
The Olympics were coming to an end. Two weeks of non-stop sport consigned to the past with seemingly nothing on the horizon to fill the void. No more Mo Farahs or Usain Bolts to cheer on or celebrate with. Depression ensued.
Six hours later though (yes MTW is an early riser) and this column was back on top of the world – all thanks to Manchester City and Chelsea, who provided a bit of a corker in the Community Shield at Villa Park.
As if City's surprise move for Jack Rodwell was not enough to kick-start the day, the two Premier League sides indulged in a feisty contest, with all the old favourites such as Fernando Torres, Yaya Toure, Carlos Tevez and Samir Nasri – oh, and Ryan Bertrand too – finding their names on the scoresheet.
There was even what will probably turn out to be the customary booing of Eden Hazard, after the Belgian tested the refereeing waters with a dive early on before stumbling over himself much to the amusement of Man City fans.
And that is without mentioning Branislav Ivanovic's rather naughty challenge on Aleksandar Kolarov which saw him dismissed midway through the first half. Cor, it was brilliant! Not the Chelsea man's two-footed tackle of course, but the rip-roaring return to the football season.
MTW settled down nice and cosy on Sunday evening to a highlights reel of all the action from the last campaign and slept like a baby thinking about what lies ahead. Apparently there was some sort of closing ceremony on last night as well?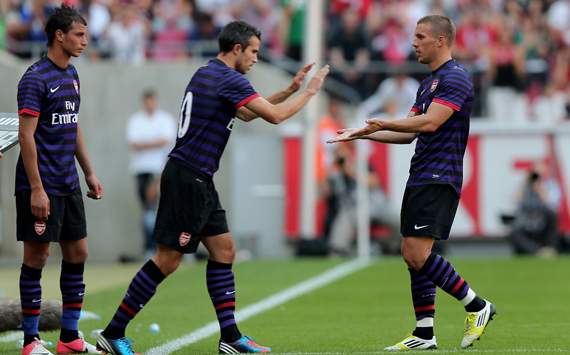 Almost the forgotten man | Podolski's double will ease concerns over RVP's future

Captain not-so fantastic
Robin van Persie (Arsenal)
Just as the Robin van Persie saga had been almost wiped from the minds of Arsenal fans thanks to Lukas Podolski's double in Sunday's 4-0 win over Koln, the Dutchman made his return to the Gunners side.
Greeted by a wall of silence from the club's fans, and boos from the German supporters, Van Persie's first port of call after being introduced as a substitute was to make a beeline to take the captain's armband from Thomas Vermaelen.
Ooooh, that's a bit awkward. After flirting with a host of clubs throughout the summer transfer window and making it pretty clear you want to be anywhere but the Emirates, you still think you can swan back in and be top of the tree?
Luckily Vermaelen kept the peace and let Van Persie have his way – and the 29-year-old striker even made the gesture of applauding the travelling contingent after the game. What a guy.
Quote of the weekend part I

"No doubt Cristiano is better than Messi. He is a more complete player"
– Olympic "living legend" Usain Bolt gives his view on the battle to be the best footballer in the world. He is wrong of course.
Already on a knife edge
Steve Kean (Blackburn Rovers)

As if last season was not bad enough for poor old Steven Kean at Blackburn Rovers – being vilified by your own fans constantly for 10 months before justifying it by getting relegated – the 44-year-old can forget about enjoying an easy ride in the Championship.
Not only will the supporters be on his back from the get-go, but director of football Shebby Singh has already showed his disdain for Kean after revealing he was one of his "worst critics" last season.
"If, after three games, we have dropped nine points, then we'll only have a 50% chance of getting promoted," Singh said.
"If the results are not forthcoming, I put the pressure on the manager and the players."
However, Kean has a partner in crime when it comes to masterminding Blackburn's downfall according to Singh, after he also took aim at Morten Gamst Pedersen – claiming the 30-year-old is past his "sell-by date".
"Morten Gamst Pedersen used to be a fantastic left winger. He has lost his legs. He has not been contributing to the team," the advisor said.
Another harmonious season ahead at Ewood Park then!
Quote of the weekend part II

"Jack Rodwell is a young player who needs to improve to play at this level. He's a good player for our future, I hope"
– Roberto Mancini giving, well, his half-arsed backing to new signing Jack Rodwell
Scapegoat for a nation
Rafael da Silva (Brazil)

If Mexico did not read the script for Saturday afternoon's Olympic final clash with Brazil, then heaven knows what the Samba Boys thought was the plan at Wembley.
The clash had been pretty much touted as a procession to a first ever football gold medal for Brazil, yet after 28 seconds Oribe Peralta found the back of the net to give his side a shock lead - capitalising on some rather cocky defending from Manchester United right-back Rafael da Silva.
From then on the writing was on the wall for the 22-year-old, and regardless of how bad the rest of his team-mates played as they slumped to a 2-1 defeat, he was always going to be the scapegoat for Brazil's fans.
Rafael certainly did not help matters by sarcastically clapping in right-back Juan's face as he left the field, and was duly booed by both sets of fans as he collected his silver medal! Fair enough he acted like a right pillock, but that was a tad harsh in MTW's books – and the Rafael baiting is unlikely to stop according to boss Mano Menezes.
"We have that national culture [of finding a scapegoat] when things don't go well and you are not going to change it overnight," he said.
Tweet of the weekend part I

"Well done usa..... And thanks to @YCabayeofficiel for the surprise!!!"
- MTW wishes he had a pal like Yohan Cabaye, after the Frenchman treated fellow Newcastle team-mate Demba Ba to tickets to see USA beat Spain to Olympic gold in the basketball final.
Fantasy Hero
David Beckham

Young Tom Daley struggled in the Olympic synchronised diving final two weeks ago, and looked to be on a similar path to failure in the qualifying rounds for the men's single 10m platform diving final.
The 18-year-old scraped into the final on Saturday evening, but what he needed was that added impetus to push on for a medal – and what better than the mighty David Beckham looking down from the stands? D-Beck stepped up and so did Daley, with one of the faces of Team GB sealing a bronze medal.
Fantasy Zero
Luisao (Benfica)

The Benfica players' hounding of referee Christian Fischer during Saturday's friendly with Fortuna Dusseldorf was bad enough, but captain Luisao went completely off the rails by knocking the official out during the game with a rather robust push/elbow combo.
The 31-year-old claimed to have a "clear conscience" after the incident, but has now been reported to Uefa by his German opponents.
Follow Andrew Kennedy on