By
Andrew Kennedy

Not the world's greediest man
Ashley Cole (Chelsea)

A great myth was dispelled this week - Chelsea left-back Ashley Cole is in fact not a money-grabbing swine.
"Contract talks have not stalled just started, and 200k are you for real, I'd never ask for that," the 31-year-old said via Twitter on Sunday regarding his contract negotiations.
MTW is pretty sure Ashley would settle for the £100,000-plus a-week deal he currently already has at Stamford Bridge, although the timing of his messages are rather suspect.
On Saturday evening, Carlo Ancelotti ruled out bringing Cole to Paris Saint-Germain – and in turn scuppered any hopes the England international had of one last big payday.
Arsenal fans were quick to jump to the bait of course, reminding Cole of the motives behind his exit from the Emirates in 2006, and the former Gunner just couldn't resist a pop right back, noting his ex-side's lack of trophies once again after the Blues' Champions League triumph in May.
"Arsenal fans get over it, I left I won #ihaveastaronmyshirtnow," Cole sniped on Twitter.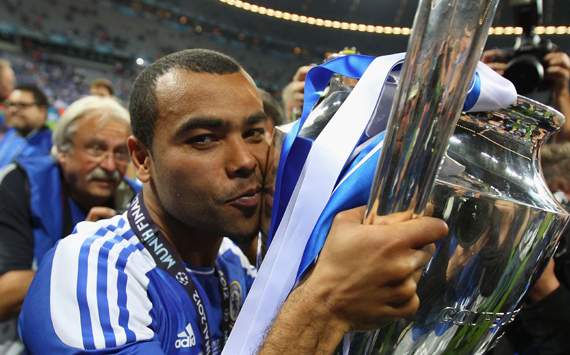 Take a look at me now | Ashley Cole once again takes a pop at trophyless Arsenal fans

Are you England in disguise?
Team GB
A familiar sight greeted football fans up and down the country on Saturday evening, with a side full of homegrown hopefuls crashing out of an international football tournament in the quarter-finals, and of course, on penalties.
Yet this wasn't England. No. This was Team GB. And with all the Olympic frenzy surrounding the British Isles following stunning performances from Jessica Ennis, Greg Rutherford and Mo Farah on the track, MTW certainly got swept up and began to believe that just maybe Stuart Pearce's men could add to the carnival atmosphere.
Predictably, the football bubble quickly burst.
Daniel Sturridge stuttered, quite literally, his way into the ranks of Gareth Southgate, David Batty and Paul Ince from the spot, after he saw his penalty, GB's fifth effort, saved by the goalkeeper to allow South Korea to seal a 5-4 victory.
In fairness, it was probably for the best that Sturridge scuppered his kick. Otherwise a sudden victory after years of penalty disappointment would no doubt have blown open a doping scandal.
Of course the contrast to the scenes at the Olympic Stadium in Stratford to those in Cardiff's Millenium Stadium cued the usual torrent of abuse towards footballers in general.
"Footballers don't care! They're rubbish, overpaid scoundrels!" was the sentiment from some quarters.
Yes, these villains of modern society such as Sturridge – a man who battled meningitis in order to represent Great Britain in the Olympics.
There will always be naysayers, and MTW is more than sure they'll be shunning the Premier League for the next Diamond League meeting.
Quote of the weekend part I

"He's a stud. He's a champion, he's the greatest ever"
– Landon Donovan goes weak at the knees for USA swimmer Michael Phelps, who has become the most decorated Olympian at London 2012.
Reminding us he still exists
Harry Redknapp

Things have taken quite a tumble for Redknapp this year. Six months ago he was leading Tottenham to an unlikely title charge and being heavily touted as England's next manager.
Out of a job and now unemployed, the 65-year-old has instead been spending the majority of his time locked in negotiations with Nigerian striker Kanu – embarking on a Batman and Robin-esque escapade to save former club Portsmouth from financial ruin.
Yet Redknapp's craving for the limelight returned this week, and he just couldn't wait to scratch that itch, with the former Spurs boss wading in on the Luka Modric transfer saga.
"I would not be sure Luka would start the season at Tottenham. The club would be happy to sell if they get the right money," he told The Sun.
"The chairman said to him last year 'Give us one more season and if Real come in I won't stand in your way.'"
First Demba Ba's contract clause, now Modric and Levy's gentleman's agreement, MTW wonders what insider info Redknapp will put up for grabs next week.
Quote of the weekend part II

"I would have probably stuck my neck out and said we would almost certainly stay up with him on board"
– At least Sam Allardyce has a ready-made excuse if West Ham fail to remain in the Premier League next season, with the east London club set to miss out on top target Andy Carroll.
Get a room please
David Beckham & Jose Mourinho

David Beckham and Jose Mourinho enjoyed an exchanging of pleasantries on Friday that would have had MTW sick to his stomach had they not been between two such attractive chaps.
First the Real Madrid boss had his say on the midfielder's absence from the Team GB Olympic squad, albeit about four weeks too late, and then compared the 37-year-old to the founder of the Games themselves!?
"If now the Olympic Games are in London, it is because of him," the Portuguese said. "I think he's one of the best soccer professionals to express what is the ideal of Pierre de Coubertin. I'm so sorry he's not there.
"Beckham is always very nice to me. He has always very good words to me. I'm so sorry I could never be his coach, because I would love it."
And far be it from Beckham not to repay the compliment, with the LA Galaxy man describing Mourinho as an "amazing human being" amongst other bouts of lavish praise.
"He's a very special person and manager. I think what he's achieved in his career, his very short career so far, is amazing."
Tweet of the weekend part I

"Just an olympic record for Bolt after a rubbish start looool. He's a joke"
– Sylvain Distin joins the millions of people wondering, could Usain Bolt win the 100m final on a rainy night in Stoke? (What? Every single person who uses Twitter has also cracked that joke…?)
Tweet of the weekend part II

"I'd put money on Ryan Bailey being most googled (images) man at the moment after the line up before the 100m final! #SweetBoyLook going on!"
– Not even the fastest man on the planet could distract Rio Ferdinand from the polished looks of USA sprinter Ryan Bailey.
Fantasy Hero
Fabrice Muamba

Alright, it may have only been a small kickabout with a few pals on holiday, but Bolton's Fabrice Muamba revealed to CNN on Friday that he made something of a footballing return in Dubai recently.
"The hotel staff usually play the visitors so I was by the pool and I heard they were playing football," Muamba said.
"Then I went across and saw other footballers playing and I told my friends and Shauna 'I am sorry but I am going to play football'.
"She said 'Are you sure?' but I just went in there."
Fantasy Zero
Edin Dzeko (Manchester City)

Roberto Mancini will no doubt be relieved that it isn't Carlos Tevez kicking up a fuss at Manchester City this summer. Instead it's Edin Dzeko – a man who has done very little to suggest he can usurp either Tevez or Sergio Aguero in the starting XI – who is complaining that he's had enough of being stuck on the bench.
"I never imagined that things would turn out the way they have. I am too good for the bench. If I continue to sit matches out, then anything is possible," the Bosnian whined to The Sun.
Follow Andrew Kennedy on