By
Andrew Kennedy
The world's sexiest man
David Beckham

While the Olympic opening ceremony's all singing, all dancing ode to British history on Friday evening firmly lived up to expectations, there was only one participant who stole the show for MTW – the mighty David Beckham.
WHAT. A. BEAUTIFUL. MAN.
Speeding down the Thames in a boat carrying the torch, Beckham looked more Bond than James Bond himself, while his perfect looks, no doubt chiselled by the Greek Gods themselves, truly epitomised the spirit of Olympian superiority.
It wouldn't surprise MTW if the majority of Danny Boyle's £27 million budget paid for the 37-year-old's sharp, tailored suit – and seeing D-Beck take such a glamorous role in the opening ceremony almost made up for his Team GB absence, even it did serve to highlight how ridiculous the decision to omit him from the squad may be.
MTW thoroughly enjoyed Friday's extravaganza, but this column's Twitter feed was flooded by cynics whining about the cost of it all. Not to trod over old ground, but hey, what the heck, that's a lot cheaper than Andy Carroll! ZING!
Just think - if the big striker does get shipped out of Merseyside this summer, Anfield could host its own ceremony for the start of the Premier League – imagine that, the new philosophy of Brendan Rodgers introduced to the Scouse faithful through the medium of song and dance.
The pinnacle could be big Carroll being slain in front of the Kop before a glowing Joe Allen emerges from his carcass and then indulges the crowd in a reading of Rodgers' 108-page dossier on how to play the perfect game of football.
Although a rendition of 'Hey Jude' will probably be given a swerve following Paul McCartney's, er, off-key performance at the Olympic Stadium.
So, that's what all the fuss is about
Neymar (Brazil)

For the past couple of years now in Europe, we have praised Lionel Messi and Cristiano Ronaldo to the high heavens, while our footballing friends in South America have quietly dismissed suggestions that the two La Liga stars are the best on the planet.
Instead, they have a secret weapon who is set to be unleashed upon the world, and that man is Neymar.
Yes, we've all seen YouTube videos of the 20-year-old's dazzling skills – but unless it happens on our shores, then it doesn't really count it seems, well, at least according to a few numpties.
There can be no arguments now, however, that young Neymar is indeed something quite special after his headlining-grabbing performance in Brazil's 3-1 win over the mighty Belarus on Sunday.
The Santos star scored a sumptuous free-kick as well as grabbing two assists, but even better was his headed nutmeg in the build to Oscar's goal. Ridiculously brilliant.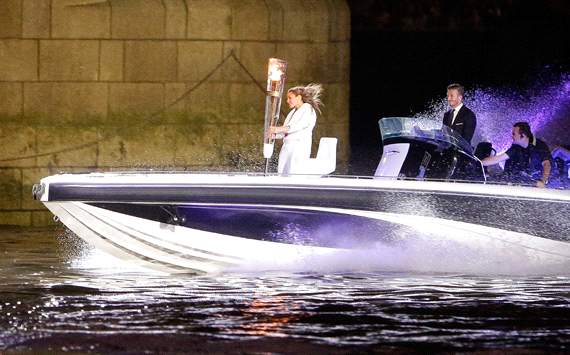 Look, no hands! | Beckham ferries the Olympic torch along the Thames

Quote of the weekend part I

"The wife was getting ecstatic the Queen had sent us a letter and I kept saying: 'Forget the Queen.' Johnny Marr [of The Smiths] has sent me a message on Twitter. And Robbie Fowler. I had a message from God"
– Tour de France winner Bradley Wiggins certainly has his priorities sorted.
Give them the gold!
Team GB

Sixty minutes into Sunday evening's clash with United Arab Emirates, and you could feel the noose being lowered towards Stuart Pearce's neck after Rashid Essa equalised to level the scores at 1-1 following Ryan Giggs' opener.
Pearce was to have the last laugh, however, with a couple of masterful substitutions turning the game on its head and securing a 3-1 win for Team GB.
First, up popped Scott Sinclair to fire the hosts back into the lead with his first touch of the game, before Daniel Sturridge's sumptuous lofted finish to ensured victory.
"I'd say the substitution from the manager was the real turning point," said, er, the manager, Stuart Pearce – but considering the majority of us had him down as halfwit bumpkin in recent weeks, MTW thinks it's only fair he highlights his good decisions.
And with Spain crashing out of the tournament and Uruguay on the verge of joining them in the Olympic wasteland, dare we dream of Team GB football gold?
Ah, yes, the Brazilians. They've already beaten Team GB once, but there'll be no complaints if Giggs & Co. can bag a medal and a place on the podium!
Quote of the weekend part II

"I think defensively we looked fragile, especially in the first half … Defensively we have a lot of work to do as a unit to do much better"
– Arsene Wenger finally clocks onto the fact his defence has been dismal for the past seven years after Arsenal were twice forced to come from behind to secure a 2-2 draw against Chinese side Kitchee on Sunday.
The new Dean Ashton
Jack Wilshere (Arsenal)

Certainly not a title you want to be labelled with as a professional footballer, but concerns must be ever-growing at the Emirates over the long-term fitness of Jack Wilshere after his Arsenal return was put back again this weekend.
After initially sustaining an ankle injury in July of last year in a friendly clash with New York Red Bulls that was only expected to keep him out for a week, fast forward 12 months and the 20-year-old has still yet to feature again for the Gunners.
Now Arsenal fans will have to wait until October to see their starlet in action, and even then, they will hold little hope that Wilshere's return won't once again be put back – dare MTW say, will he be the same player again?
One man who the youngster won't want to sympathise with him is former West Ham man Dean Ashton, who was forced to retire from the game in 2009 due to a three-year injury battle.
Unfortunately for Wilshere, Ashton seems best placed at the moment to understand the "lonely place" he is in as he continues his fight to regain fitness.
Tweet of the weekend
"So happy... Senegal on fire. Momo diame lead the team to the final please..."
– Demba Ba probably wasn't the only one happy to see Senegal to seal a surprise 2-0 victory over Uruguay.
Quote of the weekend part III

"Yes [PSG are better than Milan] because they lost their two best players"
– The word modesty certainly has no place in new Paris Saint-Germain striker Zlatan Ibrahimovic's vocabulary.
Fantasy Hero
Andriy Shevchenko

The talismanic Ukrainian striker officially hung up his boots for good on Saturday after a glittering career spanning 18 years, during which he dazzled us all with some fabulous strikes.
But Shevchenko has no intentions of joining the ranks of football's elder statesmen, instead planning to use the sway he has in his home country to launch a career in politics.
Fantasy Zero
Charlie Adam (Liverpool)

The Scotsman doesn't just love a saucy challenge, but he particularly loves a saucy challenge on Tottenham's Gareth Bale.
The last time Adam took a bite at the Welshman's ankles, the wideman was sidelined for three months, but that didn't stop the Liverpool man having another go in Saturday's 0-0 friendly draw with Tottenham, with Bale having to come off at half-time following the midfielder's naughty tackle
"I can never doubt Charlie's integrity but it is a very, very nasty challenge," Spurs boss Andre Villas-Boas said after the game.
Follow Andrew Kennedy on