By
Andrew Kennedy
Battle for most tedious transfer saga
Robin van Persie (Arsenal) & Luka Modric (Tottenham)
Last summer, Samir Nasri's switch to Manchester City took the prize for the most drawn-out transfer, while in January, the wrangle over Carlos Tevez's future had us all sickened to our stomachs before he eventually decided to stay at Etihad Stadium.
This year, Robin van Persie and Luka Modric find themselves going head-to-head for the most tedious saga of the summer window.
The Arsenal striker, who has gone from hero to zero in a blink of an eye at the Emirates, refused to go on the club's pre-season tour of Asia this week, showing all the attributes of a petulant teenager as he looks to force his way out of the club that stuck by him during numerous injury-ravaged campaigns.
Despite averaging a return of just nine goals a season during his first seven years at the club, after one stellar year he is packing his bags and heading into the sunset with no regard for contractual obligations, loyalty or even the common decency of keeping his business under wraps.
Player rebellion is becoming a standard-bearer of life at Arsenal, and following in his captain's example, there has even been unrest coming from Theo Walcott's direction as he looks to boost his hand at the club.
If Walcott's wage demands are seen as legitimate, then Van Persie would well be within his rights to ask for a four-year contract at the club that also allows him to play for Manchester City every other Saturday.
Across north London Luka Modric looks set to finally get his move away from Tottenham, hopefully bringing an end to 12 months of speculation over the Croatian's future – there is only so many times you can read the headline 'Modric on brink of Spurs exit' without wanting to drive the player as far away from a Premier League ground as possible yourself.
Spurs may have played hardball last season after the player looked to force through a move to Chelsea, but the club are resigned to his departure this year, with Real Madrid now his most likely destination.
Unfortunately, Modric's decision to boycott the club's tour of the USA has angered chairman Daniel Levy, and if such a ploy does not force his exit from the club, MTW wonders how long before the midfielder complains of his persecution and a denial of basic human rights at White Hart Lane.
Going for Goliath
Dave Whelan (Wigan)
One man who does not shy away from a battle is Wigan owner Dave Whelan, no matter the size of his opponent.
Having successfully fended off Liverpool's interest in manager Roberto Martinez earlier this summer, the 75-year-old turned his attentions to Chelsea and the Premier League this week.
Whelan has told the Blues that they have no chance of snagging a cut-price deal for Latics starlet Victor Moses, with the club requiring a £10 million fee for their 21-year-old wideman.
And now the Wigan supremo has called for England's top-flight to introduce a wage cap - a measure which would no doubt face stiff competition from money-laden clubs such as Manchester City and Chelsea.
Luckily, his old pal Sir Alex Ferguson has offered his support to limiting player salaries, while also taking a swipe at the fees received by agents during big transfers.
"It's not just the transfer fees or the salaries, it's also the agents' fees. It's getting ridiculous now," the Manchester United boss said, as his club continue to struggle to afford top talent at Old Trafford.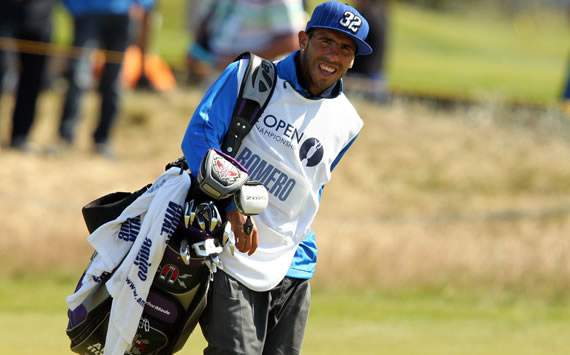 Stick to the day job | Tevez proved less than inspirational as compatriot Romero's caddy

Quote of the weekend part I

"Messi is the world's best player and it's a bit of an exaggeration to say I can be that good"
Eden Hazard plays down comparisons with Lionel Messi, mainly because he modestly wants to "succeed the Eden Hazard way"
Dream job for the day
Carlos Tevez (Manchester City)
After spending the majority of his self-imposed exile back in South America on the golf course, Carlos Tevez returned to his favourite pastime on Sunday, when caddying compatriot Andres Romero in the final round of The Open.
The striker's love of the sport has even encroached onto the football pitch, with the 28-year-old celebrating his goalscoring return to the Premier League against Norwich City last season with the swing of an imaginary golf club.
Tevez fans need not fear, though, with Carlos unlikely to switch football for a professional caddying career after Romero finished bottom of the leaderboard following a 12-over-par round of 82.
Tweet of the weekend

"Just landed in Austria, The pilot must of been #firsttimer as the flight was far from smooth. Travelling to hotel & its raining not happy"
– The trials and tribulations of life as Wigan's Emmerson Boyce
Let's watch the cycling instead
Team GB
We got our first glimpse of Stuart Pearce's Team GB football side on Friday as they fell to a second defeat in a row against Brazil, and while MTW has tried its very best to get behind the boys, its just impossible to get beyond the fact that Olympic football is dull.
Earlier in the day, Hope Powell's women's team played out a 0-0 draw with Sweden in front of a crowd of about 10 fans, but the people of Middlesbrough at least managed to half fill the Riverside Stadium for the arrival of Neymar & Co.
Home advantage and a lack of pressure due to the numerous other Team GB hopefuls may work out well for Pearce's men, but after Friday's showing, beating the Samba boys or Spain looks as unlikely as ever.
And after Bradley Wiggins's historic Tour de France victory on Sunday, MTW's attentions might be drawn away from Wembley to the velodrome instead over the next couple of weeks.
Quote of the weekend part II

"I don't think there will be players who won't shake his hand. I think they'll all do it"
– Aston Villa's Gabriel Agbonlahor has no intention of snubbing John Terry's handshake following the Chelsea captain's racism trial
Fantasy Hero
Bebe (Manchester United)
Could this be the season that Bebe proves his Manchester United transfer was in fact not the result of a temporary bout of lunacy on the part of Sir Alex but an inspired move we would only see the benefit of years later?
Probably not, but the 22-year-old Portuguese striker did get on the scoresheet for the Red Devils to salvage a 1-1 friendly draw with Ajax Cape Town on Saturday.
Fantasy Zero
Tal Ben-Haim (Portsmouth)
It is not exactly the big Israeli defender's fault that his £36,000-a-week contract at Portsmouth is hanging round the club's neck like a noose as they prepare for life in League One, but administrator Trevor Birch was quick to make the 30-year-old a scapegoat for the financial turmoil on the south coast.
Birch told The Independent: "Ben Haim represents everything that has gone wrong at Portsmouth, the excessive wages that were given four or five months before they went into administration the first time.
"The player and his agent haven't caused the problem but they are not helping. It's not just him, but his contract is by far the largest."
Follow Andrew Kennedy on