By
Andrew Kennedy
Most wanted man
Andy Carroll (Liverpool)

The hurt felt by Andy Carroll following new boss Brendan Rodgers' admission last week that he wants the striker pretty much anywhere but Anfield has been somewhat offset by a host of Premier League managers scrambling to reveal their admiration for the Liverpool man.
While the ex-Newcastle striker is reportedly keen to fight it out for his place on Merseyside, the arrival of Fabio Borini from Roma in an £11 million deal looks to have curtailed his chances at the club for another season.
Not to fear, however, as the big man has been presented with a host of options as to where to ply his trade next.
First Sam Allardyce tried to lure Carroll to West Ham - and, following this weekend's boxing bout between David Haye and Dereck Chisora at Upton Park, the east end of London may well be a perfect fit for the 23-year-old who once broke former team-mate Steven Taylor's jaw.
And now Aston Villa boss Paul Lambert has joined the love-in for the England international, insisting that "there's no doubt he's a top player".
Unfortunately, MTW has to disagree, and suggest that there is, in fact, a wee bit of doubt as to Carroll's quality, but that doesn't mean that this column doesn't want to see the big Geordie succeed.
And where better for him to reach the dizzy heights of his debut Premier League season than back at Sports Direct Arena?
Reports emerged on Sunday evening that Newcastle had lodged a bid to take the player on a short-term deal with a view to a permanent move – meaning that the Magpies would have essentially loaned Carroll to Liverpool for 18 months to finance the rebuilding of their squad before taking him back at a cut-price fee.
Mike Ashley, you are one evil genius.
Flaunting it
Paris Saint-Germain

So another revolution is getting underway in Paris, but this time one of a footballing nature, with PSG launching an assault on Europe's elite clubs and their top players.
The cash-laden Ligue 1 outfit secured the signing of sought-after Brazilian centre-back Thiago Silva for a cool £33m on Saturday, with AC Milan team-mate Zlatan Ibrahimovic also set to switch to Parc des Princes to complete a £47m double deal.
The acquisition of the big Swede at £14m will be seen as a bit of a scoop, particularly when converted into the currency of Fernando Torres, with the Spaniard approximately worth three times that of the former Barcelona forward.
While these big-money moves may be exciting for all of us awaiting the latest transfer news, spare a thought for the fans of Rangers and Portsmouth, with both clubs' financial woes crippling their sides' hopes for the future.
As the 'Gers look set to begin life in the Scottish Third Division next season – in turn threatening the future of league football north of the border – Pompey will be laden with a 10-point deduction should they enter League One. Grim stuff.
At least if clubs continue to financially implode, we'll always have the footballing Mecca of Paris to fall back on.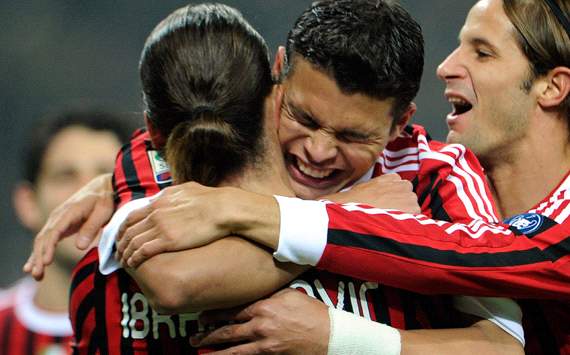 The happy couple | Ibra and Silva are set to be reunited in the romantic city of Paris

Quote of the weekend part I

"The truth is, I love this club, but I am not going to be useful to anyone … so it's better for everyone if we say goodbye"
– Dimitar Berbatov's Manchester United spell looks to be coming to an end, quite literally, with a whimper
A less-than-ideal start
Manchester City & Newcastle

Pre-season fixtures got into full swing this week as we build up to the new Premier League campaign, yet things didn't go according to plan for either current champions Manchester City or Newcastle.
Roberto Mancini's men fell to a 1-0 defeat against Saudi Arabian side Al Hilal in Austria, a result which admittedly is hardly a devastating blow to the defence of their league crown.
Yet Alan Pardew's men should have their tails firmly between their legs after they were also sunk by a single goal against third-division German side Chemnitzer.
However, defeat to lower league opposition could well be a good omen for the Magpies.
In the build-up to the 2009-10 season, Newcastle were hammered 6-1 by Leyton Orient before going on to storm the Championship, while last season a 3-2 defeat to Leeds United preceded a fantastic campaign for the Toon Army.
Quote of the weekend part II
"It's a massive ambition in my life to play for England"
– West Brom's Liam Ridgewell is maybe getting a bit too big for his boots
Least effective rallying cry
Klaus-Michael Kuhne

Just who is Klaus-Michael Kuhne? Well, he is the Hamburg-based billionaire who is desperate to see the Bundesliga side land Rafael van der Vaart.
Perfect, I hear you say. Mr Kuhne has bags of money that he could easily use to help the club seal a deal for their former player. In fact, what better way to spend your earnings!?
However, the 75-year-old has actually called on Hamburg fans to part with their hard-earned cash to fund a move for the Tottenham attacker, the cheeky mare.
"I would have suggested ... If 60,000 members could come together and spend an average of €100 [£79], it would be a considerable sum," Kuhne told Bild. "If you can mobilise only half of that, it would be a great thing."
Fat chance of that happening. MTW suggests that the German digs into his own pockets before telling the club's fans how to spend their dollar.
Tweet of the weekend
"Just played Mexico. Was great to get my first 60 minutes under my belt ... Lost 1-0 though. Was great seeing fellow Totty Gio2Santos"
– Meeting up with Tottenham team-mate Giovani dos Santos was clearly more important to Danny Rose than Team GB's 1-0 defeat to Mexico
Quote of the weekend part III
"Daniel Levy knows what he is doing, approaching the market in a different way, is a person of great football understanding"
– Andre Villas-Boas takes another sly dig at his former Chelsea employer Roman Abramovich by hailing his new boss at Tottenham
Fantasy Hero

Yakubu (Guangzhou R&F)

Didier Drogba may have received a hero's welcome on his arrival at new club Shanghai Shenhua, yet it was another former Premier League striker who really made an impact in China this weekend.
In his debut for Guangzhou R&F, ex-Blackburn man Yakubu sealed a late 1-0 victory over rivals Guangzhou Evergrande on Sunday to cap a perfect start for the club.
Fantasy Zero
Sepp Blatter

After back-tracking over goal-line technology, Fifa president Sepp Blatter had been slowly working his way back into football's good books, particularly with his reign over the world game set to come to an end in 2015.
That was until the 76-year-old gave an interview to Swiss publication SonntagsBlick this weekend, in which he revealed that he had witnessed some potential dodgy dealings at Fifa headquarters in the past and that he may well run for re-election in three years' time.
Follow Andrew Kennedy on