By George Ankers
Armband it like Beckham
Ryan Giggs

The glorious coronation for which a whole country had been waiting for years finally arrived when David Beckham was made cap- what?
Huh?
Ryan Giggs?
Oh. Well.
MTW
is a little surprised and extremely disappointed to see a decision made on such a purely sensible basis as taking seriously a tournament that everyone else is taking seriously. All that talk about Team GB killing off national identity and sovereignty may have been right after all - because you can bet that, if it had been England entering the Olympics on their own, they would have picked Beckham, made him captain and probably manager too.
Instead we get a choice that makes more sense both on a professional level (Giggs plays in a much more competitive league and has done so for several more years at a high level) and on a sentimental level (Giggs has never played an international tournament before; London 2012 would have been Beckham's 612th).
Naturally, of course,
MTW
is completely against this outbreak of intelligence. That Beckham is not included ceremonially is nothing short of a national disgrace - and do not even get us started on the continuing international ostracism of Sir Geoff Hurst. Where was his final tournament appearance? It is an insult to the country's greatest ever occupant.
#JusticeForHurst!
Forgiving and forgetting
Tottenham & Liverpool

What is it about managers who are the same age as their squads that makes all the players think that they are in with a chance again?

Well, it seems like second chances are to be the order of the day at Anfield and White Hart Lane - assuming, of course, that the players get their way. Which, as we know in modern football, never ever happens.

The queue to board the Andre Villas-Boas Forgiveness Train (hereby known as AVBFT) is extending round the block. Sitting in a first class seat is Emmanuel Adebayor, who has graciously agreed to take absolutely none of the pay-cut that Spurs had been insisting all of last season that he would need to join on a permanent basis. The north Londoners are ready to cave in on his wage demands because Manchester City would at this point be willing to accept half a Big Mac as a transfer fee just to get him off their books.

Then there is Giovani dos Santos, who offered the most non-committal quote possible this weekend as he boldly stated: "The window closes at the end of August and I am calm, I'm not getting desperate. I'm still a Tottenham player and if there is no other option, I'll stay and do my best like I have always done." Nice to see such a talented player so determined to get more than 15 minutes of playing time over the course of a season.

And finally, it was revealed this weekend that David Bentley still exists. Really! MTW had assumed that by now the formerly flash winger had ascended into a being of pure unfulfilled potential, but apparently he is still technically a Spurs player and is after a fresh start and a "clean slate". AVBFT? AVB LMAO, more likely.

Meanwhile, thanks largely to no other club having the slightest interest in having anything to do with them, Alberto Aquilani and Joe Cole are back at Liverpool to slot awkwardly into the Brendan Rodgers revolution. It is becoming increasingly clear that, if the Reds ever leave their beloved Anfield for pastures new, these two players will remain at the old site, drawn there by some ancient, unknowable gravity. That said, Liverpool are crying out for some creative midfield thrust, so they will probably both be brilliant.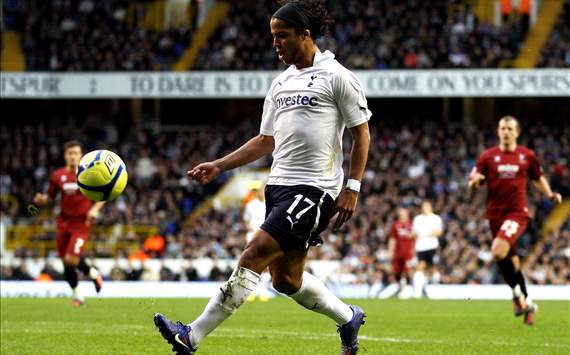 Gio Easy | Dos Santos is becoming the very definition of 'comfort zone'

Tweet of the weekend part I
"Y r people saying I should want murray to win cos he is British? He is Scottish I'm English! I bet he wasn't supporting England in euro's!!"
– James Vaughan gets indignant at nationalism before Andy Murray's defeat in the Wimbledon final
Who've been naughty boys?
Netherlands & France

Massively let yourselves down at a major tournament? Hire a disciplinarian!
That is the plan for both Netherlands and France after in-fighting and disillusionment, plus an all-pervasive rubbishness ill-befitting their favourites status, ruined their Euro 2012 campaigns to various degrees.
With the Dutch crashing out of their group without even a single point and
Les Bleus
wasting their attacking potential by deploying Karim Benzema as a depressingly-restricted 'false nine' too often before being quietly euthanased by Spain in the quarter-finals, suit-clad thinkers Bert van Marwijk and Laurent Blanc both departed their jobs in favour of growling, combative successors.
Louis van Gaal, who looks eerily like an elderly tiger, came back for a second bite of the poisoned Dutch apple by bringing his unique brand of polarising gruffness back to
Oranje
for World Cup 2014, while World Cup-winning tacklemeister Didier Deschamps has followed Blanc into what must be a soul-crushing job.
Either way, though, whether it be a stern verbal punishment or a raking challenge from behind, the fragmented and egotistical national camps of both sides are probably going to be in for a bucking bronco of an international ride.
Tweet of the weekend part II
"Does any1 know any ways to cheat on the bleep test? probs going to need them come weds!"

– Fraizer Campbell had better hope that the Sunderland staff don't follow him on Twitter
Least subtle transfer hint
Manchester United

We still do not yet have official confirmation that Park Ji-Sung has moved to QPR - except we kind of do, don't we? The brains trust at Manchester United's marketing department were caught hastily altering their promotional material for their summer pre-season tour as an image of the South Korean star's face was removed in favour of Wayne Rooney, thereby implying that Park no longer had anything to do with said trip. And United fans thought that they had seen the back of such clumsily telegraphed decisions when John O'Shea was flogged to Sunderland.
Although, on recent form, it may be that the Red Devils' web editors had actually meant to remove the face of Shinji Kagawa, but got confused. Either way, a poster advertising a one-day stay in Norway probably was not the way to break the news.
Quote of the weekend
"I have greater feelings for Atletico than Chelsea, whom I respect because they are my parent club"
– Thibaut Courtois gives a short seminar on how to probably not ever get recalled by your Super Cup-challenging parent team from a two-year loan spell at Atletico Madrid

Tweet of the weekend part III
"The only thing classier than federer's backhand is Becks dress sense #icons"
– Tennis-enjoying Reading forward Adam Le Fondre is forgetting, among other things: Rickie Lambert's first touch, Roger Federer's drop shots, any footballer's courtship technique
Fantasy Hero
Everyone playing for Ekenas

The English summer is a quiet time for the Premier League, with the English top flight's top flyers heading back into work for pre-season training right about now. While they were all gingerly starting to run around the training pitch, though, Finnish third-division side Ekenas were busy thrashing Lohja-based rivals LoPa to the tune of 17-0. Yep. Seventeen. Nil. Nobody got more than three goals each; six players scored two or more. Whatever you got done this weekend, you did not get it done as comprehensively well as Ekenas did.
Fantasy Zero
David Villa (Barcelona)

Many people talk about the way that injured players get better reputations by not participating for a few months. Well, it is working the opposite way for David Villa. Having just watched Spain romp to Euro 2012 triumph without him, world football's most lethal poacher found himself the subject of a frankly-terrible Twitter rumour in which he was supposedly the makeweight in a player-plus-£13-million swoop from Barcelona for wantaway Arsenal striker Robin van Persie. While Barca rightly laughed it off, the forward must have been desperate to get back out there and prove to the world that he is still at the top of the striking tree - before someone tries to link him to West Ham.
Follow George Ankers on