The Three Lions can count themselves fortunate not to be clouded by Italy's off-the-field problems, while Eden Hazard fails to live up to his own billing at Wembley
By
Andrew Kennedy
Running out of options
England
While Uncle Roy has bagged two 1-0 wins in his first two games as England boss, they have not come without their problems.
First Gareth Barry and Frank Lampard bit the dust – vilified when in an England shirt, vital components to our Euro 2012 hopes when unavailable – and now the 64-year-old has suffered another blow with Gary Cahill forced to drop out of the squad.
The Chelsea defender was left nursing a fractured jaw after Dries Mertens over-enthusiastically shoved him into the sturdy, broad shoulders of Joe Hart.
MTW was fuming at Mertens' push – it was almost as if the Belgian was saying "if I'm not going to the Euros, neither are you mate. Have some of that."
It could be disastrous for England, particularly with the biggest hope the Three Lions seem to have is riding on the success of Chelsea in Europe and to try and install some underdog mentality into the squad.
And now we have been left to rely on Ashley Cole and John Terry to muster the spirit of Munich, with Liverpool's Martin Kelly – that is right, Martin Kelly – shipped in to provide cover in defence.
Rio Ferdinand must be loving it, sat sunning himself on a beach while the whole nation pines for him, finally achieving the darling status he tried so hard to achieve with 'Rio Ferdinand's World Cup wind-ups' all the way back in 2006.
Yet all these injuries, poor levels of preparation and general pessimism surrounding the England team, has somehow manifested itself into a belief that this could be our year. Remarkable.
Bully boys
Liverpool
Not content with stealing their manager, Liverpool now look likely to swoop for Swansea City's would-be record signing Gylfi Sigurdsson.
New Reds boss Brendan Rodgers, who brought the Iceland international to the Liberty Stadium on loan from Hoffenheim in January, has already identified the player as one of his top targets for the latest Anfield revolution.
While the Northern Irishman is prevented from returning to his former club to cherry pick their best players for another 12 months, Sigurdsson is yet to sign on the dotted line – giving Rodgers just enough time to turn the midfielder's head towards Merseyside.
"I said to [Swansea chairman] Huw [Jenkins], if I speak to the kid I'll tell him to make sure he certainly comes down and speaks to the new [Swansea] manager, whoever that is, and that if he's still not comfortable with that, he's in the marketplace then — and then I have to look at him," the 39-year-old said.
So that's Gylfi off then. And in spite of this 12-month transfer embargo, Craig Bellamy also piped up, not even hinting, but blatantly telling Liverpool to go and nab Joe Allen.
"I would be shocked if Liverpool did not go for him this summer," the Welshman said.
"He's a Brendan Rogers player, he fits Liverpool to a tee. If Liverpool are able to secure him, they will have a real gem of a player."
MTW wonders who will be next up on the Reds poaching list, or if the only way to sign a player from Swansea will be to offer £10 million for Alan Tate.
Tweet of the weekend part I
"All Republicans want is to have their views respected and aired like anyone else. For me, it's a natural progression of enlightened society"
– Stan Collymore couldn't just sit and enjoy the Jubilee could he!
Packing their bags already?
Italy
After breezing through the qualification stage for this summer's European Championships, it has all gone Pete Tong for the Italians in recent weeks.
Not only have the national side now lost their past three games on the trot following Friday's 3-0 defeat to Russia, but Serie A is once again embroiled in a bit of a match-tinkering scandal.
Earlier last week, Italian prime minister Mario Monti suggested the country's football commitments should be suspended for two to three years due to the controversy, and now even national team coach Cesare Prandelli has stated he would not have too much of a problem with giving Poland and Ukraine a miss.
"If you tell me that it would be better for Italian football not to play at Euro 2012, I would not have a problem with it," the 54-year-old said.
It is probably a good idea they are getting their excuses in now, because things do not look like getting better anytime soon for the Azzurri.
Tweet of the weekend part II
"Britain is red white and blue love all the flags!!"
– At least West Brom's Graham Dorrans managed to get himself in the mood for some royal celebrations.
Failing to live up to his own billing
Eden Hazard (Belgium)
Eden Hazard's display at Wembley on Saturday evening was probably just as anticipated as the actual game itself, a billing which the Belgian had so superbly manipulated for himself with some sneaky Twitter messages earlier in the week.
And whilst he was far from bad, he was not exactly as good as his reported £32 million price tag would suggest. He did not score four goals in the first half, nor take on the whole England team twice before driving home a 30-yard piledriver. He did not even manage to nutmeg John Terry, and everyone has been doing that recently.
It was the same for the Belgium team as a whole really – who threatened to look nice on the eye at most throughout the game, despite having a side filled with potential stars.
Fair enough, there is no way you can judge young Eden on just one appearance on British soil, and he produced a good, if not better, display than any of England's forward line.
Quote of the weekend
"We took a bit of a spanking, no doubt about that, but we'll lick our wounds and deal with that"
– Michael O'Neill you dirty man, cor! Luckily, the Northern Ireland boss isn't talking about some sort of kinky escapade, but the drubbing his side received against the Dutch.

Tweet of the weekend part III
"I'm happy you are coming to Paris. We're waiting for you and we'll spend some fun times together"
– Javier Pastore's girlfriend, Chiara Picone, accidently leaks Ezequiel Lavezzi's switch to Paris Saint-Germain on Twitter.
Fantasy Hero
Danny Welbeck (England)

In a performance pretty much devoid of attacking flair, the Manchester United man's delightful dinked finish to seal victory was a rare positive for England in a week which has been marred by untimely injuries.
Fantasy Zero
Dries Mertens (Belgium)

He may have already taken up some column inches, but the Belgium winger is certainly chief villain this weekend after unnecessarily ending Gary Cahill's Euro 2012 participation.
Poor Gary did not break his jaw once, but twice – and he hadn't even had 12 pints and a kebab yet. Mertens – you spoilt Gary's day, and this column's jubilee weekend!
Follow Andrew Kennedy on

HERE'S SOMETHING YOU DON'T SEE EVERY DAY...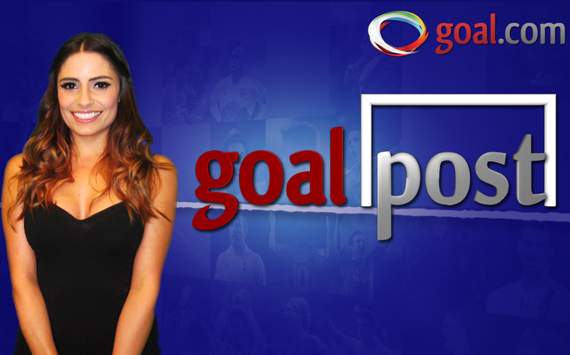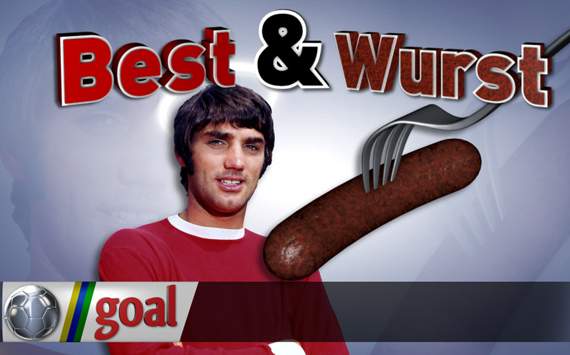 | | |
| --- | --- |
| Starring Layla Anna-Lee with Euro 2012 plans, Balotelli's barnet, and Kevin the psychic chicken | Funnies, bloopers & magic from the world of football |
CLICK THE IMAGES TO WATCH ON OUR OFFICIAL YOUTUBE CHANNEL!