Roberto Mancini's men leave it late not to shoot themselves in the foot, while Liverpool wave goodbye to a campaign to forget and Newcastle show us the art of over-achievement
By
Jamie Dunn
and
Andrew Kennedy
Nearly throwing it all away
Manchester City
At 16:50 on Sunday afternoon, MTS was convinced that it wasn't just the weight of history holding Manchester City back, but fate itself. 'Shoot themselves in the foot' was the term bandied about prior to City's title-defining clash with QPR, and boy did they nearly blow both of them off with a sawn-off shotgun.
The majority of home fans approached the match at the Etihad Stadium with apprehension, and they weren't left disappointed by their side, who ensured they secured the Premier League title in the most dramatic fashion. Imagine the rollercoaster of emotions that bloke who got a 'Manchester City Premier League Champions 2012' tattoo must have been through?
As if occupying top spot from October to March before falling eight points behind rivals United wasn't enough, Roberto Mancini's men did their best to well and truly cock it all up against the Hoops – while Joey Barton took matters into his own hands for the away side midway through the second-half as he looked to single-handedly attack every City player on the pitch.
Barton's showing may well earn him a move to Upton Park this summer, albeit for a street brawl with David Haye and Dereck Chisora, but it was City who sealed their place as the true Premier League heavyweights and it will take a formidable opponent to knock them from top spot now.
And that contender is pretty much certain not to be from north London judging by Arsenal and Tottenham's showing throughout this season, with both sides limping into the top four.
The Gunners enjoyed one last comeback against West Brom to secure third spot in the table, with Arsene Wenger's side not requiring a culinary nightmare this time round to ensure they returned to the Champions League for the 15th season on the bounce.
Harry Redknapp could be the man donning a pinny in the kitchen this year, however, with Spurs needing Bayern Munich to foil Roman Abramovich's dream of a Chelsea win in Europe's elite competition in order for Champions League football to be on show at White Hart Lane next year.
Interviewer of the season

"You know that means you're out of the final? Unfortunately that means you DON'T play in the final"
- Sky Sports' Geoff Shreeves is quick to spoil the Champions League party for Chelsea at Camp Nou, by informing Serbian defender Branislav Ivanovic he will be suspended for the final.
Acually cocking it all up
Manchester United
Arguably the best moment of the season came at the Stadium of Light on Sunday, when Fergie's cheeky grin was turned upside down by some last-minute frantic antics at the Etihad from City.
Let's face it, if the Red Devils had won the title it would have been a rather underwhelming victory once all the hoopla had died down. Crashing out of Europe, twice, and petering out of domestic cup competition in the early rounds to Crystal Palace in the League Cup, and then EVEN Liverpool in the FA Cup - it's a bit of a wonder United ran their Manchester rivals so close.
HE SCORES WHEN HE WANTS...


Robin van Persie
What a season for the Dutchman. His first as an out-and-out striker returned a frankly ridiculous tally of 37 goals. Arsenal, undoubtedly, would have been lost without him.

Demba Ba
(September - February)
A free transfer signing in the summer, the Senegalese international hit an impressive six-month scoring streak, bagging 16 goals for the club and putting to bed suggestions that his knee would hold him back.

Papiss Cisse
(February - May)
When Ba's goalscoring exploits dropped off, his international team-mate's picked up. The January signing from Freiburg scored an unprecedented 13 goals in quickfire time. Some of which even defied the laws of physics.

Nikica Jelavic
With 10 goals coming after his arrival from crisis-club Rangers in January, you can't help but wonder what position Everton might have ended up in had they had the Croatian for the duration of the season.
HE PLAYS WHEN HE WANTS...


Carlos Tevez
When the going got tough in Munich, Tevez got going, never to be seen at the Etihad Stadium again, we thought. That is, until the Argentine rocked up for the last few games of the season, scored a few goals and picked up a Premier League champions' medal, with the whole episode apparently forgotten by the Manchester City faithful.
Critics will look back at last month's derby, in which Roberto Mancini's side edged out Sir Alex's men 1-0, as the defining clash in the title race, yet the real architect of the former champions downfall is Shaun Maloney – the Wigan man who shot down United at the DW Stadium four weeks ago.
Luckily though for Sir Alex & Co., they can now join Liverpool in the hazy memory of yesteryear and still look down upon the Merseyside outfit with an extra title in the bag.
And talking of absolute cock-ups, Anfield has been home to some of the finest this season. Whether it be signing Stewart Downing for £20 million (something so hilarious MTS doesn't even need to make a half-hearted attempt at a pun), or escalating a racism row with a branded t-shirt to such an extent that the club ended up feeling the hatred of just about every fan and bandwagon in the country, the Scousers have been on top form this year in the comedy stakes.
While Kenny Dalglish's men couldn't hold off rivals Everton, who finished four points above them in seventh place, the Reds did end up above West Brom and former manager Roy Hodgson – a small victory if there ever was one. Whether the Scot will still be there next season to fork out another load of cash on mediocre talent is a different question, with Liverpool's American owners taking no prisoners of late with the club's staff.
Biggest over-achievers
Newcastle United
No Joey Barton? No Kevin Nolan? No Andy Carroll? Just how were Newcastle expected to survive another Premier League season with the departure of such integral players? With three talismanic figures departing for pastures new, was there anyway Alan Pardew could prevent his side from plummeting to the depths of table?
Well, er, they seemed to do ok in the end, with the likes of Yohan Cabaye, Demba Ba, Papiss Cisse and Hatem Ben Arfa lending a bit of class to proceedings following the jack-the-lad antics of their predecessors.
Nolan has spent a season slugging it out in the Championship with West Ham, while Barton has spent the majority of the year battling with the public to convince us all he is actually an intellectual rogue – the sort you'd see propped up at a bar in 18th century London before stumbling home to write about the rise of the proletariat. (Yeah ok, MTS is just as bad Joey - the only philosophy this column has ever read came from some Marxist pamphlet as well.)
Yes, the Toon Army certainly haven't missed any of their former ragabonds, with Newcastle enjoying a fine season, in spite of defeats to Everton and Man City in their final two games of the season, to secure Europa League qualification.
But it wasn't just the Magpies who punched above their weight this season, with Brendan Rodgers' Swansea actually proving to be better than Barcelona (well, if you go off some rather vague stats relating to Leon Britton), while Norwich City also showed their quality on their return to the top-flight under the captaincy of man of the moment Grant Holt.
And that's not to mention Wigan, the real minnows in the Premier League, who ensured they would remain in England's top league for another year as early ago as last week. Incredible scenes from the Latics, who opted not to indulge us in a last-day dash for survival this time around.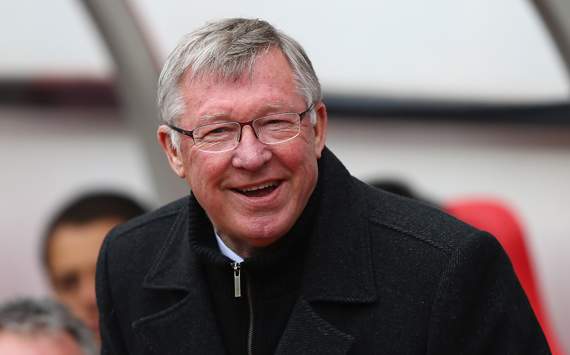 'Get in lads! Hang on, they're winnin?' | Sir Alex was left stunned by City's comeback
GOOD SEASON

Animals
Our furry, fuzzy friends have been a rather welcome addition to proceedings this year. The Anfield cat, the QPR squirrel, and MTS's personal favourite, the Ewood Park chicken, not only caught the minds of fans up and down the country, but all received Twitter followers from across the world after some brief cameos in the Premier League.

Syrup
Little did we know that as Newcastle's Demba Ba fired his way to 16 Premier League goals he was actually being powered by a secret Senegalese ingredient – Strawberry syrup. Unfortunately for the striker, club owner Mike Ashley is never one to miss the chance to make a quick buck, and the sugary treat was hauled over to British shores by the bucket load. Now, with everyone on the syrup, Demba looks a bit ordinary.

Clint Dempsey
Not only has Dempsey put himself firmly in the shop window of a number of top European sides with 17 Premier League goals for Fulham this season, the American also bagged himself a weekly diary for Goal.com. How could it get any better? #thatswhatsup
BAD SEASON


John Terry
Terry mightn't be booking his place in Roy Hodgson's Euro 2012 squad, but he has got a date in court for alleged racial abuse of QPR's Anton Ferdinand scheduled for this summer. While the long arm of the law will be the judge of JT on that account, his stupidity was on show for us all to see at Camp Nou, with his not-so-subtle knee in Alexis Sanchez's back costing him a place in next weekend's Champions League final.

Stoke
When MTS's mind wanders back to August 31 2011, the most prominent memory is a group of unfortunate looking Stoke fans celebrating the signing of an unfortunate looking striker in Peter Crouch. Yet other than a semi-glamour tie against Valencia in the Europa League, the Potters' season has been about as wet as Rory Delap's towel after he's finished drying his balls (the leather ones he throws really far of course!).

Referees
You try to defend them, you try your very best to give them the benefit of the doubt, but they just throw it back in your face – every single time! If Mark Clattenburg isn't pruning himself and trying to become best pals with 'Wazza' and 'Lamps', then Martin Atkinson is handing out goals for free, al la Chelsea in the FA Cup semi-final win over Tottenham.
Most unforgiving fans

"We're Stoke City, we're sending you down"
- If they're not booing Aaron Ramsey for breaking his leg at the Britannia, then Potters fans are taking the mick out of Bolton for getting relegated. Funnily enough, the Staffordshire outfit remind MTS of Wanderers under Big Sam Allardyce in their heyday
.
Best replacement
Roberto Di Matteo (Chelsea)
The blogosphere was abuzz in June last year when Chelsea announced the appointment of youthful, debonair, husky-voiced tactician Andre Villas-Boas. The rust-bearded Portuguese coach, who had guided Porto to a league title and Europa League triumph, would overhaul the club and turn Stamford Bridge into a thinking man's fortress.
At least that was the plan. In March, with Chelsea on the verge of elimination from Roman Abramovich's most coveted prize, the Champions League, and sitting fifth in the Premier League, our hero was sacked. With the season looking like a write-off, Villas-Boas' assistant, Roberto Di Matteo, was placed in charge for the rest of the season.
What follows is perhaps one of the unlikeliest of success stories. While Chelsea's league position has fared no better under Di Matteo, the Blues have gone on to win the FA Cup and, unthinkably for a team which doesn't have Jose Mourinho in charge, beat Barcelona to reach the Champions League final, where Bayern Munich await.
All this, amazingly, was engineered by a man who wasn't deemed capable of taking West Brom forward in 2011.
Another notable in this category is Martin O'Neill, who replaced Steve Bruce at Sunderland in December and gave the Wearsiders a much-needed kick up the backside, synonymous with the man who simply cannot keep still.
A tip of the cap must also go to Mark Hughes who replaced Neil Warnock in January, spent a fair dollop of Tony Fernandes' cash and barely – just barely, mind – kept QPR in the Premier League, despite the Hoops' inability to hold on to their 2-1 lead against Manchester City. In fairness to Hughes, he had been undermined by the sending off of Joey Barton.
Best potential replacement (hopefully)
Roy Hodgson (England)
After (another) very public row involving John Terry which this time would ultimately cost him the England captaincy, Fabio Capello departed our shores, as the decision to strip the Chelsea defender of the armband was taken out of his hands. At least, that was the excuse that was given.
In April, the FA made the surprise announcement that they had approached West Brom for permission to talk to Roy Hodgson about becoming the England manager.
It was a move which disappointed many journalists in the media, presumably because they had to throw away several pre-written pieces and cast aside a number of ideas for columns about Harry Redknapp, whose quotable, approachable nature makes for easy work.
Redknapp was the people's choice, it seems, despite all the drama of the court case, the heart surgery halfway through the season and the 2012 slump which nearly cost Tottenham a place in the top four, but did cost Spurs third and automatic qualification for the Champions League.
Yes, West Brom scraped a draw against Bolton in the penultimate game of the season, finished in the Premier League limbo of 10th place this season and yes, his teams play a formation which hardly inverts the pyramid. But
MTS
is behind Hodgson heading into Euro 2012.
At least until the 2-0 defeat to France in the opening game, that is.
Quote of the season

"Hopefully people who know me as a person, as a player [know] I'm not that type of player."
– John Terry's startling self-assessment after sticking a knee into the back of Alexis Sanchez against Barcelona, which earned the defender a red card which has cost him a place in the Champions League final

PREMIER LEAGUE SCHOOL OF DIVING
ASHLEY YOUNG

8.9
The Manchester United man took simulation to new levels this season, with a fine effort against QPR followed up by a revolutionary swandive technique in the 4-0 victory over his former club Aston Villa. The wideman recieves an 8.9 rating for his diving efforts.
ANDY CARROLL

5
The lowest point of the big Geordie's season came on a return to his north-east homeland for the first time since his switch to Liverpool. Skipping past Tim Krul, the £35m forward opted to throw himself to the floor instead of slotting the ball home and ended up looking like a right pillock.
Putting a brave face on a crisis
Terry Connor (Wolves)
Poor Terry Connor was doomed from the start. After Wolves slumped into the relegation zone and looked on course for another battle to stay up as the season took its first cautious steps into 2012, Mick McCarthy's tenure at Molineux ended in February, on the back of a 5-1 hammering to local rivals West Brom.
You would be forgiven, then, for thinking chairman Steve Morgan and the rest of the higher-ups at the club had a master plan in place to recruit a tactical genius or renowned motivator of players to ensure survival for another season.
Apparently not. Rumours were rife that sacked Sunderland boss Steve Bruce was on his way in, while Alan Curbishley was considered for the role and Brian McDermott, who eventually reached the Premier League with Reading this season, was also in the frame.
No appointment came to fruition though, and even though he was quite clearly not first choice for the job, Connor, McCarthy's former assistant, was given the lofty task – his first as a manager – of keeping Wolves in the Premier League.
It started brightly, as Wolves rallied from two goals down to draw with Newcastle, but it never picked up from there, and Connor ended the season without a win to his name as a manager.
And, despite looking perpetually on the verge of tears and being thrust into the deep end, or up the proverbial creek without a paddle, or whatever watery metaphor you prefer, McCarthy's old No.2 never cracked, and for that
MTS
salutes him.
Special mention must also go to Blackburn boss Steve Kean who, despite being the subject of vitriolic hate at Ewood Park along with club owners Venky's, remains insistent that he won't be forced out of the job and is eagerly anticipating a season in the Championship after a disastrous campaign.
Tweet of the season part II
"Was hoping to be involved today but wasn't to be. Been training for the last month and feeling sharp"
– Michael Owen reminds the world that he still exists.
Commentary of the season

"UUUGGGGHHHHHHHHOOOOOOGGGGGHHHHH!!! UNBELIEVABLE!"
– The noise heard around the world. Gary Neville 'goalgasm' as Fernando Torres sends Chelsea into the Champions League final at the expense of Barcelona.
Fantasy Hero
Fabrice Muamba (Bolton)
It felt like the world stood still when Bolton's Fabrice Muamba collapsed at White Hart Lane during an FA Cup tie against Tottenham. Thanks to the efforts of both clubs' medical staffs and the London Chest Hospital however, Muamba survived a cardiac arrest and was present at the Reebok Stadium less than two months later when the two sides clashed in the Premier League.
Fantasy Zero
Joey Barton (QPR)
A captain whose disciplinary record is in the same realms as Sunderland's chief hacker Lee Cattermole's, the QPR midfielder was struck by Carlos Tevez before being sent off for retaliating in Sunday's clash, but his reaction in giving Sergio Ageruo a swift kneeing was wholly unnecessary, even if his attempt at headbutting Vincent Kompany was hilarous.
Follow Andrew Kennedy & Jamie Dunn on