Andy Carroll also proves it is better late than never after firing Liverpool into the FA Cup final, while Carlos Tevez is already getting too big for his boots at Manchester City
By
Andrew Kennedy
Taking the Tom Daley comparisons too far
Ashley Young (Manchester United)
Last week QPR chief executive Philip Beard likened the Manchester United wideman to British diver Tom Daley, after he softly fell to ground under the slightest nudge from midfielder Shaun Derry to win his side a penalty at Old Trafford.
Well, it was Groundhog Day on Sunday, with Ashley Young taking the Hoops' CEO's comments slightly too seriously as he introduced a swan dive into his repertoire when duping referee Mark Halsey into believing Aston Villa's Ciaran Clark had caught him in the box.
It was not just a farcical example of the 'modern game' on Young's part, but it was only six minutes into the match! Surely the 26-year-old could have waited a tad longer before horrendously cheating his former side out of gaining vital points.
Alan Hutton looked to seek some revenge early in the second half by almost chopping the ex-Watford man in two, but on the brighter side, this all bodes very well for England, with Young's ability to win penalties probably the most consistent thing about the Three Lions' available front line for Euro 2012.
The Red Devils went on to cruise to a 4-0 victory over Villa, as they restored their five-point lead over Manchester City at the top of the table.
But if you missed it, do not fear - Young will be putting on another showing of his diving exploits at home to Everton next Sunday. Probably.
Too big for his boots
Carlos Tevez (Manchester City)
So the infamous Carlos Tevez firmly rubber stamped his return to Manchester City with a hat-trick in Saturday's 6-1 win over Norwich City.
Spurred on by his wrongful booking earlier in the game for a supposed dive in the box (one which Young could pick up some tips from), the Argentine opened the scoring with a blistering strike that left John Ruddy flapping his arms like a clueless buffoon.
Yet being mobbed by his team-mates in celebration was not enough for Tevez, with the former West Ham striker turning to City's travelling support with his ears cupped as if to say, "come on, you know you missed me, show me the money, eh, love".
And that was only his first goal, with the 28-year-old saving something extra special to celebrate his treble, as he whipped out the fabled golf swing after dinking past the Canaries keeper to put his side 5-1 ahead.
Then, to top it all off, Tevez bailed halfway through his post-match interview on Sky Sports, taking Andy Burton's question about whether he took a tumble in the first 45 as his cue to nick off with the Man of the Match bottle of champagne in hand.
MTW is glad to have the little imp back in the fold, with anything, literally anything, a refreshing change from Mario Balotelli.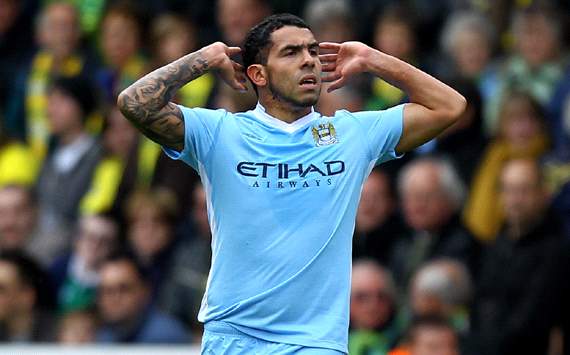 'Where's the love?' | Tevez made light of his City absence with a display of his golf swing
GOOD WEEKEND


Chris Powell
The 42-year-old has guided Charlton Athletic back to the Championship in his first season in charge at The Valley, after Bradley Wright-Phillips sealed a 1-0 victory over Carlisle to secure automatic promotion.

Newcastle
The Magpies were not even in action this weekend due to the FA Cup semi-finals, but Liverpool's progression to the May showpiece means that, barring a capitulation of Tottenham standards, Alan Pardew's men will definitely compete in Europe next year.

Marseille
Didier Deschamps' side went some way to making up for their appalling efforts in Ligue 1 this season, with Brandao striking in extra time to seal Marseille's third successive Coupe de la Ligue trophy with a 1-0 win over Lyon on Saturday.

BAD WEEKEND


Uli Hoeness
The Bayern Munich chief took a swipe at Borussia Dortmund this weekend, claiming "they are not world class", despite Jurgen Klopp's side needing just two points from their remaining three league games to secure a second consecutive Bundesliga title…having just set a record of 25 games unbeaten.

Neil Lennon
Following Hearts' last-minute penalty to defeat Celtic 2-1 in the Scottish Cup semi-final, the Parkhead boss claimed the decision from referee Euan Thomas was "personal" in a Twitter rant that will no doubt bite him on the backside later this week.

Royston Drenthe
Despite the Dutchman initially enjoying a bright start to life at Goodison Park, he has fallen by the wayside following a series of breaches of discipline, with David Moyes telling the Real Madrid man to stay away from Everton.

Tweet of the weekend
"Ashley Young is an absolute DISGRACE. He's the biggest cheat in the league. His antics are a joke...."
– MTW wonders whether Newcastle's Ryan Taylor had the same attitude towards team-mate James Perch after his diving antics against Liverpool.
Better late than never

Andy Carroll (Liverpool)
Up until about five days ago, the last place Andy Carroll would want to find himself would be up front in a Liverpool shirt, with the big striker instead probably dreaming of a return to home comforts back in the north-east.
Well what a difference a week makes, with the £35 million man not only sealing a 3-2 victory over Blackburn in midweek, but also writing his name in Anfield folklore with a late header to help his side through to the FA Cup final with a 2-1 win against Merseyside rivals Everton.
Other than the slight disappointment that MTW can not reel out a host of horse-based Grand National jokes, this column was more than happy to see the 23-year-old finally get a break after a torrid 15 months since his move from Newcastle.
And no doubt Jamie Carragher will be more grateful than most for the striker's late header, with the veteran defender making a right hash of his clearance to allow Nikica Jelavic to open the scoring.
The best thing he can do this summer is hang up his boots, and in fairness, Carra has done pretty well to drag it out this long anyway.
Sylvain Distin was not afforded the same reprieve, however, with the Frenchman's shocking backpass allowing Suarez to equalise and leave the centre-back to find solace in an apologetic Twitter message after the game.
"I cost my team mates, the staff, the club and the fan a place in FA cup final. Nothing more to say but SORRY all of you," the 34-year-old said.
Quote of the weekend part II

"I've spoken to him [Atkinson] and he said he feels worse than I do [about the mistake]. I said to him 'I don't think so'"
– Harry Redknapp takes the decision to award Juan Mata's 'ghost goal' rather well. Maybe his heart isn't completely in it?
Ghosting it
Juan Mata (Chelsea)
'Yikes! Here we go again' is exactly what MTW thought when Martin Atkinson awarded a goal to Chelsea's Juan Mata in Sunday's FA Cup semi-final despite the ball quite clearly not crossing the line.
Luckily for the referee and his officials, Tottenham went completely to pot in the second half, with goals from Ramires, Frank Lampard and Florent Malouda rounding off an emphatic 5-1 win for the Blues.
The decision played well in Ashley Young's favour, who will no doubt be spared the backpage headlines over his nosedive against Aston Villa, with the debate over goal-line technology instead flaring up again for a week or so.
Yet it is not only the Manchester United man who can hide behind the controversial 'ghost goal' at Wembley on Sunday, with a minority of Chelsea fans also spared further scrutiny for the jeers heard during a minute's silence for the 23rd anniversary of the Hillsborough disaster.
What a bunch of absolute idiots, clearly unable to note the distinction between football and real life tragedy.
Chelsea acted swiftly after the game to condemn their fans, saying in a statement that they were "extremely disappointed that a very small minority of fans embarrassed the club".
Quote of the weekend part II
"I couldn't believe it and hoped it was just some horrible prank. This makes me reflect on many things in my life. It teaches me to appreciate life, respect it and experience it with caution and dignity."
– Mario Balotelli reacts to the passing of Livorno's Piermario Morosini on Saturday.
Fanatasy Hero
Antonio di Natale (Udinese)
With football again rocked by tragedy this weekend following Morosini's sudden death in Livorno's Serie B clash with Pescara, the 34-year-old striker has made an incredible gesture to support the player's handicapped sister with both her parents having already passed away.
Fantasy Zero
Gael Givet (Blackburn Rovers)
Steve Kean certainly has not had much luck this season in terms of everyone at Blackburn pulling in the same direction, with the French defender supposedly "not in the right frame of mind" to feature for Rovers as they fell to a 3-0 defeat away at Swansea this weekend.