By
Andrew Kennedy
How not to take a penalty
Anthony & Steven Gerrard (Cardiff/Liverpool)
So Liverpool's February to forget quickly became one to remember as the club ended their six-year wait for silverware with victory in the League Cup final against Cardiff at Wembley.
London isn't famed for its Sunday transport services, but those Scousers heading to the capital on the morning of the game probably didn't expect the problems to stretch quite as far as Lime Street, with a derailed train unleashing 'travel chaos'.
The journey to the trophy didn't get much smoother either, with Liverpool first falling behind and then surrendering an extra-time lead to push the game to penalties.
Up stepped Steven Gerrard, whose penalty forced a top save from Tom Heaton. Kenny Miller failed to take advantage, before Charlie Adam's truly woeful effort had MTW wondering whether the aim of the game was still to get the ball in the back of the net.
Don Cowie tucked his spot-kick away to assure us that scoring was indeed the desired outcome and set up Anthony Gerrard to miss the target, and in turn hand his cousin Steven the chance to lift a trophy at Wembley. At least the Cardiff man will never have to buy a drink again in Liverpool.
It was nice to see Stewart Downing, a man who has previously come in for the odd bit of stick from MTW, put in a positive performance on a big stage, unfortunately the same cannot be said for Kenny Dalglish's attire.
His managerial counterpart Malky Mackay could be seen suited & booted and truly dressed for a Cup final, unlike the Scotsman who donned his usual bin-bag suit. Where's your sense of occasion Kenny?
Kings of north London
Arsenal
Well, not quite, but at least the Gunners not only ensured the debate as to who is the best side in north London is not dead, but also that there is life after Andrey Arshavin at the Emirates.
Was the Russian really the disruptive force behind Arsenal's demise pretty much since he arrived in 2009? Probably not, in fact, by the time he is due back at the club, Gooners may well be hailing his return as what is needed to kick-start a side just falling short of fourth.
Theo Walcott, the world's most frustrating man, is the perfect metaphor for the club in recent years.
The first half saw the wideman provide another performance which had everybody convinced that all he is good for is running really fast, yet in the second the 22-year-old slipped into a well-rehearsed routine of accurate and delicate finishes from wide positions to well and truly down Spurs.
Elsewhere, Adebayor managed to keep his nose relatively clean on his return to the Emirates in a Tottenham shirt, and you can bet the striker was glad he kept his celebrations subdued following his penalty strike given the absolute thrashing that was to follow.
Indeed, it seems Harry Redknapp has already slipped into England manager mode as well, seeing his side take a comfortable lead before it inexplicably all goes wrong. Spurs may still be flying, but the White Hart Lane boys are yet to hit a bad patch, and with Manchester United up next, one may be beckoning.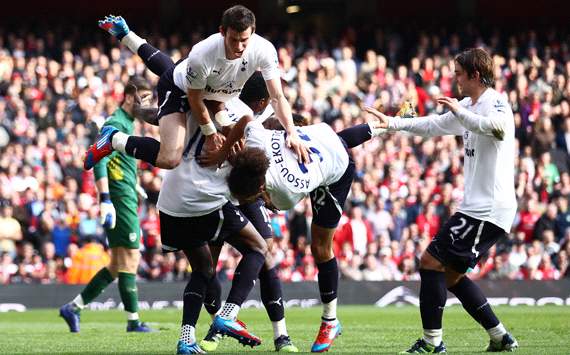 And it all comes tumbling down | Spurs weren't celebrating for long against Arsenal
GOOD WEEKEND


The old guard
It was actually a bad weekend for Andre Villas-Boas' 'project' as the Chelsea old guard stepped up to the plate. The Blues grabbed their first win in six games with a 3-0 victory over Bolton and Frank Lampard and Didier Drogba were amongst the goals.

Steel City
Well, for the blue half of Sheffield it was, with Wednesday's Chris O'Grady bagging the only goal of the game to pull two points behind United to third in the promotion chase. A superb crowd of 36,364 for a League One clash is a credit to the support of both clubs in South Yorkshire.

Geordie Muslims
Newcastle fan's footballing cathedral may now be called Sports Direct Arena, but there is a bigger Mecca on the horizon up in the north east with even Cheikh Tiote now getting in on the call to prayer celebration sported by Dembas Ba and Cisse.

BAD WEEKEND


Bothroyd's media career
Who at Sky Sports thought it was a good idea to book Jay Bothroyd as a pundit for Sunday's League Cup final? MTW doubts we'll be seeing the QPR striker on our screens without a football again after he bumbled his way through saying absolutely nothing of note for three hours.

Rooney's throat
Hmmm, it must've been pretty bad to have kept the striker out of Manchester United's clash with Norwich on Sunday. Conveniently for Sir Alex Ferguson it also sees the 26-year-old ruled out of England's friendly clash with the Netherlands this week.

Inter
Claudio Ranieri's side slipped to their fifth defeat on the bounce against Napoli on Sunday thanks to Ezequiel Lavezzi, with the pressure continuing to build on the 'tinkerman' as his side sit 15 points behind rivals AC Milan at the top of Serie A.

Most pathetic man
Mark Hughes (QPR)
Hughes absolutely loves a good & solid handshake. A dry palm, firm grip and eye contact are all musts in the Welshman's book of etiquette and respect.
Well, Fulham boss Martin Jol adhered to protocol following his side's 1-0 win at Loftus Road on Saturday, that was until he stumbled upon an absolute no-no, a pat on the head. Cue Hughes brushing the Dutchman aside as he looked to restore some pride following Jol's 'patronising' gesture.
It's not the first time the 48-year-old has kicked up a fuss on the touchline when his counterpart's handshake is lacking - last year Hughes had a go at Roberto Mancini for not making eye contact and giving him a cheeky wink at Eastlands.
Admittedly, Hughes is largely correct, but the fact he needs to moan about it has got MTW wondering why he feels so emasculated? Maybe it's because his managerial career is gradually working in reverse, from a national team, to big-spending Manchester City and now to relegation-threatened QPR via Premier League plodders Blackburn and Fulham.
Quote of the weekend
"To play 900 games for Manchester United is obviously something to be proud of"
– He who must not be named, (until this week when his court injunction for being a love rat was lifted) Ryan Giggs, capped a landmark appearance for the Red Devils with a match-winning goal against Norwich.
Carlos who?
Manchester City
With Mario Balotelli, Sergio Aguero and Edin Dzeko all on the scoresheet against the mighty Blackburn on Saturday evening, the question on many peoples' lips was 'do Manchester City actually need Carlos Tevez?'
Unless every defence in the league is going to sporadically go missing much like Rovers did at the Etihad, then the answer is yes, they probably do.
There was little feeding of the Yak as well, with the visitors mustering just two shots on goal in the whole game as the Nigerian striker was forced to scrounge rather than feast on the scraps left by the City defence.
Quote of the weekend (Part II)
"You will never get these sort of matches in European Leagues"
– Gary Neville got caught up in Arsenal's 5-2 win over Spurs, with the Sky Sports pundit forgetting anything decent can happen outside of England. Game of the weekend? Lyon 4-4 PSG, anyone?
Best team talk
Irena Demin (Bournemouth)
You know things aren't going well when the wife of your Russian co-owner is dishing out the half-time team talk. The League One side found themselves 1-0 down to MK Dons at Dean Court, and Max Demin's missus was not a happy bunny.
"She felt frustrated and she felt her opinions and that frustration should filter down to the players", revealed the other half of Bournemouth's Laurel and Hardy ownership, Eddie Mitchell.
Unfortunately Irena's rousing speech didn't make much difference with the Cherries failing to alter proceedings and Karl Robinson's side returned to Buckinghamshire with all three points.
Not content with enough embarrassment for one day, Mitchell then went on BBC Radio 5 Live's 606 and chucked a few naughty words about much to the dismay of presenter Mark Chapman.
This is the same Mitchell who had to be held back from trying to scrap with his club's fans following a 3-0 defeat to Chesterfield in September, before telling them if they didn't like how things were, they could 'go and support Southampton' – not a bad idea. Proper decent chap eh.
Fantasy Hero
Ben Foster (West Brom)
Is it just MTW that has been bypassed by Ben Foster's superhero like throwing ability? The 28-year-old's distribution was superb as West Brom romped to a 4-0 victory over Sunderland on Saturday, and the goalkeeper was influential in both James Morrison's strike and Peter Odemwingie's second goal at the Hawthorns.
Fantasy Zero
Samba Diakite (QPR)
The Malian may have been impressive in the first-half hour of his debut, but the midfielder tackled like a man on mission to get himself an early bath.
The 23-year-old was duly rewarded, and QPR were unable to overturn a 1-0 deficit against Fulham with 10 men – not the first time they have faced such a task and failed in recent games.
Follow Andrew Kennedy on