By
Andrew Kennedy
Biggest PR disaster
Liverpool & Luis Suarez
The past few months well and truly caught up with Liverpool this weekend, as the Luis Suarez race affair reached an almighty crescendo with one last sting in the tail before hopefully being put to bed for the rest of the season - if not for good.
Kenny Dalglish has been labelled embarrassing throughout the whole episode, but MTW could only feel sorry for the Scotsman as he looked well and truly beaten by everything in his post-match interview with Sky Sports' Geoff Shreeves, not least by Suarez's absolute disregard for the support given to him by his manager throughout.
Ah well, at least the club's American paymasters finally pulled the plug on what has been an absolute PR disaster, with Dalglish and Ian Ayre quick to drop their 'You'll Never Walk Alone' jargon and hang Suarez out to dry as soon John Henry's fingers came a-clicking. In fairness, they didn't know he would wriggle out of duty.
But just think, if Liverpool had opted to keep their denials to a minimum, instead of embarking on a merchandised t-shirted defence of the striker, none of this may have happened.
Mind you, Evra didn't exactly cover himself in glory either. Indeed, after Suarez's snub, the Frenchman may well have been entitled to his post-match rush of blood to the head, but the United skipper seemed tentative at best in his approach to shake the hand of the Uruguayan in the first place – a man's whose race he also allegedly referred to in a derogatory manner.
Unfortunately for Suarez, the argument that you shouldn't tell tales doesn't hold too much weight on British shores.
Luckily for Stewart Downing, however, the latest twist in this season's racism saga provided the perfect screen to hide his own woeful performance behind.
MTW had to check the team line-up several times throughout the game to check the former Middlesbrough man was actually playing. Apparently he was, but we remain suspicious.
If anyone should be issuing apologies it is Downing – the winger has hit rock bottom and is beginning to look like a baby foal which needs taking to the slaughterhouse.
Most audacious man
Carlos Tevez (Manchester City)
So, after months in exile and angling for a move anywhere as long as it is away from Manchester, Carlos Tevez has decided he quite fancies a run-out after all and declared his intention to return to City.
What a cheeky git. Although, you have to love the audacity of it – and to be fair to Tevez, he's made no attempt to hide the fact he's a money-grabbing mercenary, albeit a very good one.
Still you'd think Roberto Mancini, a man who took such a staunch stance against the Argentine following his alleged refusal to come on as a substitute, would stick to his principles and rebuff any attempt made by the 28-year-old at reconciliation.
Well you'd be wrong. The Italian has all of a sudden softened his tone towards Tevez, and in a month when basic moral obligations seem to have fallen by the wayside to football, it should be no surprise that refusing to do a job you are paid millions of pounds for does not prove the slightest obstacle when a Premier League trophy awaits behind it.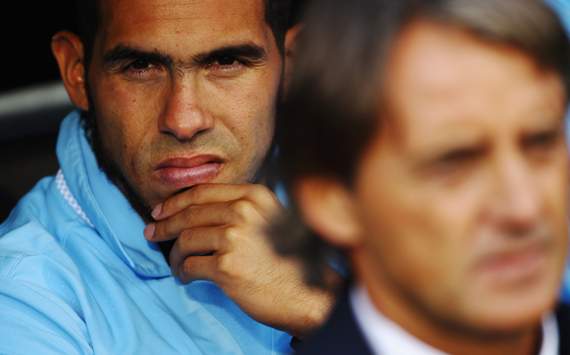 Marriage of convenience | Carlos Tevez could be the missing piece for City
GOOD WEEKEND


Debuts
Louis Saha grabbed a double, in turn tripling his account for the season, on his Spurs debut, whilst Pavel Pogrebnyak bagged a goal in his first game for Fulham. The duo join fellow strikers Bobby Zamora, Djibril Cisse and Papiss Cisse in scoring on their full debuts since their respective January transfers.

Roy Hodgson
Not only did Hodgson see West Brom defeat Black Country rivals 5-1 at Molineux on Sunday – a result which has led to the former Inter boss touting his side for the top 10 – but love-hate striker Peter Odemwingie came good with a hat-trick.

Yakubu
The Yak returned to the Blackburn starting XI following his three-game suspension, and his opening goal helped Rovers defeat fellow Premier League strugglers QPR 3-2, in turn seeing Steve Kean's side climb clear of the relegation zone.

BAD WEEKEND


Didier Drogba
Just as in the 2006 Afcon final, Drogba failed to convert from the penalty spot as Ivory Coast fell to defeat against Zambia on Sunday. This time though, the Chelsea forward had the opportunity to win the game in 90 minutes, until that old foe uneven turf reared its head.

Jamie Redknapp
Poor Jamie just can't hold his own with Gary Neville in the Sky Sports studio. On Saturday, Redknapp suggested Rio Ferdinand should have been sent off for a tackle on Luis Suarez. Despite clear video evidence to the contrary, the former Liverpool man stuck to his guns, only to be openly laughed at by G Nev & his Red Devil chum Darren Fletcher in the studio.

Barcelona
Something certainly went wrong for Pep Guardiola & Co. as they fell to a 3-2 defeat away at Osasuna, a team they beat 8-0 back in September. Real Madrid duly took advantage against Levante, and now sit a massive 10 points clear at the top of La Liga.

New Joey Barton
Wayne Rooney (Manchester United)
On Twitter that is. The Scouser mightn't brush up on as many intellectual clichés as the QPR captain, but Rooney has certainly proved to be more amusing on the social networking site.
On Wednesday he backed "good guy and top coach" Harry Redknapp for the England job, on Saturday he declared he "would love to be England captain" but believed "Gerrard is [the] perfect choice", and on Sunday – he chilled?
No – he provided us with a smidgen of comedy gold, as Wazza openly mocked the Toure brothers hours after Ivory Coast lost the African Cup of Nations final to Zambia on penalties. Hilarious.
"@tomclevz23 @rioferdy5 zzzzzzzzzzz pga golf is on. Come on boys. Funny that 2 toures was there all the way and lost. Haha."
Although don't think Wayne doesn't have a soft side, as the striker also paid his respects to Whitney Houston via Twitter, who passed away suddenly on Saturday.
Very thoughtful of Rooney that may well have been, but who would have thought he "grew up listening to Whitney."
Quote of the Weekend (Part I)

"He finished the story of the legend today in Premier League and I hope he can do the same in the Champions League on Wednesday"
– Arsene Wenger hails the short-term return of Thierry Henry to Arsenal after he marked his final Premier League game with a match-winning goal. Although, the French boss would like one further farewell gift.
Most Loveable Team
Tottenham
Spurs don't half bring a big smile to your face. Not only do they play some of the most swashbuckling and entertaining football in the Premier League, but Harry Redknapp has now been ratified by a court of law as the people's champion.
As Tottenham rollicked Newcastle United 5-0 on Saturday, nothing encapsulated the feel good factor at White Hart Lane more than the good old tickle delivered to Emmanuel Adebayor's belly in celebration of the Togolese forward's goal to round off a magnificent solo performance.
In a week when Alan Pardew was amongst the first to come out and distance himself from the England job, 'Arry showed what it really takes to be considered King in waiting.
Quote of the Weekend (Part II)
"I think today was one of our worst games of the season. I think the worst in every sense of the word"
– Andre Villas-Boas decides it's time to whip out the worst performance of the season line to appease Chelsea fans, as the Blues' form goes from bad to worse in the Premier League.
Battle for worst celebration
Danny Graham (Swansea) v Grant Holt (Norwich)
In a cracking game between two of the Premier League's newly-promoted sides, both Grant Holt and Danny Graham both found themselves on the scoresheet twice, with Norwich securing a 3-2 victory over Swansea at the Liberty Stadium. Yet, both were guilty of some horrific celebrations.
Graham set the tone for the afternoon, unleashing his usual 'Geordie Shore' style pose after opening the scoring for Brendan Rodgers' side. Except this time, the Gateshead-born striker added a little twist, assuming an Uncle Fester type look that should definitely be banned, while flapping his tongue towards his onrushing team-mates.
Canaries captain Holt on the other hand opted for a more masculine and straight down the line celebration, ripping off his shirt before flexing his muscles for the crowd. What a treat, eh. MTW didn't have the striker down as a meathead, but can now definitely see the 30-year-old dragging his knuckles along the floor like some sort of waxed neanderthal.
Fantasy Hero
Steven Pienaar (Everton)
On his return to Goodison Park, the South African quickly eradicated any ill-feeling that may have lingered from his departure a year ago with the opening goal as the Toffees saw off Chelsea 2-0.
Pienaar's return definitely seems to have captured the mind, and the heart, of Everton captain Phil Neville who revealed after the game his previous statement that if "anyone in the world" could come to the blue half of Merseyside, it would be the 29-year-old midfielder.
According to Neville, Everton is Pienaar's "spiritual home", where "the fans love him and the players adore him." A refreshing declaration of (slightly overly) kind words from the former Manchester United man in a weekend filled with the opposite.
Fantasy Zero
Wayne Hennessey (Wolves)
The Welshman is slowly becoming the Titus Bramble of the goalkeeping world, capable of brilliance for 80 minutes, but always likely to drop an absolute clanger to go ruin it all.
And Hennessey didn't disappoint in Sunday's hammering at the hands of rivals West Brom. The 25-year-old pulled off a string of impressive saves to keep the Baggies at bay before disaster struck again.
The stopper may have been duped by a slight deflection for Peter Odemwingie's opener but for Jonas Olsson's second-half strike, Hennessey showed the goalkeeping intuition of a man destined for the Championship.
Follow Andrew Kennedy on