By
Andrew Kennedy
Biggest head-spinner

Chelsea 3–3 Manchester United
WHAT. A. GAME. The Premier League just keeps throwing them up this season, and the only thing that was missing at Stamford Bridge on Sunday was a Fernando Torres goal and a cameo appearance from Jose Mourinho, although MTW is still trying to work out which was more likely to happen.
Javier Hernandez's late equaliser ensured the game ended at 3-3, with David Luiz's foray into the dark arts beforehand with Torres, as he treated the Spaniard to a pre-match voodoo blessing, failing to result in the former Liverpool man ending his goal drought.
At least the 27-year-old's eye for an assist hasn't waned, as Torres provided a delicious ball for Juan Mata which was only bettered by his compatriots thumping finish.
But where do you really begin? Well the diminishing logic of Chelsea fans seems to be a good place, as they jeered Rio Ferdinand for being the brother of Anton, the man who callously gave evidence against stalwart John Terry for allegedly racially-abusing him.
He may have been sidelined, but JT was there to celebrate as the Blues took a 2-0 lead, adopting a brothers in arms pose with Ramires as Mata smashed home, although he probably nearly missed the goal with his head buried in a copy of Nelson Mandela's 'Long Walk to Freedom'.
Elsewhere, Luiz turned from hero to villain. Heading the ball off Rio Ferdinand to give the home side an unassailable 3-0 advantage... or apparently not.
United fought their way back into the game, and the Brazilian had all the awareness of a drunken idiot stumbling home at 4am who is startled by a perky fox, that fox instead being a Mexican striker heading into the goal to draw the scores level.
Even more concerning was the ever so blatant conspiracy against Chelsea, with secret agent Howard Webb luckily on hand to restore balance to the game and ensure Manchester United grabbed at least a point.
Shocking stuff, and definitely the only way to combat such a scam was by nicking off 10 minutes before the end of the game to make sure you grabbed an elusive seat on the underground – FIGHT THE POWER.
MTW is sure those Chelsea fans will be regretting leaving early now, especially after missing David de Gea's inspired save from Mata's free-kick, who has slowly begun to suggest he isn't in fact as blind as a bat.
Next England captain
Alex Oxlade-Chamberlain (Arsenal)
After two fine displays in the Premier League, young Oxlade-Chamberlain is already being touted as a must-pick for England's Euro 2012 squad.
Well why don't we go one further and hand the 18-year-old the Three Lions armband after John Terry was cruelly ousted as captain for the second time in his career this week.
The Ox has already passed the sternest of tests – being better than Theo Walcott – and scored his first and second-ever Premier League goals in the 7-1 rout of Blackburn on Saturday.
In fairness, the Rovers defence performed a sublime disappearing act at the Emirates. Indeed, Christopher Samba playing by himself probably would have been more effective against Robin van Persie & Co. or even a naked Steve Kean, greased up to the eyeballs riving around in the middle of the box surely would have been a better deterrent.
Moving on quickly (before MTW begins to enjoy that image a bit too much) it seems to make perfect sense to fast-track the Ox to the position of England captain.
That way, the weight of expectation may ruin him before Euro 2012 – so Fabio Capello wouldn't even have to waste a seat on the plane!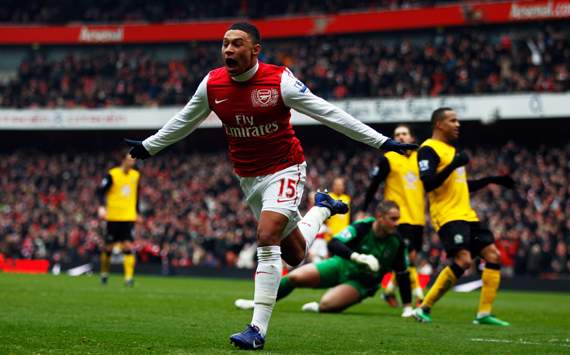 Heart of an Ox | Forget just picking him, Chamberlain should be captain
GOOD WEEKEND


Orange kits
Swansea's tangerine away kit helped Brendan Rodgers' side stand out from the snow as they recorded a 2-1 victory away to West Brom. While in the Championship, Blackpool's orange outfit guided them to a 3-1 win over Cardiff as they pulled within four points of the automatic play-off positions.

Magic tricks
As Manchester City eased to a 3-0 win over Fulham, Mario Balotelli could be spotted taking a break from watching the action and indulging in some winter wonder, as he made a glass disappear into thin air. GQ's second best-dressed man of the year definitely makes magic more appealing than that bald prune Paul Daniels.

Shovels
Ah the shovel, a throwback to times gone by. Groundsmen up and down the country, from the Etihad Stadium to the Hawthorns, ditched their new-fangled technology this weekend to adopt the primitive tools of their fore fathers, and use a massive spade to get that snow shifted.
BAD WEEKEND


Joey Barton
King of the helmets Joey Barton just couldn't resist giving his two cents on the John Terry race row. The QPR captain once again took to Twitter to deliver another unnecessary rant and could now face contempt of court – fingers crossed the judge locks him up and swallows the key.

Tim Howard
The American was completely foiled by the spin of the ball after Jean Beausejour's cross deflected off the foot of Phil Neville and found its way under the goalkeeper's arm to give Wigan a 1-0 lead. Luckily Victor Anichebe salvaged Everton a point at the DW to save Howard's blushes.

Ryan Taylor
The sombre looking Scouser has been forced to endure more than his fair share of injuries in the past, but looked to be over the worst of it since his move to Newcastle United. However, the 27-year-old left the field in a stretcher during the 2-1 win over Aston Villa, and Alan Pardew will be hoping the injury isn't as bad as first feared.

Best Gareth Bale impression
James McClean (Sunderland)
The Northern Irishman didn't exactly fly, more stumble his way past the Stoke City defence on Saturday as he scored the only goal of the game to give Martin O'Neill's side a 1-0 victory at the Britannia Stadium.
McClean then span away towards the Black Cats travelling contingent with his hands raised making the shape of a heart… a celebration frequently used by fellow winger, Tottenham's Gareth Bale.
Whilst he is yet to score a hat-trick at San Siro, the 22-year-old has proven he can perform at Stoke on a cold, snowy day, the ultimate assessment for anybody who wishes to show their worth on the European stage.
Considering the Welshman initially used the loving symbol as a tribute to his girlfriend, McClean best watch himself when mimicking the Spurs man in the future.
Quote of the Weekend (Part I)
"For me that's trying to cheat another professional, they're part of the same union and it's a disease that we should quickly stamp out."
– Stoke City boss Tony Pulis adopts some hard-line rhetoric following Martin Atkinson's decision to send off Robert Huth against Sunderland.
Biggest Scoundrel
Adam Johnson (Manchester City)
Make that a lying, cheating scoundrel. In the first half of Manchester City's clash with Fulham, Adam Johnson dinked his way into the opposition box, before deliberately flinging himself to the floor after forcing contact with Chris Baird's outstretched leg.
What makes it worse is this happened in the 10th minute of the game. It wasn't a last-ditch gamble in a moment of desperation, nope, this was the action of man whose mandate was to get into that penalty area and win his side a spot-kick. Great success then.
Johnson received the customary hand-slapping and pat on the back, which Sergio Aguero made sure wasn't premature by slotting past Mark Schwarzer to give City a 1-0 lead.
"There's a fine line between diving and anticipating contact," the 24-year-old stated after the game, as he launched a defence of his actions.
Unfortunately for Johnson, not even a shred of that "fine line" was on display, as he threw himself to the floor with such elegance in what was described by Martin Jol as a "beautiful dive".
As the search for snipers at Eastlands continues, Johnson has certainly set the bar in terms of simulation, as well as talking absolute codswallop to justify it. Luckily, Ashley Young's attempt against Chelsea wasn't quite up to scratch, so the title of best diver remains in the blue half of Manchester for now.
Best dressed
Sir Alex Ferguson (Manchester United)
Just what was Sir Alex wearing before United's clash with Chelsea on Sunday? The 70-year-old appeared in front of the Sky Sports cameras for his pre-game interview sporting a rather nice jacket, with some sort of polo-neck style bib underneath.
MTW wasn't quite sure whether Fergie had just stepped off stage from performing with a 'Rat Pack' tribute act, or if he had finally unveiled himself as the Bond villain who has been threatening Howard Webb into giving his side extra stoppage-time for the past nine years (or two penalties when they're 3-0 down at Stamford Bridge…).
All that was needed to top it off was a sun swept Mike Phelan to emerge from the dressing room clad in a white bikini, perspiring from every orifice known to man.
Quote of the weekend (Part II)
"I think the decision [to remove the England captaincy from John Terry] was inevitable and I'm very pleased and a bit relieved [FA chairman] David Bernstein has taken that decision."
– Former FA Chairman Lord Triesman no doubt glad he's out of Soho Square and largeing it up in the House of Lords with such pressing issues dogging football.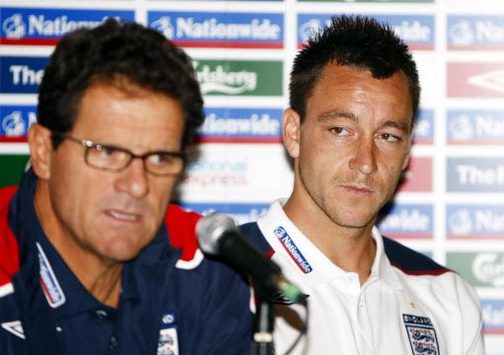 Couple of numpties | Capello spoke out against the FA following Terry's dismissal
Quote of the Weekend (Part III)

"I completely disagree with the FA about the John Terry decision, and I have told that to the chairman. I think we first should wait for the trial conclusion."
- Uh-oh. Well, at least any lingering uncertainty as to whether Fabio Capello may continue as England boss after Euro 2012, or who knows even for the tournament in Poland & Ukraine, is gone following the Italian's quite frankly idiotic public comments on Terry's dismissal as captain.

Cisse Hero

Papiss (Newcastle)
Him and his buddy Demba Ba mightn't have had the best time at the Africa Cup of Nations with Senegal, but they absolutely love it on Tyneside.
Papiss got an earlier than expected introduction at Sports Direct Arena on Sunday following an injury to Leon Best, and was on hand to watch the former West Ham man bag his 16th Premier League strike of the season.
And it looked as though the £10 million-man may be denied a debut goal as a number of chances just evaded him. That was until the 26-year-old unleashed an absolute rocket into the top left-hand corner in front of the Gallowgate end to secure a 2-1 victory.
Cisse Zero
Djibril (QPR)
The former Liverpool man also opened his account on his debut against Aston Villa in midweek, and was involved in QPR's Barcelona-esque (MTW would say Swansea-esque, but we don't want to go over the top now!) opening goal.
Then Cisse went and spoilt himself. Following Roger Johnson's admittedly poor challenge, the 30-year-old gave the Wolves centre-back a good couple of firm shoves, before seemingly reminding himself that the only way to truly portray his anger was to grab the defender by the throat. Proper numpty behaviour and Djibril walked for it.