By
Andrew Kennedy
Failing to learn your lesson
Liverpool
In what has been a fine week on the pitch for Liverpool, the club continues to manoeuvre between the laughable and the ridiculous off it.
In the space of four days, the Merseysiders have seen off both Manchester clubs at Anfield to reach the League Cup final and FA Cup fifth round respectively. Cracking effort lads, well done.
Although, it has to be said that a fairly substantial minority of Liverpool fans want their heads checking. And no, MTW is not talking about the 59-year-old fool who was arrested after the game for making a racist gesture – his monkey impression only serving to prove that if anybody is sub-human, it's him.
The realms of decency and etiquette prevent MTW from really describing this imbecile, but on the bright side, he has now made his last ever visit to Anfield.
Yet the chorus of boos that awaited Patrice Evra's arrival, and every subsequent touch of the ball, made an absolute mockery of any attempt made to improve the club's tarnished image following the initial outbreak of the Luis Suarez race row.
Now, admittedly this pantomime behaviour could be put down to mob mentality from the safety of the stands, with fans highly unlikely to replicate their jeers individually.
However, imagine you were at Anfield, fully aware of the context of the game and also the spotlight glaring on your club's reputation. Would you boo a man who has been judged to have been a victim of racism? Probably not. Even so, those fans aren't racists, just a load of sheep being flocked by a couple of idiots.
Kudos to broadcasters ITV as well, who did their best to keep in line with both clubs' call for calm before the game and ensure the focus was firmly on the football by shoving a camera in Evra's face as soon as he arrived at the ground.
In hindsight, there probably should have been a dedicated red button option following the Frenchman's movement on the pitch – it could have been called 'race watch' – or possibly a great big arrow placed above his head just to make sure he never slipped from our attentions.
Even better were the shots of Luis Suarez celebrating from the sidelines like some sort of vindicated political activist who had seen a totalitarian regime toppled by his loyal followers, instead of a man who was recently found guilty of repeatedly calling a Black man a 'Negro'.
Ridiculous - and there is more to come on both Liverpool and the world's worst football broadcsters.
Best transfer offer
Andy Carroll swap for Carlos Tevez (Liverpool)
First of all, MTW must offer an apology to the Anfield faithful for their heavy inclusion this week, but your club just keeps providing absolute comedy gold.
Unfortunately for Liverpool, they have struggled to convince Manchester City to join them in their haphazard transfer policy. You can just imagine the Merseyside mob getting in touch with Brian Marwood at Eastlands to give them an 'offer they couldn't refuse'.
No doubt their suggestion of a straight swap of Andy Carroll for Carlos Tevez was laughed off by City, especially when the Reds revealed they were prepared to take a £10 million hit on the striker in order to bring the Argentine to Anfield – as if they were doing THEM a favour!?
Liverpool don't seem to have realised yet that the extortionate £35m sum they paid for the ex-Newcastle United striker is quite clearly not how much he is worth back in reality, and any hopes that Roberto Mancini may have been tempted by the offer have been wiped by Carroll's woeful form.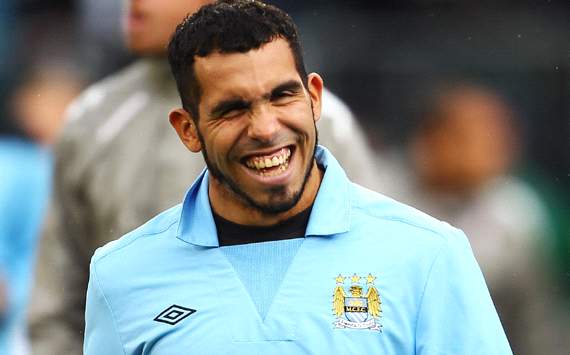 You're having a laugh? |
No doubt there were wry smiles at City after Liverpool's offer
Most unflappable man
John Terry (Chelsea)
Racism was unfortunately once again on the agenda in Saturday's midday FA Cup kick-off, with John Terry coming face to face with Anton Ferdinand for the first time since the England captain was charged with racially abusing the 26-year-old back in October.
The FA's last-minute intervention to cancel the pre-game handshakes ensured Ferdinand didn't get his chance to deliver a much-hyped snub. No doubt chief rebuff expert Wayne Bridge would have been disappointed.
Adrian Chiles even sounded a little disheartened when revealing that the "confrontation never came to pass", as if ITV were banking on some sort of gladiatorial combat to boost their ratings.
Loftus Road was turned into a mini Police state as fans were thoroughly searched before entering the ground, with events taking a particularly sour turn after a bullet addressed to Ferdinand was delivered to the club on Friday. Credit must be the given to the ex-West Ham man for not only his decision to even play, but also for the performance he delivered.
In his early days, if Terry wasn't drunkenly goading American tourists over the September 11 terrorist attacks, he was parking his Bentley in disabled bays – proper Lord of the Manor type behaviour.
Yet more recent accusations levelled at the 31-year-old, most notably an alleged fling with the mother of his one of his best mate Bridge's child, as well as the alleged racist abuse towards Ferdinand, suggest the centre-back isn't the village idiot, but a bit of a nasty chap.
However, despite Terry's professional career, as well as his post-game earnings, hanging in the balance as we await the outcome of his race trial, the east London lad continues to put in stellar displays for Chelsea and remains unfazed by the furore surrounding him off the field.
Decency may not be his forte, but leading the cavalry certainly is.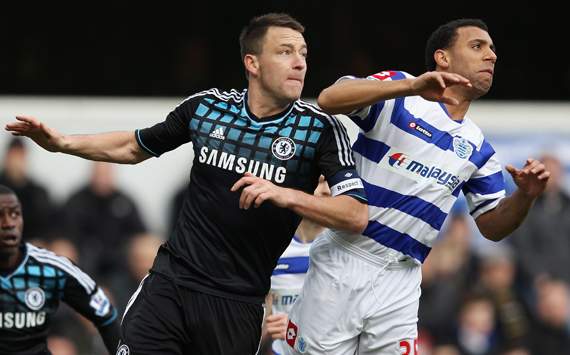 Back on the field | Both Terry and Ferdinand overcame the hype to give strong displays
GOOD WEEKEND


Harry Redknapp
The Spurs boss would be glad to have the attention switched back to the pitch after this week's tax evasion trial. A 1-0 victory over Watford will have ensured 'rent-a-quote' is well rested before the court case resumes.

Matt Tubbs
The striker helped the League Two high-flyers to dump Hull City out of the FA Cup with another goal. That's now 8 goals in 9 games for the 27-year-old, one of them coming in the third round victory over Bristol City.

Jermaine Beckford
The former Leeds and Everton man hasn't found the back of the net in the league this year, but thoroughly enjoys his FA Cup ties. The forward grabbed a hat-trick in the third-round replay win against Nottingham Forest, before his brace helped Nigel Pearson's side see off Swindon Town 2-0.
BAD WEEKEND


Real Madrid
Seven points clear at the top of La Liga, how could this possibly be a bad weekend? Well, the Bernabeu hierarchy have got their itchy trigger finger again, and with Jose Mourinho an equally reactionary character, the Portuguese boss is already eyeing a Premier League return.

Ramires
The Brazilian was stretchered off at Loftus Road on Saturday having suffered a medial knee ligament injury when blocking a Clint Hill shot. Andre Villas-Boas will be disappointed to lose search a key component to his midfield, but the three to four week absence is not as bad as may have initially been feared.

Mike Williamson
The centre-back's own-goal against then League Two side Stevenage led to Newcastle's FA Cup exit last year, and history was to repeat itself on Saturday, as the former Watford man was on target at the wrong end once more against Brighton.

Best Mario Balotelli impression
Yohan Cabaye (Newcastle)
The Frenchman is a bit of a fiery chap, and certainly loves to throw a strop, a trait on display during Newcastle's 1-0 defeat to Brighton on Saturday. A couple of weeks ago against QPR the former Lille man looked a right numpty as he was stretchered from the field following a Shaun Derry tackle; shouting and pointing his finger before throwing his gloves at the fourth official, like an eight-year-old Egyptian king being carried away on a Sedan Chair as he threw a tantrum.
Yet Cabaye upped the stakes this weekend, possibly eyeing the gap left by Mario Balotelli's four-game suspension for stamping on Scott Parker. After being bundled to the floor by Adam El-Abd, he let his penchant for vengeance slip by taking aim at the defender's face with his boot.
The FA will surely hand the 26-year-old a retrospective ban with the governing body enforcing a strict Peter Crouch-style eye-gouging only policy.
Tweet of the weekend
"Going to bed now. P****d off. These things are happening every week now, something needs to be done. Ruining the game......"
– Guess who? Joey Barton vents his fury at referee Mike Dean's decision to award a penalty against QPR following Clint Hill's soft nudge on Daniel Sturridge.
Shortest Memories
Arsenal fans
As Arsenal trudged in for half-time 2-0 down against Aston Villa on Sunday, those loyal and ardent Gooners indulged in a spot of jeering as they looked to rouse a second-half comeback from their side.
Well, agree or disagree with the home crowd's booing, they were quickly cheering again as a slick seven minutes saw Arsene Wenger's men turn the game on its head and maintain hopes of finally ending their silverware drought.
Richard Dunne and Darren Bent's respective fouls for the penalties that came either side of Theo Walcott's equaliser were similarly atrocious, but the Arsenal winger outdid them with his even worse golf-style celebration that was completely unjustified with such a fortuitous goal.
Maybe Alan Hutton's clearance that rocketed off the 22-year-old's head before bouncing into the net shook up his marbles a bit and he thought he had scored an absolute worldy.
Wenger looked a bit confused by Walcott's antics, and was probably pretty bemused by the hypocrisy on show from the Emirates crowd. All of a sudden the good times were back, when 20 minutes ago the apocalypse was dawning.
MTW half wondered whether the Frenchman would be tempted to bring on Andrey Arshavin as some sort of metaphorical middle finger to the Arsenal support. Unfortunately not, but the return of the braided Bacary Sagna was a sight to behold, particularly for the Gunners defence.
Quote of the weekend
"I think both sets of fans were magnificent ambassadors for their clubs. There was a bit of banter but it was mainly friendly and that's the way it should be."
– Kenny Dalglish here, once again completely misjudging public mood as he describes jeers directed towards Evra as friendly banter.
Fantasy Hero
Frazier Campbell (Sunderland)
In his first senior appearance since August 2010, the ex-Manchester United striker entered the fray for Sunderland at half-time in a feisty north-east derby with Middlesbrough a goal to the good at 1-0.
Campbell's superb first-touch finish capped off a brilliant piece of counter-attacking play as the Black Cats ensured the tie would be decided by a replay, with the 24-year-old's celebration a genuine moment of joy for a player who has endured such terrible injury woes.
Fantasy Zero
David de Gea (Manchester United)
The Spaniard became the only person to be foiled by Andy Carroll this season on Saturday, with De Gea too concerned about the Geordie striker's presence to realise Daniel Agger was heading Liverpool into the lead.
In the ultimate humiliation, and also the sign of a man who quite clearly didn't have the foggiest as to what he was doing, the ball bounced off the top of his head before rippling the United net. The presence of Anders Lindegaard vigorously warming up on the touchline will not have done the 21-year-old's confidence any good.