By
Andrew Kennedy


Worst substitution

Arsene Wenger (Arsenal)
Arsenal again dipped back into the familiar territory of continual crisis with the 2-1 defeat to Manchester United, the Gunners' third league loss on the trot which now leaves them five points behind the Champions League spots.
Arsene Wenger seemed to deliberately antagonise the Emirates crowd when replacing the best player on the pitch in Alex Oxlade-Chamberlain with who would become the worst - Andrey Arshavin.
The Russian unfortunately justifyied the quite ridiculous chorus of boos his arrival brought by shadowing Antonio Valencia into the box as he set up Danny Welbeck's winner.
Even Robin van Persie looked dismayed as the 18-year-old left the field, and MTW wonders whether Thierry Henry piped up against the Arsenal supporters criticising Wenger from the comfort of his executive seat this weekend, like he did from the pitch against Swansea.
"I have been in management 30 years, I've made 50,000 substitutions. I don't have to justify every decision to you," was Wenger's response to questions over the switch. Such a retort will not satisfy the growing band of dissidents in north London.
Elsewhere, Laurent Koscielny may have put in a sterling performance, but his defensive partner Per Mertesacker would probably struggle to beat Van Persie's grandfather in a race, with the Dutchman revealing a birthday message on his t-shirt in celebration of the 91-year-old's big day.
The German appeared to be wading through waist-high bog throughout the game, and luckily so did most of Danny Welbeck's attempts at goal, as the former Werder Bremen man just managed to clear the striker's tame shot off the line as it crawled towards the net.
Once again on the cusp of the top four, it seems to be more like a Wenger blunderland than wonderland as the Frenchman continues to keep the faith with a side that seems to have lost conviction in its own abilities.
Nearest to the end of his tether
Kenny Dalglish (Liverpool)
So, Liverpool's 3-1 defeat at the hands of lowly Bolton on Saturday finally pushed Kenny Dalglish over the edge as the 60-year-old launched a scathing attack on his players, yet surely the Scotsman is the only person to blame for setting his tether so short?
Dalglish was correct when suggesting his side were too busy focusing on the midweek League Cup semi-final second leg against Manchester City, with the loss at the Reebok Stadium perfectly demonstrating how Liverpool's self-righteous claims to be competing amongst the Premier League's top clubs, is actually what prevents them from doing so.
Although, hang on a second – didn't Kenny just plunder £100 million on transfers in the past year?
Now MTW has full respect for the Merseysiders, who have so far managed to stifle their side's demise by desperately clinging onto past glories, but the club's signings since the Scotsman's return suggests their scouting network is limited to Match of the Day and the gossip columns.
Indeed, director of football Damien Comolli seems to have instigated a transfer policy of paying double a player's market value.
Don't worry though, his next masterplan could potentially involve squandering £24m on Darren Bent, with the striker having already passed his stringent mediocrity test at Tottenham.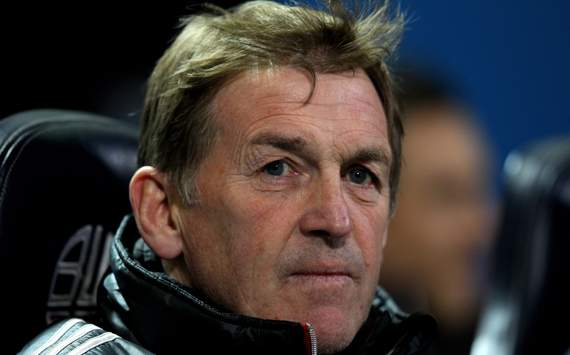 Not a happy Kenny | Dalglish was unimpressed by his side's 3-1 defeat to Bolton
GOOD WEEKEND


Joleon Lescott
Luckily for the centre-back, Mario Balotelli's stamp on Scott Parker (which will no doubt have caught the attention of the FA) & subsequent match-winning penalty ensured the spotlight remained firmly off the 29-year-old's forearm smash to Younes Kaboul's face.

Scott Dann's testicle
Who would have thought the 24-year-old's nuts could prove so vital to Blackburn's survival hopes? The defender returned from the sidelines following a ruptured testicle to help Steve Kean's men to another vital point against Everton on Saturday.

Norwich City defence
Paul Lambert's side kept their first clean sheet of the season against Chelsea, albeit with a little help from Fernando Torres. The Canaries will be disappointed not to have snatched victory however.

BAD WEEKEND


North London
Spurs and Arsenal may have driven their Manchester opponents a bit closer this time round, but neither could exact revenge for the hammerings they received in the reverse fixtures back in August.

Senegal
Whilst the attacking trio of Demba Ba, Papiss Cisse and Moussa Sow had led Senegal to be touted as one of the favourites for the African Cup of Nations, Amara Traore's side now find themselves on the back foot after a shock 2-1 defeat to Zambia in their opening game.

Corner Flags
Flapping poles across the country were beginning to look forward to another year without being exposed to Tim Cahill's celebratory punching routine. Yet the Australian found the back of the net against Rovers to end a drought stretching back to December 2010, and duly revelled in his goalscoring return with a quick demonstration of his sparring skills.

Worst second-half performance
Newcastle United
Alan Pardew's side dominated proceedings at Craven Cottage in the opening 45 minutes, taking a 1-0 lead into half-time. Yet the Magpies must've thought Real Madrid emerged for the second half instead of Fulham, as the Whites overwhelmed their north-east opponents with five goals.
A dubious penalty decision may have led to the home side's equaliser, but as Newcastle's defence went on an untimely holiday, Clint Dempsey was on hand to take full advantage with a superb hat-trick that helped Martin Jol's men to a 5-2 victory.
Quote of the weekend (Part I)

"Craig Bellamy is Craig Bellamy; I have no respect for him so he can do what he wants to do"
– Nigel Reo-Coker well and truly jumped to the bait laid by chief git Craig Bellamy's half-time taunts, as the ex-West Ham man temporarily picked a fight with team-mate Zat Knight before publicly declaring his disdain for the Liverpool forward after the game.
Making the most of Torres' misfiring
Daniel Sturridge (Chelsea)
Whilst the Spaniard continues to compile entries for his own miss of the season competition, one man who has benefitted from Torres' abject showings is Daniel Sturridge.
Problem is for Sturridge, he has fast-tracked himself to some sort of Big Time Charlie. Not only is a man who has yet to score 10 goals in a Premier League season (a barrier he is admittedly likely to breach next month) demanding he becomes Chelsea's main striker, but he is also apparently disillusioned at Stamford Bridge with his meagre £80,000-a-week contract. Cheeky scamp.
The 22-year-old was saved by his misfiring strike partner at Carrow Road on Saturday, with Torres' failure to find the back of the net providing the ideal smokescreen for Sturridge to hide his own dismal display behind.
But anymore performances like a man deliberately trying to do anything but score will surely see his contract ultimatum laughed off by Roman Abramovich.
However, the club did bow down to Gary Cahill's wage demands this week, yet the defender wasn't included in Andre Villas-Boas' 18-man squad for the 0-0 draw with Norwich – possibly while some last-ditch negotiations continue over his appearance fees.
Quote of the weekend (Part II)

"That's how kids play. Go and take it full on in the face, even if it hurts"
– Graeme Souness skirting round the realms of acceptable innuendo when criticising Gareth Barry for turning his back on Gareth Bale, as the Welshman pulled Tottenham temporarily level against Manchester City on Sunday.
Best Paul Gascoigne impression
Jermain Defoe (Tottenham)
The striker's bleach-blonde hair had hinted at Defoe's attempts to emulate the former England great, and the 29-year-old even sacrificed his side's title hopes on Sunday as he successfully re-enacted Gazza's open-goal miss from the Euro 1996 semi-final against Germany.
As Gareth Bale crossed for the former Portsmouth man in the 91st minute of Spurs' clash at Manchester City, Harry Redknapp's side looked to be on the verge of affirming their title challenge.
Unfortunately for Tottenham, Defoe's little legs just weren't long enough to put the ball in the back of the net before the striker went all Phil Babb on the post as his stomach clattered off the woodwork.
Three minutes later, Ledley King dropped an even bigger clanger as he chopped down Mario Balotelli in the box, and the Italian calmly slotted City into a 3-2 lead and an eight-point gap over the north Londoners. Ah well, it was nice while it lasted, and 'Arry, you even had MTW convinced of your top-spot credentials.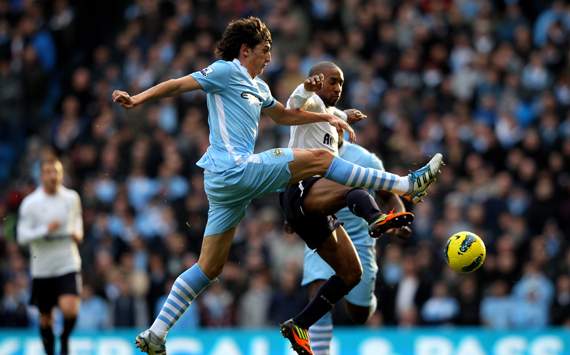 A tad on the short side | Jermain Defoe's little legs couldn't quite stretch far enough


Fantasy Hero
Robbie Keane (Aston Villa)
The Irishman bagged a sublime brace on his full Aston Villa debut to help overcome a 2-1 deficit against Wolves. Alex McLeish was a little bit giddy after the 3-2 win at Molineux, suggesting he was already thinking about signing the LA Galaxy loanee on a permanent deal. A great return to British shores it may have been for the 31-year-old, but the fact that Keane only arrived in the MLS six months ago will ensure he graces us with his presence in the short-term.
Fantasy Zero
Karl Henry (Wolves)
The Wolves captain presented himself as the antithesis to Joey Barton earlier this season, slamming the ex-Newcastle man as "embarrassing" after the 29-year-old had claimed Henry was "a Sunday league player … only out to make a name for himself".
Yet the myth that Henry is the shining light in this eternal battle of good versus evil was blown apart on Saturday, when the ex-Stoke man thuggishly tried to put happy-go-lucky Marc Albrighton in a headlock, before not so subtly back-heeling the Aston Villa winger in the stomach.
Out came referee Michael Oliver's red card and few will be surprised at Henry's unveiling as a troll-like brute.