Welcome to the 21st edition of the 'Mock the Weekend' awards, where no footballer is safe from lampooning by our satire-laced pens. If we didn't poke fun at the sometimes ludicrous actions of these super-rich foot-merchants, then the Premier League would be a very predictable place. As it is they offer us a lot....
The Brand and Ross award for miked-up mishaps

Richard Keys and Andy Gray
(football pundits)
This was wrong on all fronts. Quite staggering that Keys barely finishes the sentence "Somebody better get down there and explain offside to her" in reference to female assistant referee Sian Massey before uttering "Did you hear charming Karren Brady this morning complaining about sexism? Do me a favour, love."
Because clearly there's no sexism in football, is there Richard?
Mind you, if they follow the Jonathan Ross/Russell Brand path, Gray will soon be presenting the British Comedy Awards and Keys will be marrying Lady Gaga. Only once she fully understands what constitutes a foul throw, though.
T
he Laurence Llewelyn-Bowen award for most obvious love of home furnishing

Sir Alex Ferguson (Manchester United)

He may be famed for his brutal temper, gimlet eye and ruthless, merciless pounding of oppositions, but
MTW
is sure we've found Sir Alex Ferguson's true vocation in life.
Yes, we can exclusively reveal that Fergie, the terrorising football manager supreme, is actually more at home when he's talking about interior design.
"Fulham's dressing rooms when we played there this season were an absolute disgrace," the Scot tutted as he inspected the West London club's setup. "It really was ridiculous. The room you got was no more than eight square yards.
"I think there should be standards; they are in the Premier Division."
What wasn't picked up in the interview were his further comments: "I mean, really! Their feng shui is all over the place. There are no scatter cushions and their curtains don't match the shower-heads. Awful."*
*
Sir Alex didn't actually say this.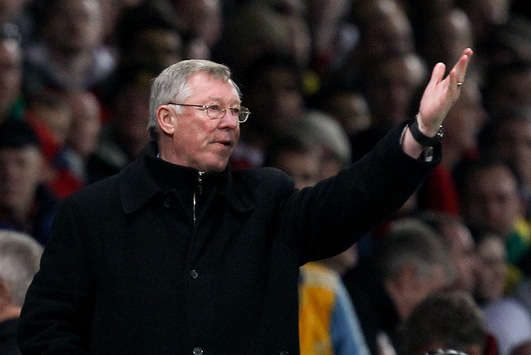 Appalled | Sir Alex spots that United are pairing red curtains with black sofas

The Blair-Bush award for 'special' relationship
Steve Kean & Paul Robinson (Blackburn Rovers)


It seems that Steve Kean has some sort of nurturing touch. Having turned Blackburn into a good team (who'd have thunk it), he now has clearly touched the players with his wisdom.
As he revelled in his latest triumph over West Brom, Kean was cautiously optimistic with the future.
"Long may that continue," he said with a cheeky half-grin. What a nice chap.
Lo and behold, we see the true of extent of his hold over the players. Paul Robinson on Steve Kean's progress as manager: "Long may it continue. He's very good, obviously the lads respond to him...He's grabbed the bull by the horns and made the job his own."
It's
real
love when you start saying the exact same things in interview. What next? Cuddles on the team bus?
The Worzel Gummidge award for shameless hobo appearance

Mark Lawrenson
I love the sophistication and handsomeness of BBC's Match of the Day, I mean now that they've got rid of Martin Keown of course. But seriously, what a fantastic showpiece of suave, well-groomed pundi... wait a minute? What is that? Mark Lawrenson seems to be going for the 'I've-worn-the-same-clothes-from-last-night-and-not-scraped-my-chin-with-a-razor' look on MOTD 2. Still, at least he didn't renew his affection for the 80s moustache.
The frozen woolly Mammoth award for finally thawing out and realising they're a living, breathing entity
Liverpool
Pass, pass, pass, pass, pass, pass, pass, pass, pass, pass, pass, pass, pass, pass, pass, pass, pass, pass, pass, pass, pass, pass, pass, pass, pass, pass, pass, pass, pass, pass, pass, goal.
It's as easy as that Roy.
Fantasy Football Hero
GOOD WEEK...

Darren Bent
When everyone thinks you moved to a worse club for money, best response is to score a goal to shut them up.

Raul Meireles
In recent weeks Liverpool could barely even knock in a tap-in from on the goal line. Two long-range efforts, one with such nonchalance you have to wonder how many times he does it in training, can really endear you to the fans.

Steve Kean
"First of all I'm caretaker, then I've got it to the end of the season, now I'm contracted til 2013? Oh and my team is 7th in the league. If this is a dream, I swear..."

BAD WEEK...



Frederic Piquionne
I think your Saturday can be likened to finally getting the girl of your dreams, only for her to kick you in the conkers five minutes later. Painful.

John Carew
You decide to go out on loan to escape a sinking ship, only to watch your replacement score the winner against Man City, and your new club give their best impression of a troupe of clowns.



Gabriel Tamas
When you make a headed clearance 12 yards from your goal, you're not thinking you're going to hit the top corner with a blinder. 999 times out of 1000 he would never score that at the right end.

Dimitar Berbatov (Manchester United)
He may look likes he running around with five Mogadon in his bloodstream, but when he turns it on, he turns it on. Three goals, all excellently taken in the circumstances, and he barely broke sweat. Some may hate it, but it surely was a day when Berba was too cool for school. Seems the Birmingham defence had him in their fantasy team too.
Fantasy Football Zero
Gary Caldwell (Wigan)
Not a pretty day for the Wigan player. Conceded three goals in the centre of defence, gave away a penalty, got red-carded for the offence, and there's just the little matter of him being club captain. Sometimes you wish you could just make the ground swallow you up (or the changing room). Still, he'll have got some points for something, I'm sure.
Quote of the Weekend (Part I)
"They control the tempo of the game extremely well and they develop a real football arrogance that is a joy to watch."
- Roberto Martinez
You do know that Arsenal have just beat your team 3-0 Roberto? You do? Just checking.
The Laurel and Hardy award(s) for comedy double act
Mark Clattenburg & Peter Walton (referees)
Is that trip on Peter Odemwingie by Jermaine Jones in the penalty area, Mr. Clattenburg? Yes, yes it is. What are you going to give? A free-kick on the edge of the area. Are you a stooge? Er...
Mr Walton, a man (albeit on a booking) has potentially just given his bottom-of-the-league club a vital victory away to a strong team, and he's celebrated just a little exuberantly with his long suffering fans. What's your action? I mean only an absolute stickler for rules, would give him a second yellow....
We're not laughing with you.
Quote of the Weekend (Part II)
"Every day when I was a kid I heard the ice-cream van and I wanted an ice cream. Did I have one? No. I had to get on with it."
- Ian Holloway
Might as well make it a regular slot for the West-Countryman. The most apt metaphor for Charlie Adam's supposed desire to move to Liverpool. Classic Ollie.