Welcome to the 20th edition of the 'Mock the Weekend' awards, where no footballer is safe from lampooning by our satire-laced pens. If we didn't poke fun at the sometimes ludicrous actions of these super-rich foot-merchants, then the Premier League would be a very predictable place. As it is they offer us a lot....
The Djimi Traore award for most inspiring left-back
Wayne Bridge (West Ham)
"There is a lot of quality here and I know we can move up the table," were Wayne Bridge's words after he had sealed his loan move to Upton Park. Moving sentiments, we can all agree. With these types of players, West Ham are surely safe.
Looks like Wayne got a bit confused however. He said 'quality', when in fact we think he meant 'clowns'. As in: "We've got a lot of clowns here, like the one who plays people onside for one goal, gives away a penalty for another and doesn't close down attackers for a third. Can't remember his name though."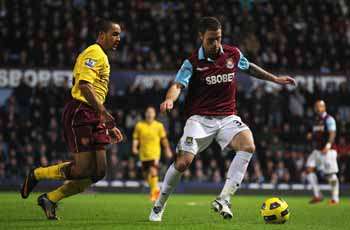 The Wayne Bridge award for best clown impression

Carlton Cole (West Ham)

Cole (to himself): Curses! Arsenal have just scored and we're staring down the gun barrel. How do I, England striker Carlton Cole, help us out of this situation. Oh look, that backpass is painfully short. If I run and pick the ball up, I may be able to score and bring us back to 1-1.
Dammit! Missed. Can't seem to shake off a weird feeling of deja vu when that happens.
Fantasy Football Hero
GOOD WEEK...

Roberto Mancini
After finally getting the striker he wanted for the bargain price of almost £30 million, Roberto then sees his star-packed team make a straightforward win look insanely difficult. Now that's class.

Asamoah Gyan
"A last minute equaliser against Newcastle. Can't get better than that. Wait a tick, yes it can. Now I have an excuse to teach more dancing moves to Bolo Zenden."

Carlo Ancelotti
"Chelsea have turned the corner." Yes, they turned right out of Stamford Bridge and into Fulham Broadway Nandos, sweet!

BAD WEEK...



Wayne Bridge


A new start. A fresh perspective. Game time. With everyone passing him by on Saturday, it was like Wayne hadn't even left City.

Martin Skrtel
Loses the man he's marking to concede an equalising goal. Loses second man to see team go 2-1 down from winning position. Same story different game, Martin. You should nickname yourself "broken record".



Bolo Zenden
"Aaah no! Asamoah's scored again. How do I tell him that the last time I copied him I put my hip out of joint."


At this stage in the season, every cyber Premier League manager has to be stocking up those points for the long cold winter. After a few barren weeks, which may have seen him tossed to the subs bench by frustrated bosses, Carlos Tevez came bounding back into the good books with a handsome display. Two goals, a hand in the third, and a captain's armband to boot. Happy days.
Fantasy Football Zero
For all those rubbing their hands with glee at the idea that purchasing the relatively affordable Rafael da Silva is a no-brainer, this weekend might have made you feel a little sick. The first sense of nausea would have been from the scythe-like challenge the youngster made to get booked. It's ok, you think, it's just a booking. I'm still going to get points for a clean sheet. Red card?! Someone pass me the bucket.
The Brylcreem award for unthinking adoration for David Beckham
David Bentley (Birmingham)
It is nice to see footballers staying true to their word at least some of the time. Fresh from his protestations that he didn't wake up every morning to worship in front of a Goldenballs poster (although methinks the lady doth protest too much), David Bentley was quick to distance himself from the former England captain.
That must have been the reason why he was doing an Elvis impression with the amount of hair gel he was sporting in the Midlands derby. We were so wrong to judge you David, because we all know that Becks never looks after his appearance.
The Cow and Gate award for best toddler tantrum in a Premier League fixture

Rafael da Silva (Manchester United)
Poor little Rafa, awww diddums. Did the nasty wef send you off? I hope you were a brave little soldier and didn't get into a little tizzy about it.
Oh dear, there go the flouncing arms, followed by the angry rebuke. All we need now is a lip quiver and a petulant gesture...oh look...he kicked a pitchside microphone.
Up to bed with no supper for you, my lad!
Quote of the Weekend (Part I)
"I don't need to discuss that. You can see for yourself. I don't need to discuss the referee."
- Sir Alex Ferguson
Fergie once again showing the press that they are nothing but specks of dirt on his well-polished glasses. Interviews? Pah, I've given you an enigmatic quote, be off with you.
Quote of the Weekend (Part II)


"Well, West Brom scored three, and we scored two, really. And they got three points and we got none."
- Ian Holloway
Even in defeat, Holloway can still see the funny side of a situation as he gives us his impression of Alan Shearer's analysis of West Brom v Blackpool. What a legend.