COMMENT
By Kris Voakes
It may have been a rather fortunate deflection which eventually saw off Spain at the San Nicola on Wednesday night, but Italy's victory was both richly deserved and – as much as a friendly result can ever be – vitally important to the Azzurri's short-term future.
For in gaining their reward for outplaying the world champions, Cesare Prandelli's side found that fortune really does favour the brave, an outlook which can only help them as they head towards Euro 2012. Because while they have attacked from the start to win competitive games before now – not least in their last qualifier against Slovenia in June – this time it was done against the best the planet currently has to offer.
Yes, it is true that this was 'only a friendly', but any victory over Spain has to be well-earned these days. No longer is this the underachieving Spain of old. Nor was the line-up as weak as some would have you believe. Italy were simply the better side, and not just by a slight margin either.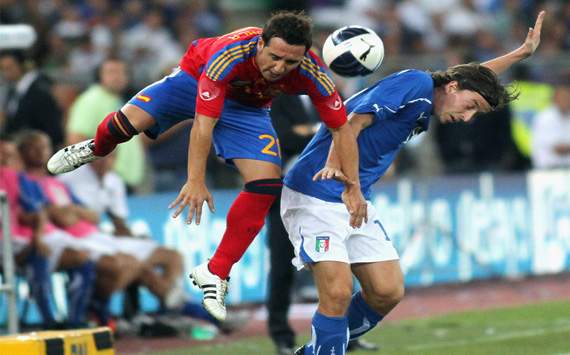 Montolivo v Cazorla | The Italy man turned in his best international performance
For the first half an hour they battered Vicente Del Bosque's troops, pressing them deep into their own half to force countless mistakes which led to decent chances. With better finishing and a little more luck, they could have been out of sight by the interval. Antonio Cassano was turning on the tricks in his return to his home town, and Riccardo Montolivo played like never before in the blue shirt, giving them an excellent attacking base.
It helped that the rest of the side showed confidence in their abilities too. A magnificent one-touch passing movement seemed to have broken down when Domenico Criscito opted not to play in Thiago Motta at the first time of asking, but the left-back proceeded to unleash a stinging left-foot strike which had Iker Casillas beaten but flew back of the post.
There were other chances either side of Montolivo's impudent chip over Casillas which crowned a storming opening 10 minutes. The keeper got a boot to Cassano's shot across the face which was lacking in power and then smothered Giuseppe Rossi's shot after Spain had again been opened up down their right. Perhaps the best chance of the lot came just after the soft award of an equalising penalty, with Cassano failing to steer a free header on target after a great run and cross from Christian Maggio.
The first half was as one-sided an affair as many had predicted, but it was the home side who were doing all the running. After the break, Spain started to finally show what made them world and European kings in the first place, but Italy always had the threat of a break in them.
A score-draw would hardly have been a bad result, but a win was exactly what Prandelli and his side deserved for the way they'd gone about their task. Their adversaries could have no complaints about having lost the game, given just how much they'd been dominated in the first 45 minutes.
The triumph will also make other top sides sit up and take notice. This Azzurri is not the one which embarrassed a nation in South Africa last summer – truth be told, it has not been for some time. Instead, the ex-Fiorentina boss has changed their attitude, changed their approach, changed their mentality, and increased their individual and collective belief. What they lacked was a prized scalp to show off on the mantelpiece as proof of their progression. Now they have it.
Some kinks still need to be ironed out, but that's fine; there are still 10 months to the Euro finals, and nobody wants to peak too soon. But they are heading towards Poland and Ukraine with a spring in their step, playing fast-paced, aggressive, yet stylish football that few people like to associate with the game on the peninsula. And most importantly, it's winning football too.
Make no mistake about it … Italy are becoming contenders again.
Follow Kris Voakes on