Goal.com runs through the highlights from the veteran's international career
The curtain has been brought down on the international career of David Beckham. Ahead of the Three Lions' friendly with Hungary at Wembley on Wednesday night, Fabio Capello informed the English viewing public that the former captain was now 'a little bit old' to represent the team. It marked a subdued end for the injured Los Angeles Galaxy superstar, who had always been one to conduct his business in the limelight. From his debut against Moldova in 1996 until his heart-breaking injury just before the 2010 World Cup, Beckham had been synonymous with the England team and his presence, not to mention his global appeal, will be fondly remembered and sadly missed.
Here, we detail some of the most memorable David Beckham moments, good and bad, from a decade and a half in an England shirt.
26 June 1998 Silencing the doubters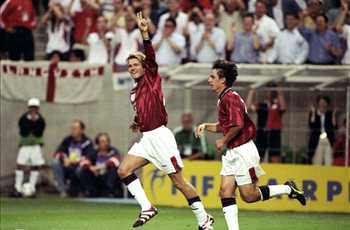 The 23-year-old had been criticised by then-manager Glenn Hoddle for not being fully concentrated on the task at hand at the World Cup in France and had been duly left on the bench for England's opening fixtures against Tunisia and Romania. They needed a result against Colombia on matchday three after defeat to the Romanians and, following Darren Anderton's opening goal, Beckham made the result safe with a stunning free-kick, his first goal for the national side. He curled the ball past Faryd Mondragon in characteristic fashion to prompt relieft and elation among the travelling hoardes.
30 June 1998
It All Comes Crashing Down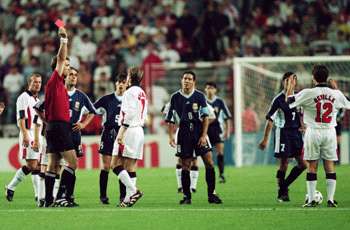 The tournament was not to remain rosy for Beckham and England though. Only days later in the second round match against Argentina, the inexperienced Beckham saw red for a petulant retaliatory kick on Diego Simeone after the combative midfielder goaded his opponent. The match finished level and the English were despatched on penalty kicks. At home, Beckham was made the scapegoat and his face appeared on makeshift dart boards in national newspapers, while an effigy of the number seven was hung from a lamppost. He had sunk low in his fans' estimations.
12 June 2000
The rehabilitation begins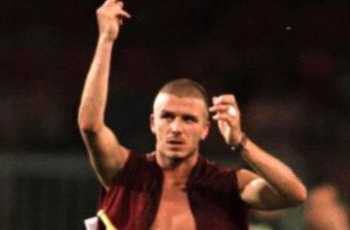 Around the turn of the century England's supporters were notorious on their travels, often leaving a trail of destruction in their wake. And the damage was not limited to the town squares around Europe. A hateful, bile-filled campaign against one of their own players, Beckham, reached its nadir the night England squandered a 2-0 lead and lost 3-2 to Portugal in a disappointing Euro 2000 campaign. The microphones were close enough to hear disgusting chants of 'I hope your kid dies of cancer' directed at Beckham after the match, now the father of a one-year-old son. A visibly angry Beckham reacted by flicking his middle finger towards the offending parties. His manager, Kevin Keegan, backed the player's actions in the wake of the game and it signalled a thawing of the cold stance of the media towards him, who urged fans to 'lay off' after overstepping the line. The rehabilitation was under way.
15 November 2000
Called on for captaincy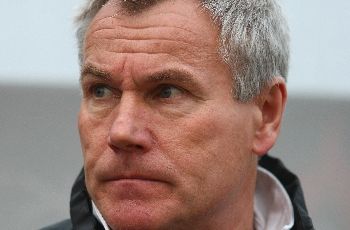 Peter Taylor was handed interim duties in charge of the England team in 2000 and his most significant act of a one-game tenure was to hand David Beckham the captaincy for a friendly against Italy. A remarkable two-year turnaround in the eyes of the press and supporters had been completed. Beckham restored. Although England would be defeated by a Gennaro Gattuso goal, it marked the beginning of a long and distinguished reign for Beckham with the armband festooned on his bicep. He led England out on 59 occasions, before surrendering the honour emotionally following the 2006 World Cup.
6 October 2001
Cometh the hour...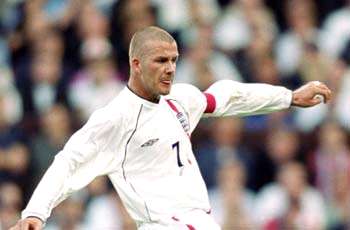 Beckham was chosen by Taylor as skipper because he was a player who led by example and put in tireless shifts every time he took to the field. Indeed, later in his career, he was to earn the sobriquet 'Forrest Gump' in light of his workrate at Real Madrid. Never was Beckham's ethic more apparent than in England's final World Cup qualifier against Greece at Old Trafford. An indifferent campaign, which included a 5-1 drubbing of Germany in Munich and defeat to the same Germans at Wembley, had left England in need of a result against the Greeks. A truly awful team performance was raised from mediocrity only by Beckham, participating in arguably his magnum opus for the Three Lions. He assisted Teddy Sheringham's equaliser but was powerless to prevent his side from slipping 2-1 behind. However, cometh the hour, cometh the man. In the last minute of injury time, with Sven Goran Eriksson's team bound for the play-offs, Beckham stood purposefully over a free-kick 30 yards from goal. He placed an inch-perfect dead ball over the wall and beyond the goalkeeper to spark pandemonium at his home ground. It was true Roy of the Rovers stuff and a match in which Beckham etched his name into England folklore forever.

7 June 2002
Exorcising the ghosts of 1998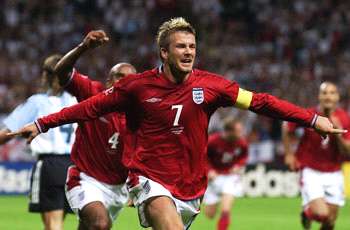 Having secured England's qualification at the death, Beckham travelled to the tournament in the far-east suffering the effects of injury, a curse that was to blight his participation at major tournaments throughout his international career. In April, Aldo Duscher of Deportivo La Coruna ensured that all English football fans became acquainted with the term 'metatarsal' when his wild challenge fractured that bone in the England captain's foot. He was barely 60 per cent fit for the opening game against Sweden but there was no stopping him, pain or not, for the second match of the group stage against Argentina. Beckham converted the winning goal, a penalty kick late in the first half, to exorcise all the demons from four years previous. England's win comdemned the Argentines to an early exit from the tournament but Brazil would end their chances at the quarter-final stage.
13 June-24 June 2004
Spot Luck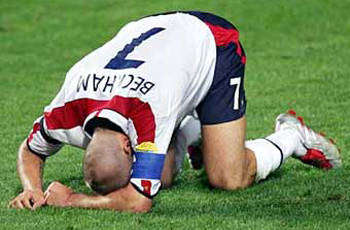 You live by the spot, you die by the spot. Although his steely nerve had seen England past Argentina in 2002, it was Beckham's lack of penalty kick cool that ultimately did for England in Portugal. He had the chance to augment his side's 1-0 lead against France on matchday one but saw his effort batted away by Fabian Barthez. Zinedine Zidane would make his Real Madrid team-mate pay the heaviest price with two late goals to seal a French win. Thus, England were drawn to face the hosts in the quarter-finals. A knife-edge tie went all the way to penalties after a 2-2 draw. A soft penalty spot was blamed for Beckham missing England's opening effort in the shoot-out, which was decided by goalkeeper Ricardo's winning strike. England were out again.
25 June 2006
The three-peat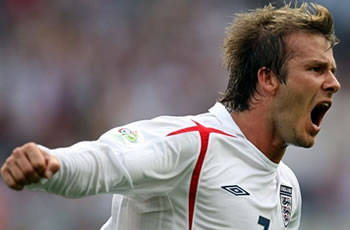 Beckham's career has been punctuated by a series of 'firsts'; some good, some bad. For instance, he became the first captain to be sent off in 2005 against Austria, as well as the first player to be sent off twice playing for the country. However, some landmarks are decidedly more optimistic. His place in the England team had been questioned in some quarters in the lead up to Germany 2006 with observers viewing Beckham now as an Eriksson favourite. He helped dispel some of those accusations with a man of the match display in the group stages against Trinidad and Tobago before netting a goal against Ecuador. In doing so, Beckham became the first English player to score in three World Cup tournaments. Fitness concerns then saw him benched early on against Portugal in the quarter-final. He could be seen nursing his ankle on the bench with tears in his eyes, powerless to prevent the Three Lions from slipping to yet another penalty kick defeat.
1 June 2007
Come back brighter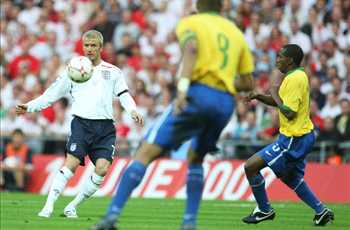 David Beckham relinquished the England captaincy in the wake of World Cup 2006, bidding a tearful public farewell but promising to remain available for selection. The new coach Steve McClaren had regeneration in mind when he dumped Beckham, along with some other senior players, from his plans working towards Euro 2008. A year elapsed before the coach was forced into an embarrassing climb down and reintroduced the LA-bound player to his plans. The new-look England had struggled, drawing with Macedonia and Israel, as well as losing at rivals Croatia in a hotch potch campaign. McClaren fielded Beckham against Brazil in the June friendly and he provided his side the assist for captain John Terry's goal. A few days later he laid on two goals as the side downed Estonia in a competitve fixture to put England back on track. Beckham had successfully fought his way back once more. Following his hard work at Real Madrid, which forced Fabio Capello to include him in the first-team squad for the Liga run-in after banishing him to the reserves, Beckham again displayed his resilience. Ultimately, McClaren's tenure would be a failure as the team missed out on the tournament proper.
28 March 2009
Surpassing Bobby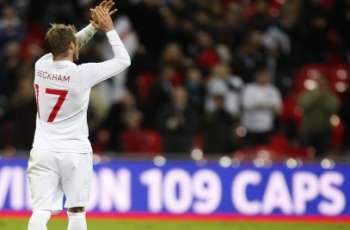 It has been said that David Beckham is an icon for a commercial age; his celebrity has enhanced his global appeal perhaps more than his football ability. And for this reason a certain element of the old guard were displeased when it transpired that Brand Beckham was going to overtake Bobby Moore as England's all-time record outfield caps holder. Fabio Capello had boosted Beckham's caps count with run-outs in friendly matches until that day last year when he finally passed the West Ham legend, playing his 109th match for England. Beckham celebrated the game in typical fashion, with an assist for Wayne Rooney, and has added another six to that total for a grand sum of 115 at the age of 35. Events in San Siro, Milan, on March 14 ensured that his gallant attempt to provide his coach with selection difficulties for the World Cup were doomed to fail. And now, as a result of Capello's lack of diplomacy, we know that this is where the story ends. It's a shame we knew before Beckham did.