Goal.com spoke to the England star and his team-mates ahead of the big game in the MLS play-off semi-final, with Sean Franklin reporting that the whole away squad should be fit
EXCLUSIVE

By Alex Labidou
From the moment Thierry Henry and Rafa Marquez joined Major League Soccer last summer to play for the New York Red Bulls, the inevitable question immediately followed.
When are they are going to play David Beckham, Landon Donovan and the Los Angeles Galaxy in the MLS Cup final?
While New York's inconsistent season took away the possibility of the two clubs playing each other for the league's championship, their pairing in the semi-finals of the play-offs has been billed as next best thing. From the fans to the television programmers, everyone is curious to see if the match-up will draw more interest in MLS.
The Galaxy's stars believe the match will live up to the hype.
"We're obviously excited about the game," Beckham told
Goal.com
.
"We know how big this game is. It's two teams with sets of players that know how to play.
"As soon as we knew we had Red Bulls [in the play-offs] a few days ago, we knew it was going to be one of those games that everyone wants to see and people talk about," the midfielder added. "We knew it was going to be a bit more hype if we came together."
Beckham's star team-mate Donovan agreed and explained that in any sport, New York versus Los Angeles is always an exciting coast-to-coast rivalry that usually lives up to the build-up.
"I'm a sports fan and in any sports league any time that LA and New York meet in the post-season, it's always exciting," the forward told Goal.com.
"We're excited about it. I know they [NY Red Bulls] are excited about it. I'm sure the fans are excited about it and the league is happy about it. It's going to be a lot of fun. "
Donovan admits that he expected to see New York much later in the play-offs as he thought the team would be competing with LA for the Supporter's Shield during the regular season. He observed that the struggles on the pitch probably came from a lack of chemistry.
Arena On Regular Season vs Playoffs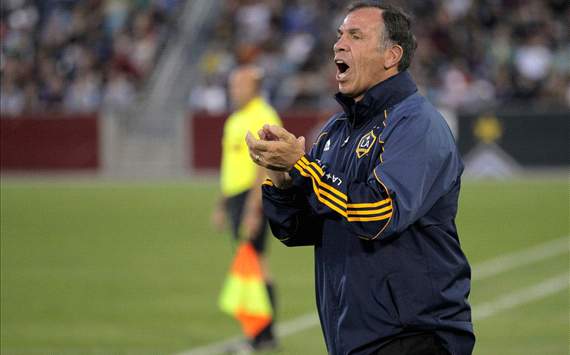 "I think anything that has happened before this game is immaterial. The regular season and the post-season are two different animals. You need to be prepared. "
- Bruce Arena

"Through the middle of the year, they kind of dipped," he observed. "They had some identity issues about how they are going to play and go about things on the field."
The 29-year-old explained that once New York began to focus on their defence, things began to turn around and the Red Bulls started gaining confidence again.
"They are a team that plays well when they are confident," the forward continued. "They're dangerous and they've figured out that they are going to win by playing well defensively and using their offence talents going forward when needs be. They are going to be a difficult team to play against."
Despite the recent success that the last seeded play-off teams have had over the past few years, reaching the final over the past three seasons and winning two MLS Cups, the Galaxy are determined to end that streak.
Bruce Arena, Galaxy coach, has stressed that the team look at both the regular season and the play-offs as separate competitions and can't rest on their laurels of having the best record during the season.
"I think anything that has happened before this game is immaterial," Arena stated to Goal.com. "The regular season and the post-season are two different animals. You need to be prepared."
Beckham agreed with Arena's perspective.
"I think we've been consistent throughout the season, which is one advantage that we've got, but it doesn't matter at this point of the season," Beckham said. "It doesn't matter that we've won the Supporter's Shield or whether Red Bulls came in last [in the play-offs]. "
New York are undefeated against the Galaxy this season with a draw and a win heading into the first leg at Red Bull Arena on Sunday. However, the Red Bulls' win at home last month was against a weakened Galaxy side missing their top two offensive players in Robbie Keane and Donovan, who may miss this one as well with a strained right quadriceps.
"The reality is I haven't played a game in three-and-a-half weeks," said Donovan. "We're going to do everything we can to get ready for the game. We're realistic too and we will be smart about everything. "
Keane, who has missed action with an adductor strain, was unavailable for comment, and Arena wouldn't reveal whether or not he or Donovan would play. However, defender Sean Franklin expects both to be available on Sunday.
"I think everyone is going to be ready to go tomorrow," said Franklin. "It's nice that we've had some time now to get guys healthy and fit. We are going to put our best team out there. I'm looking forward to being out there."
Franklin's comments echo the team's ambition to start off their post-season in a strong fashion. With the MLS Cup final being held at the Galaxy's home arena, it's no secret that the club would like to win a title on their own pitch.
But first things first, the Galaxy have to beat the Red Bulls.
"I think if we get there, it would be amazing. But we have to get there first," insisted Beckham. "If we progress, then we can start thinking about how great it would be to be in the final but at this point in time we have to do our jobs and if we do that we have a chance."
Follow ALEX LABIDOU on

How do you stay up to date with football when on the move? With http://m.goal.com – your best source for mobile coverage of the beautiful game.