ANALYSIS
By Kris Voakes
Cristiano Ronaldo
has been announced as the winner of the
Goal.com
50 for 2011-12, topping off a wonderful past 12 months for the Portuguese. Three years on from his record-breaking transfer from
Manchester United
, he was finally a winner with
Real Madrid
, and has now added a huge personal accolade to boot.
Goal.com's global team of editors picked their best 50 footballers from around the world using a points-based voting system, and it was Ronaldo who came out on top to claim the crown for a second time, following on from his 2008 success. A Liga winner with his club for the first time, his 60 goals in Madrid's march to a title which ended Barcelona's run of domination were always going to put him in the running for the Goal.com crown. He was also joined by a number of fellow
Blancos
as their triumph in Spain saw them dominate the rankings.
But dig deeper and the Goal.com 50 revealed a great deal more about the types of player who excelled in 2011-12 - here, we pick through the fascinating trends.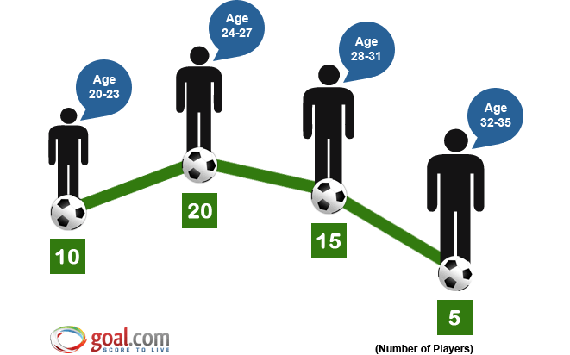 Once more the peak age in the Goal.com 50 is around the central category, with 40 per cent accounted for in the 24-27 age group. Included in that collection is winner Cristiano Ronaldo, and there are another 15 additions from the 28-31 group. While there were three entries from the 16-19 category in 2011, Neymar is this year's youngest entrant at 20 years of age. The oldest member of our 50 is Gianluigi Buffon, who is Didier Drogba's senior by 43 days. At 34, he comes in more than three years younger than Ryan Giggs' high mark in 2011.
Having seen exactly half of the Goal.com 50 come from its clientele last year, Nike again supplies footwear to 25 members of our esteemed list. Germany's Adidas again accounts for 32 per cent. The difference this term comes in the remaining nine, with only Puma and Umbro making up a small band of companies being able to claim representation in this year's chart.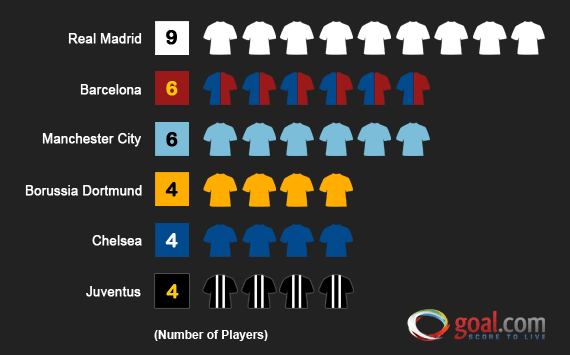 The biggest notable swing in this year's Goal.com 50 is in the latest chapter of the battle of
El Clasico
, with Real Madrid bossing the field thanks to their nine entrants. Barcelona sit in joint second place, with the new English superpower of Manchester City also contributing six players. A total of 23 different clubs figure in the full list, with Borussia Dortmund, European champions Chelsea and Juventus each contributing four players.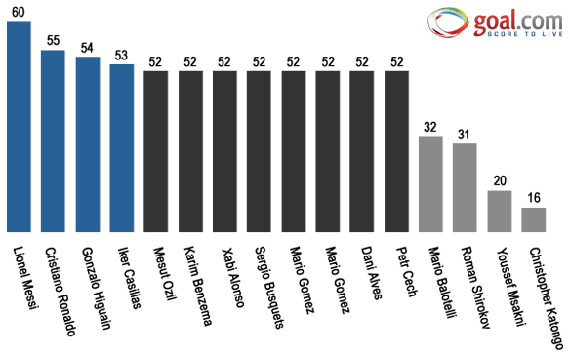 Lionel Messi may have lost his place at the perch of the Goal.com 50, but he was the member of our list to make the most club appearances during the 12 months in question. With 60 games in a Barcelona shirt, he came in five ahead of winner Cristiano Ronaldo, and six clear of Ronaldo's Real Madrid team-mate Gonzalo Higuain. At the other end of the scale, Christopher Katongo made only 16 appearances for Henan Construction, but did enough during the African Cup of Nations with Zambia to help win enough votes for 42nd place.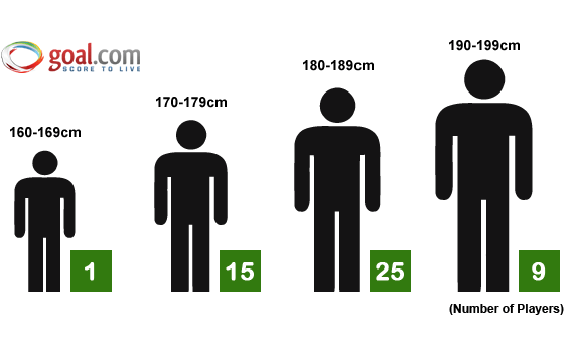 Top players are getting taller if the latest Goal.com 50 is anything to go by. This year there are a phenomenal 34 players coming in at over 180cm on the tape measure, with the average going up by three centimetres on 2011. This is somewhat backed up by the victory of 186cm Cristiano Ronaldo, deposing the 169cm Lionel Messi. A full 18 per cent of the 50 break the 190cm barrier, with the loftiest being Manchester City and England goalkeeper Joe Hart at 196cm.
LA LIGA LEADS THE WAY AGAIN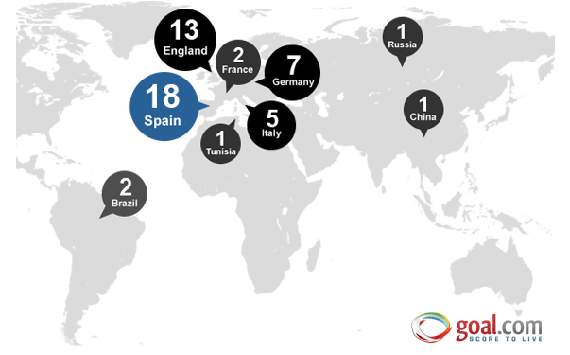 La Liga is again at the head of the queue, with 18 players in this year's 50 coming from the Spanish first division. Another 13 hail from the Premier League to continue the near-duopoly of the Goal.com charts, ahead of the Bundesliga (7) and Serie A (5). The four big leagues apart, there are no other domestic competitions offering more than two players to the collection. Beyond the 15-man representation of Real Madrid and Barcelona, there are also stars from Atletico Madrid, Atheltic Bilbao and Valencia.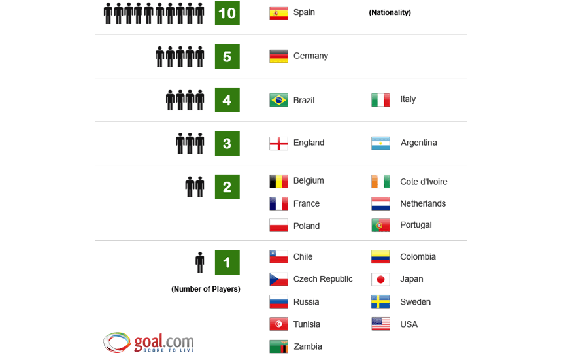 In chalking up a third straight major title, Spain helped to ensure that they dominated the Goal.com 50 once more. A phenomenal 20 per cent of the final list were among
La Roja
's 23 in the Euro 2012 finals in Poland and Ukraine, accounting for twice as many as any other nation. Germany's 10 per cent sees them come in second, with Italy and Brazil contributing four apiece. In total, 21 different nations are represented.
ATTACK ON TOP, BUT GOALKEEPERS HAVE THEIR SAY
As with any poll of the greatest players in football, there is a heavy attacking presence, but there is also an increased proportion coming from the defensive half of the field too. With one more defender and, more notably, one further goalkeeper included compared to 2010-11. There are now 26 per cent coming from those departments, which is a 4% rise on last year. Despite a drop in midfield representation, there are two more attackers than 12 months ago, with almost half plying their trade in the final third.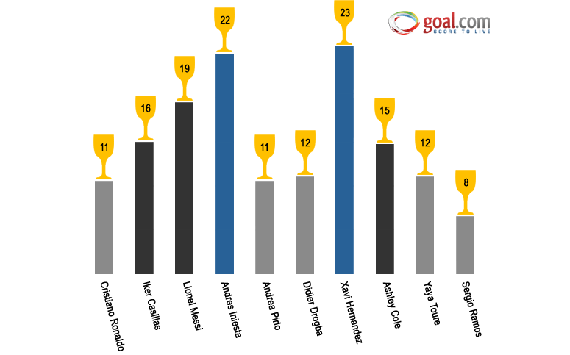 Barcelona can lay claim to the three most decorated players of the top 10, with Xavi, Andres Iniesta and Lionel Messi earning 64 medals between them. Amongst a list of players averaging 14.9 trophies each, our winner Cristiano Ronaldo actually comes in short of that mark. The Portuguese has been in triumphant outfits only 11 times so far in his senior career, although that mark was boosted by Real Madrid's La Liga success in 2011-12.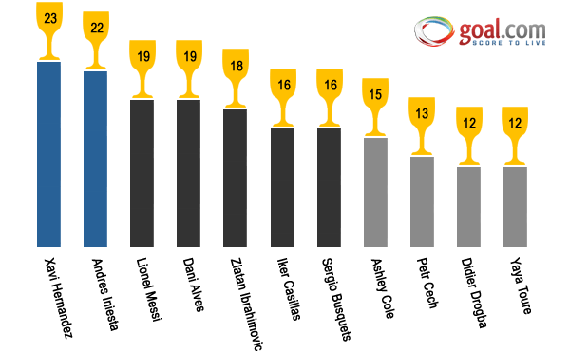 Perhaps predictably, Xavi leads the way in major honours amongst the entire 50 as well, with Dani Alves the highest placed individual outside of the top 10 thanks to his 19 trophies. Zlatan Ibrahimovic is the most decorated non-Barcelona player of the list, while new European Champions Ashley Cole, Petr Cech and Didier Drogba all come in among the 10 with the most medals. Interestingly, our winner Cristiano Ronaldo doesn't make this shortlist.
33
of the Goal.com 50 - an astonishing 66 per cent - were not among last year's list. Of those, Andrea Pirlo has made the most remarkable impact, finishing in fifth place in 2011-12 after missing out completely 12 months ago. In fact, the Italian midfielder had failed to figure in any of the previous four half-century lists, with his greater impact with Milan having come pre-2007. His magnificent renaissance with Juventus saw him win a Scudetto and reach the Euro 2012 final with Italy, making a fifth place finish in the Goal.com chart more than deserved.
A REST IS AS GOOD AS A CHANGE
7
players made the Goal.com 50 in their first season at a new club, and of those only Andrea Pirlo, who swapped Milan for Juventus last summer, finished inside the top 10. Amongst the five most successful players in the history of the award, only new champion Cristiano Ronaldo has moved over the last five years. A sure sign if ever you needed one that if it ain't broken you don't try to fix it.
EURO HEROES TAKE THE SPOTLIGHT

33
of our list participated at Euro 2012, including seven of the top 10. After lifting the Henri Delaunay Trophy for a second time, Iker Casillas led in nine team-mates with his highest ever placing in the Goal.com 50 in second place. There were also four members of our list who played in the African Cup of Nations in January, with Didier Drogba and Yaya Toure both appearing in the top 10.
845
goals were scored over the course of the year by our Goal.com 50 at an average of 16.9 per player - including goalkeepers! Lionel Messi's 73 strikes were not good enough to stop him from dropping out of the top two for the first time ever, but did help to raise the average, while winner Cristiano Ronaldo hit 60. Klaas-Jan Huntelaar's 48 goals saw him wind up third in that particular chart, yet he only finishes in 35th spot in our 50, meaning that while goals help to sway the voting, they alone will not see a player take home the bacon.
On top of the phenomenal goal tally, our half-century of heroes can also boast 467 assists over the past 12 months. Not a bad achievement at all.
14
players who have played under the stewardship of Real Madrid coach Jose Mourinho are included in this year's Goal.com 50. As well as the nine current
Blancos
men, Didier Drogba, Ashley Cole and Petr Cech played for Mou at Chelsea before going on to win the Champions League under Roberto Di Matteo. Mario Balotelli won the Premier League with Manchester City having previously worked with Mourinho at Inter, where he played alongside Zlatan Ibrahimovic, who came in 19th this year after another Capocannoniere crown with Milan.
£703,980,000
is how much you would need in your Fantasy Football budget should you wish to hoover up the entire Goal.com 50, based on each player's last transfer fee. The world's highest ever transfer fee of £80 million was splashed out on winner Cristiano Ronaldo, while Christopher Katongo cost Henan Construction just £198,000, representing the cheapest fee in the half-century.
Within their representatives, Real Madrid account for £211m of the total cost, despite runner-up Iker Casillas having come through their youth system. That fee stands for 29.98% of the total outlay for the 50.
Casillas is one of 11 players in the list who do not carry a fee, and is among five such men to make the top 10. Of the other four, three - Lionel Messi, Andres Iniesta and Xavi - play for rivals Barcelona. They may have cost nothing, but imagine how much they'd be worth if they were to be available for transfer today!