ANALYSIS
It is the regular subject of bar room conversation. The best player in the world, the stand-out footballer in a particular domestic league, or the dominant star in an international competition. The context can vary greatly, but the pursuit to find the very best that football has to often is always on a fan's mind.
But what if you could mix and match their abilities? What if Cristiano Ronaldo had Mesut Ozil's vision, or Xavi's brain? How good would Andrea Pirlo be with a left foot to match his right or the heading ability of a top striker?
Goal.com collected the thoughts of our top Euro 2012 experts and correspondents on the greatest attributes on show during the finals in Poland and Ukraine over the past 23 days, and by mixing them up into one body, we have come up with the most complete European football player imaginable.
HEAD: Nicklas Bendtner (Denmark)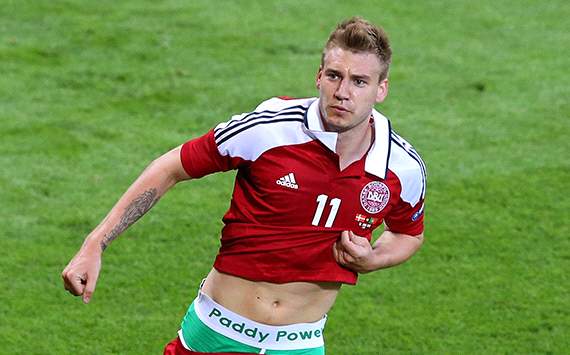 Thanks to Uefa's lop-sided idea of disciplinary justice, the vast majority of the talk surrounding Nicklas Bendtner during the past three weeks has centred on his pants. The Arsenal striker, who spent last season at Sunderland, showed off a sponsored waistband on his underwear following his second headed goal against Portugal in Lviv.
His threat in the air had been a key weapon for Denmark throughout the group stage, and after he rose to turn home his side's first of the night just before half-time, he later powered home a second header, peeling off the back of Pepe to thunder an effort past Rui Patricio to equalise. Cue pants.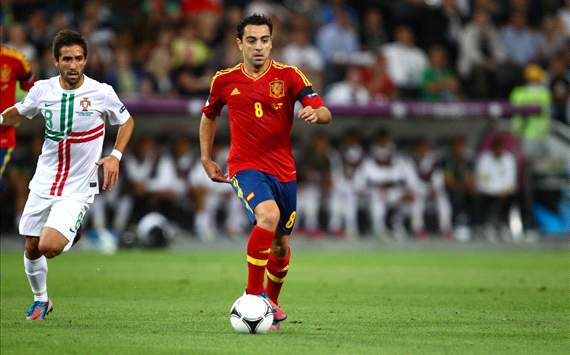 Chess players sit and stare for what feels like hours between moves as they study the board, forming in their mind a picture of what it may look like in five moves' time. They need to plan ahead, or the game could soon be over with one false move.
Likewise, snooker players do not simply roll the most simple pot into the pocket and then worry about what they do from there. Rather, they think two or three shots ahead in order to find the right angle for each successive shot as they look to build big breaks.
But in football, there are almost no players who can be said to have such a clear picture of the game in their heads as Xavi does. The Spaniard has again shown during this tournament that his superior anticipation of an opponent's next move keeps him one step ahead of the rest.
It is this clear vision of what the pitch will look like three seconds in advance that allows the Barcelona midfielder to rack up such fantastic possession stats, having once again come top of the charts for successful passes completed.
EYES: Mesut Ozil (Germany)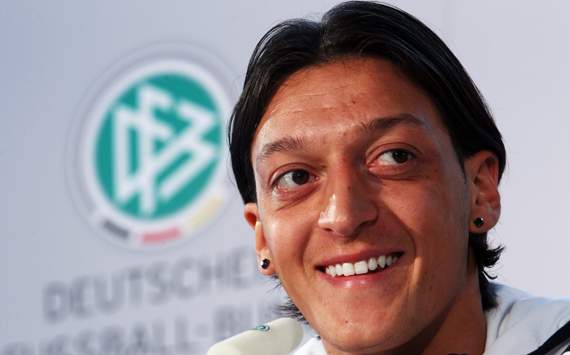 Mesut Ozil racked up a superb seven assists in qualifying for Euro 2012, trailing category leader Balazs Dzsudzsak by one, and has added a further three during the finals tournament to sit joint top of the table in Poland and Ukraine.
The Real Madrid midfielder has proven once more that he has the kind of vision that is practically unrivalled in the world game, picking open opponents' back lines at regular intervals as Germany reached yet another major tournament semi-final. His two assists against Greece in the quarter-final and one in the Group B decider against Denmark were a huge factor in Germany reaching the final four.
HEART: Giorgos Karagounis (Greece)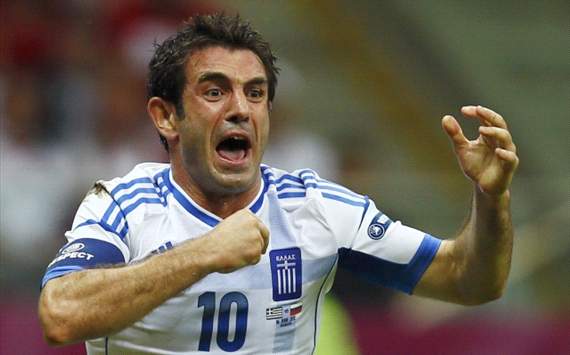 Few players in world football have the drive, desire and determination of Greece captain Giorgos Karagounis, and while that spilled over to the point that he was booked twice in Group A and subsequently suspended for his side's quarter-final against Germany, it also made him an opponent to fear.
The Panathinaikos man was fouled on a total of 16 occasions over his three appearances, making him the most fouled player in the competition on average. Seemingly, the Poles, Czechs and Russians just could not cope with the heart and willing shown by the No.10. Greeks, however, were left cursing their hero's absence when Germany knocked them out.
GUTS: Andrea Pirlo (Italy)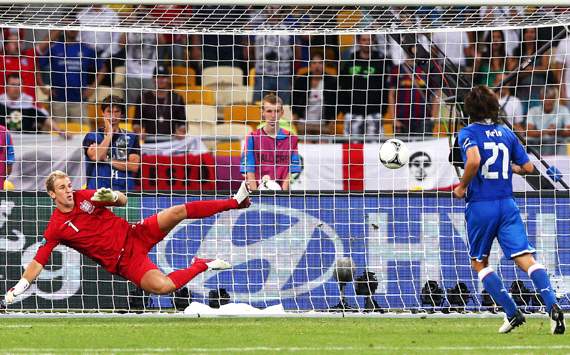 It is around half past midnight in Kiev. Penalty shoot-out time in the quarter-final of the European Championship. Your team-mate Riccardo Montolivo has just sent his spot-kick wide to give England the advantage as you step up for your side's third kick. If you miss and the next guy scores, Italy are almost out. If you are Andrea Pirlo, what do you do?
Nobody in the world could have expected that in those circumstances, a player who had previously been made to look foolish by a missed
cucchiaio
in a friendly would try it again right there and then. But Pirlo did. In a brash statement of under-pressure brilliance, the midfielder dinked the ball down the middle with goalkeeper Joe Hart already heading for the bottom corner. It would prove to be the turning point.
Pirlo has been sensational for much of the tournament, but no moment summed up his balls of steel better than that game-changing penalty in the last eight.
ARMS: Iker Casillas (Spain) & Gianluigi Buffon (Italy)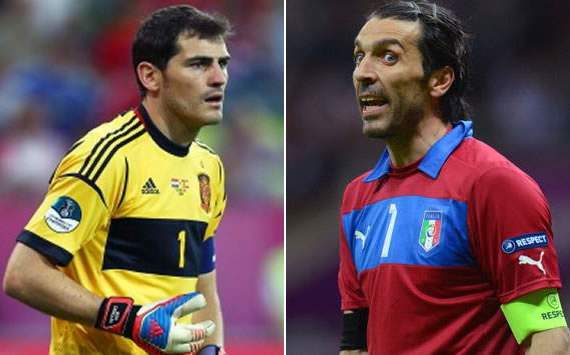 This is not in the least bit cheating. If you need two arms for your perfect player, and you have two near-perfect goalkeepers, why not take one from each?
The two captains had a hand (get it?!) in their respective countries reaching Sunday night's final in Kiev, and while they have differing attributes, they shared almost identical records on the way. Casillas was beaten just once in the entire tournament, while Buffon racked up a 288-minute long clean sheet from the second game against Croatia which was only broken by a harsh late penalty award in the semi-final win over Germany. He may have conceded four in the final, but none of the blame could be apportioned to him.
And beyond the stats, both proved themselves to be goalkeepers of the highest quality when put under any kind of pressure during the run to the grand finale.
We have taken Buffon's right arm and Casillas' left, but in all truth we could have reversed that and still got just as good a pair of limbs for our monstrously good footballer.
RIGHT LEG AND FOOT: Cristiano Ronaldo (Portugal)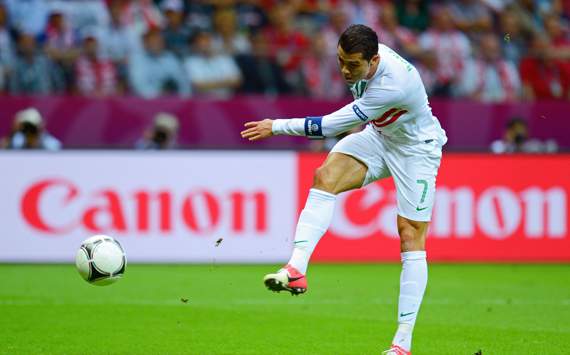 A candidate for many to win the Ballon d'Or for the second time, Cristiano Ronaldo has continued in the vein of form which saw him rack up 60 goals in 55 games for Real Madrid last season. Three more strikes were added, including a killer brace against the Netherlands which sent Portugal to the knockout stages and a winner in the last eight clash with Czech Republic.
His killer right foot was also the source of many of the 12 shots he fired in at Maarten Stekelenburg's goal against the Dutch, setting a new record for attempts in a single European Championship finals fixture, with two efforts finding the net from that wondrous right boot.
LEFT LEG AND FOOT: Jakub Blaszczykowski (Poland)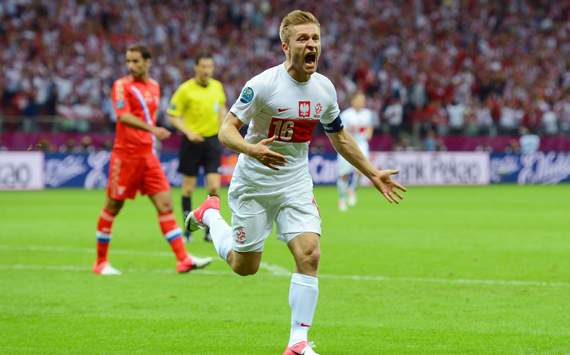 Studies of human laterality have adjudged that as many as 81% of the world's population favour their right foot over their left. That makes left-footed footballers worth their weight in gold, and Poland's ace winger Jakub Blaszczykowski added a few more zloty to his price tag with some excellent displays before the co-hosts suffered an early exit.
He had a hand in teeing up Robert Lewandowski for the goal that had the whole of Poland dreaming in the opening 20 minutes of the opener against Greece, then delivered a sweet left-footed piledriver against Russia himself. The stats may say that 19% of people favour their left, but very few can use it in quite the same way as 'Kuba'.
THE ULTIMATE EURO 2012 FOOTBALLER