Duncan Jenkins

Euro 2012 Columnist


Follow on
Hullo and welcome to Duncan Jenkins review of euro 2012, with me Duncan Jenkins.
The 2012 european championships has reached its fait accompli after a month of superp football in the Polkraines (poland and the ukraines). It has been undoubtably the greatest european championships in recent memory, bettered only by euro 2008 and euro 2000.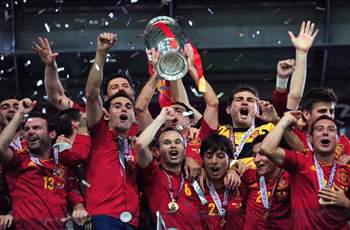 "Spain deserve all the applaudits. the day duncan jenkins calls them boring will be the day hull freezes over"
Spain end hoodoo
Spain's win ended two years of hurt and completed a third concessive major international tournament victory, but it was a bitter sweet win for the Spaniards after several of my fellow journalists in the press room labelled los riojas "boring" and "negative". Those journos will surely be heading home with there tails between there proverbial legs after the Spanish served up a tippa tappa master class in the end of tournament curtain raiser – better known as "the finale".
The Italians – who played most of the 2nd half with just ten men despite having no men sent off - will wake up having sleepless nights about a 4-0 defeat that could easily have turned into a hammering.
Passing the ball around with a plum as they always do, Vincente del Bosque's cereal winners are far from negative with full backs playing like wingers buckarooing up and down the touchline, and a deeply high defensive line.
Winning a euros, a world cup and another euros on the trot is a football first – not even any of the great Brazilian sides have managed that – and spain deserve all the applaudits. The day Duncan Jenkins calls them boring will be the day Hull freezes over.
The hosts with the mostess
Pre tournament fears before the competition began proved totally useless and the hosts can be very proud of an event that has been a massive success from start to finish, apart from when those russian and polish nutters kicked off.
I haven't been there but the atmosphere in the various cities has been electric, welcoming european football fans from all over the world like a horse on fire, so I've heard. Both host nations provided magical moments for there fans to endure - Andrei Shevchenko's double against Sweden will live long in the memory glands, as will the superp goal scored by Poland's Jacob Blazszszyczykowski. Both host nations went out at the group stages and you really cant do better than that.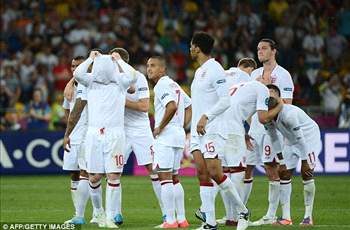 "I feel England's tatical plan should be obvious - be more like Spain, have a false nine and learn how to keep the ball"
Fair play
The players also deserve praise for the way they've behaved during euro 2012. Only three red cards and hardly any peno's is a credit to the sportsmanship of all who took part, proving at the end of the day that footballers really are no different to human beings. Fair play to them for that.

Iniesta es de besta
Fernando Torres came off the bench against italy needing a goal and an assist to claim the golden boots, and as Alan Shearer would say in his famous pigeon english, "he done that" - but it is his team mate andre iniesta who scoops the duncan jenkins player of the tournament award.
If you take Lionel Messi and C.R.7 out of the equations then the extremely pale iniesta is surely the 3rd best footballer in the world. Even in a great team Iniesta sticks out like a sort throat as he glides around the so called football pitch like a little spanish playmaker, or a "matador" as they call them in Spain.
england
Its a pity isnt it to end the review of a glorious tournament on a sour note but we cannot avoid England. now is the time to be positive for England fans but a dark dark future is in store for us members of Roy Hodgson's barmy army. I picked my world cup 2014 team on paper and it is terrible. I feel England's tatical plan should be obvious - be more like Spain, have a false nine and learn how to keep the ball. It would help if we could sign some of Spain's unused talent like Mata, Martinez, Lorente and the rest, but unless a dramatic rule change comes into force i feel that is unlikely.
A tournament is not over until the fat lady sinks but unfortunately for us football lovers she has now sunk - euro 2012 is over and now we have to pretend to be interested in the olympics. "Congratulationades" to spain - the Spanish Barcelona and the greatest team i have ever seen.
Conclusion
That concludes my review of euro 2012.