Kris Voakes

Euro 2012 correspondent


Follow on

ANALYSIS
One more game. That's all that separates Spain or Italy from the title of European champions for 2012. One more game remains of what has, on the whole, been a hugely enjoyable and successful tournament for the continent's football fans. But in that one game, two of the greatest goalkeepers in recent times will come head to head, and there can be only one winner.
Iker Casillas and Gianluigi Buffon were both child stars. The Italian made his league debut at 17, Casillas was 18, and both made it onto the international scene while still teenagers. The pair have tasted glory at both domestic and international level, each having won the World Cup before now, and have come up against each other many times for both club and country over the last decade or so. But never have they met in such salubrious surroundings as a major tournament final as they will at the Olympic Stadium in Kiev on Sunday.
Over recent years, injuries and form have seen Buffon's position at the top-end of the game questioned at a time when Casillas has been winning plaudits aplenty. But the Juventus shot-stopper's return to brilliance has helped him to once more be recognised as one of the game's greats, and with a great European Championship behind him, he will now be looking to emulate Casillas' feat of four years ago by lifting the Henri Delaunay trophy aloft as his nation's captain.
There is very little to separate the two men in terms of palmares. Both are goalkeepers of the very highest order who have proven time and again in recent weeks just how important they can be to their club and country.
KEEPER v KEEPER ... CAPTAIN v CAPTAIN
IKER CASILLAS



GIANLUIGI BUFFON




20 May 1981
DATE OF BIRTH

28 January 1978
Goalkeeper
POSITION
Goalkeeper
622
CLUB APPEARANCES

621
136
INTERNATIONAL APPS

119
5
DOMESTIC TITLES
5*
1 cup, 3 supercups
DOMESTIC CUPS
1 cup, 3 supercups
2 Champions League, 1 Uefa Supercup, 1 Intercontinental Cup
CONTINENTAL
HONOURS
1 Uefa Cup
1 World Cup,
1 European Championship
INTERNATIONAL HONOURS
1 World Cup
*Two later revoked
The pair have racked up almost exactly the same number of club appearances, both have over a century of caps, they will each have the captain's armband around one bicep on Sunday, and both were key to their domestic side winning back their league crowns in the season just past. For each man it was a fifth league title, to add to one domestic cup and three supercups. The one big difference on the honours board is that Casillas has racked up major success in Europe, twice with Real Madrid and once with Spain.
Those triumphs on the continent have been among countless examples of his big-game attitude. In his first season in a struggling Madrid side, he helped them to a Champions League title, and two years later would come off the bench for the injured Cesar Sanchez to make a string of magnificent stops to clinch Los Blancos' ninth and, to date last, continental club crown.
That winning mentality on the big occasion has latterly been transferred to his international career, and many of his 56 clean sheets for La Roja have come during their run to three successive tournament finals.
Buffon became an instant hit at Parma and was thrust into the international limelight in a crucial World Cup play-off against Russia, excelling on his debut to help Italy progress. After being snapped up by Juventus for over €30 million he would help them record four league titles in the next five seasons, and also led them to within a whisker of Champions League glory with two penalty saves in the 2003 final defeat to AC Milan.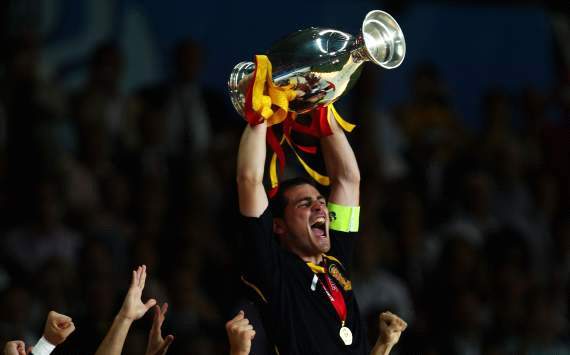 Winner | Casillas has already led his country to a European Championship in 2008
Juve's recent problems have affected the view of Buffon in many eyes, but while his high standards did take a bit of a kicking when he suffered serious back problems in the last few seasons, he has bounced back with a vengeance, and now finds himself facing another huge European final.
One area in which there is a huge gap between the two is in their mental approach to the game. Buffon has long based his on excellent organisation, leadership and anticipation. He has often been able to make bad defences look good thanks to his leadership and quick decision-making.

That he rarely makes the kind of outstanding one-on-one saves Casillas is famed for is largely down to his ability to ensure that such opportunities for opponents come few and far between. The Spaniard has improved massively in this area, but in his array of abilities, his organisation still falls short of some of his stronger points. He can regularly find himself having to make spectacular stops due to his shortcomings in the preparation of his stance, positioning and use of feet before a shot comes in.
Casillas edges the head-to-head technically, with excellent distribution, safe hands and a dominance on penalty kicks giving him an advantage over his adversary. Any difficulties 'San Iker' has in organisation are regularly covered up with his fantastic ability to deal with one-on-ones, make acrobatic saves and display the reflexes of a cat. This is a knack he has had throughout his career, and one which doesn't look likely to desert him any time soon.
Buffon, while not unable to produce top-drawer stops, is more of a goalkeeper's goalkeeper. His talent lies in his superior thought processes putting him into better starting positions, narrowing down the occasions in which he is called upon to make out-of-this-world saves. He does, though, tend to make more ricks, and got away with two errors against Germany in Thursday's semi-final. Situations like this have cropped up at various stages in his career, but they have hardly been numerous. And besides, many afficionados view these as the 'right kind' of mistakes, given that his starting position often puts him in with a greater chance of stopping a high percentage of opposition attacks, meaning his positives far outweigh his negatives.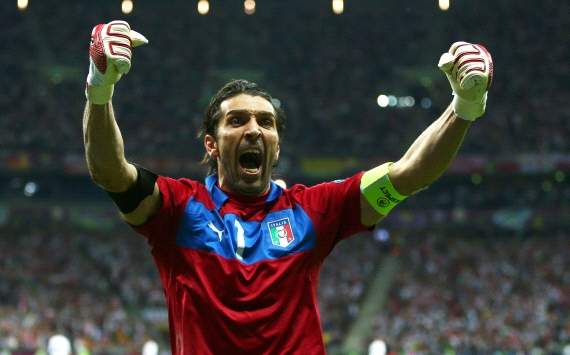 Buffon | A European runner-up in 2003, he now aims for his first continental success
Physically there is only really one winner these days. Again, Buffon's great work in the first phase of an attack puts him in a more favourable position, but it also covers for the fact that his body is not what it was. The 34-year-old is still relatively young in terms of veteran goalkeepers, having made his Italy debut at 19, but severe back problems have added to other minor niggles in recent years to make his body slightly less responsive. Where once he was able to cover ground with a propelled body without even thinking, he now launches his huge frame ever so slightly slower and later than was once the case.

Casillas' speed and natural fitness are among the attributes which help to make him such an explosive shot-stopper as opposed to a solid goalkeeper, with his reflexes as good as any No.1 in the game. At 31, he still has many years himself, and his ability to steer clear of the kind of injuries which have hampered Buffon at various points has meant he has been able to maintain his core skills and improve in other areas at no expense to his health.
In the make-up of their games, there are some clear differences among the countless similarities, and it is up to the opposition to come up with ways to break down the respective barrier between the posts in order to taste glory in Kiev.

With silverware on the line, it's often the team with the best goalkeeper who prevails. But as Spain and Italy get set for the biggest of battles, there's no telling who will win on that score.