James Goldman




In Kiev



Spain are on the brink of creating history on Sunday night as they look to see off Italy and become the first team in the history of the beautiful game to win a third major international tournament in a row.
Beauty being in the eye of the beholder as it supposedly is, criticism of Spain's
tiki-taka
obsession will continue to rage whether they're triumphant tonight or not.
Whatever their methods, and whatever you think of them, should Spain complete a unique treble at the Olympic Stadium their case to be regarded as one of the greatest sides of all-time will have been rendered irrefutable.
Debate over a possession-orientated style of play that requires an astonishing level of technique, stamina and discipline to perfect but which has yielded, in this tournament specifically, a shortage of goalmouth incident has threatened to taint the legacy they could leave.
A dour semi-final against Portugal added to the growing army of detractors, but one man who should know a thing or two about playing to a crowd remained emphatically in the other camp when questioned on his impending opponents.
Mario Balotelli, for one, certainly wouldn't draw the curtains were Xabi Alonso, Xavi and Andres Iniesta to be exchanging rapid five-yard passes in his back garden.
"That assessment comes from the fact the same side has always been winning," said the Manchester City striker when asked if he was bored of watching
La Roja
pass their opposition into submission. "I don't think they are boring in any way, shape or form.
"In sport it's very difficult to distinguish fair from unfair. I think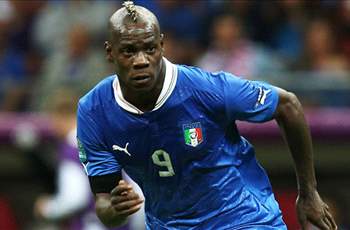 "I don't think they are boring in any way, shape or form."

- Mario Balotelli on Spain

it is fair that the best and more brave win. I think Spain have more probability of winning because they have played the best football in the last four years."
A maverick footballer and personality he might be, but Balotelli is nobody's fool. To concentrate on Spain's preference of placing technique ahead of box office ignores the extraordinary levels of focus and motivation they have maintained in order to place themselves within tantalising distance of immortality.
In that regard it was ominous that Vicente Del Bosque sent out the following warning on Saturday: "If our players have lost the desire to win... we haven't noticed symptoms of that happening.
"Success can weaken the future, but we have a group of players that know what this sport is and we have not lost our competitive spirit.
"We have to accept everyone's opinion. Some things we have done quite well, like our play in defence. We haven't always been able to play the aesthetic style that everyone wants, but in every moment we have had control of the games."
Those sentiments were echoed by Xavi, the metronomic heart of this and the Barcelona side, whose own remorseless appetite for winning with style has been mimicked on the international stage.
"We are not bored," he said. "All our players know how to adapt and how we play. It is important that our fans can identify with our style.
"They enjoy it and we enjoy it. If people think it is boring that Spain always win, that is fantastic for us."
One British newspaper once infamously headlined an article that included a photograph depicting Xavi alongside the other leading candidates for the 2008 Fifa World Player of the Year - Cristiano Ronaldo, Fernando Torres, Kaka and Lionel Messi – "The best players of the world (and Xavi): Ronaldo crowned king of football."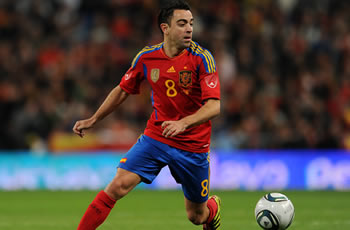 "If people think it is boring that Spain always win, that is fantastic for us."

- Xavi

The benefit of hindsight makes us all experts, but even Xavi was refreshingly honest enough to admit the philosophy on which Spain and Barcelona's success has been built saved his career.
"I feel very lucky," he said. "Some years ago football had gone in the direction of being more physical. We had slightly weaker, but more technical, players.
"That is what we tried to do with Spain and thankfully it worked out really well for everyone."
La Roja will know, however, that over the course of Spain's reign of domination no country has threatened to interrupt their success as often as Italy.
The
Azzurri
took Spain, following a goalless draw, to penalties in the Euro 2008 quarter-final, beat them 2-1 in a friendly last August and were their equals in every sense in a 1-1 draw during the group stage of this competition.
Do Italy hold a psychological advantage? That would be pushing it, but coach Cesare Prandelli knows his side need not enter this showcase occasion with any semblance of an inferiority complex.
"We are physically and mentally stronger than when we faced them in our opening game," Prandelli said. "We only have one day to prepare for this game but we will try to find Spain's weaknesses.
"They are the world and European champions and they are an example to everyone. But we are also there. We have grown and we should not fear them. We have to have the strength to face them with ideas and quality."
Record makers or dream breakers. That is what both Italy and Spain will be hoping to become. Regardless of how it is achieved, credit must be given where it is due.