ANALYSIS
By Sergio Stanco & Kris Voakes
When Italy and Spain opened their Euro 2012 campaigns in Gdansk on June 10, La Roja understandably did so as big favourites, alongside Germany, to reach tonight's final in Kiev.
The support they had was understandable, given that the Iberian side won the last edition of the competition in 2008 and followed it up two years ago with a World Cup win in South Africa. Italy, on the other hand, were in a right royal mess. Rocked by a match-fixing scandal which resulted in police cars being present at Coverciano and Domenico Criscito having to be withdrawn from the final 23-man squad, they also lost their final warm-up game 3-0 to Russia.
But the 1-1 draw between the two sides in the Group C clash was to be a sign of things to come. The Azzurri were praised for their approach as they got at their more esteemed opponents and even held the lead for four minutes in the second half. Now, as the countries get set to face off once more, it is Italy who are being praised for their approach, and Spain are the ones whom many are questioning.
But Vicente Del Bosque's side remain unbeaten, and Italy will look to become only the second team in six years to beat Spain in a major tournament. The question is, how do they do it? The world champions' recent rocky performances may not have led to defeat, but they will have given Cesare Prandelli plenty of food for thought as he prepares his side for battle ahead at the Olympic Stadium.
Spain's philosophy is much the same as Barcelona's. The excessive maintenance of possession is at the heart of what they do, leaving observers to often wonder whether they'll ever give the ball away. The pace of their game is consistently dictated by players with fantastic technique. At Barcelona it is Xavi and Andres Iniesta who perform this role, but Sergio Busquets also offers a great contribution in this regard, while the national side have the added resource of Xabi Alonso too.
The pace is ideally accelerated and reduced as and when it is deemed necessary, but that has not always been the case for La Roja of late, with slow and horizontal passing vastly outweighing zippier, more penetrating balls. But that must not lead Italy into the trap of believing Spain's midfield is suddenly harmless, with their control of games meaning it would take only one lapse in concentration by the Azzurri to allow the world champions the space they need to spring through their back line.
Italy must be alert from the first whistle to the last, because it is truly in the moments that teams take a mental breather that Spain punish teams without mercy.
KEEP AN EYE ON THE FRONTMAN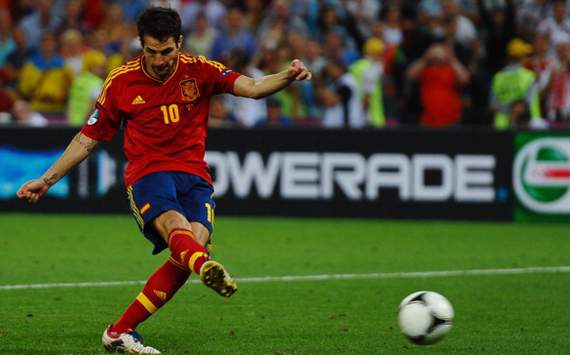 Rivers of ink have been wasted in attempts to come up with ways to beat both Barcelona and Spain, but finally the national team has a glaring hole for Italy to exploit. That chink in their armoury comes in their lack of a true number nine. Both Fernando Torres and Alvaro Negredo have given the impression of players left isolated by team-mates when they have been used during Euro 2012, and Del Bosque has reverted to desperate measures on occasion. He could well turn to Fernando Llorente, but it would be a huge surprise were he to bring the Bilbao man in for the final.
But it is precisely because of this lack of alternatives, with the coach having no striker of the Lionel Messi mould to turn to, that he has instead deployed Cesc Fabregas as a centre-forward. It is a choice which has increased possession stats, but it has also removed some of the stress on the opponents' back line thanks to the lack of presence up top.
Italy need to be on their guard whichever route Del Bosque takes, but if it's a true number nine he chooses, there may be more chance to get Andrea Pirlo and Daniele De Rossi on the ball. If it's a false one, then there could well be longer breathers for the Azzurri back four.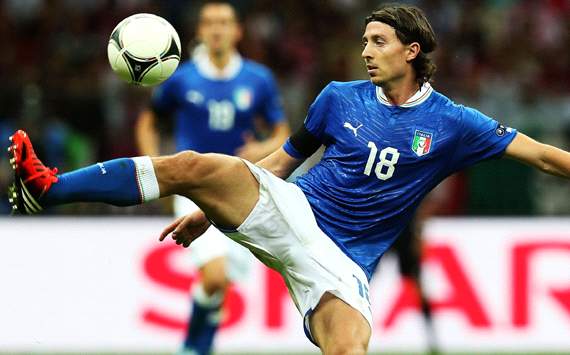 All in all, true striker or not, Italy and Portugal (and Jose Mourinho's Inter too) have shown that there are two different ways to deal with the Spanish 'Barcelona model'. You can challenge them in possession, looking to knock them out of their stride. Or there's the plan to leave them completely, defending deep in two strict narrow lines and relying on the counter-attack.
Italy's European Championship so far has proven that they have no less talented a midfield line; they also have a Xavi (Pirlo), and an Iniesta (Claudio Marchisio). Add to them De Rossi and Riccardo Montolivo, who are more than able to compete with Alonso and Busquets. So it is important for the Azzurri to head into the final in exactly the same state of mind as they did in Gdansk. No fear, no awe, just belief that they can do a job on the Spanish midfield.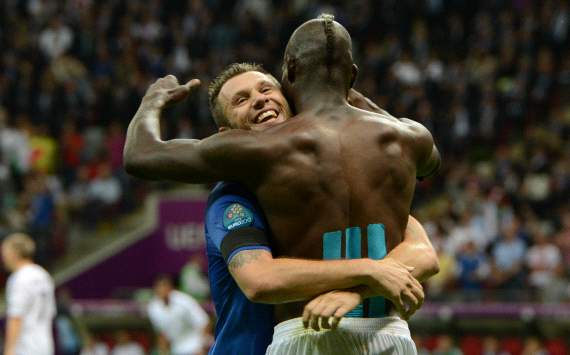 The one thing Spain lack the most is the same thing people worried Italy may not have in their favour pre-tournament. The Spanish don't have an Antonio Cassano, and more than that, they don't have a Mario Balotelli.
As with the semi-final against Germany, 'Fantantonio's ability to stretch play in high positions could be crucial. If he can expose Alvaro Arbeloa in the same way he got at Jerome Boateng on Thursday, something good may well happen to match Balotelli's opener against Joachim Low's outfit
From there, it's up to 'Super Mario', who will likely not face the same raggedness in defence from Gerard Pique and Sergio Ramos that Holger Badstuber and Mats Hummels were guilty of in midweek. Still, if he can be as confident both in the air and with his feet as he has been in the knockout stage until now, he is unlikely to give the centre-back pairing much rest.
If chances can be made, then they must be taken. Italy will surely not get anywhere close to the number of chances they had against England, but if they can be as fluid on the ball as they were the last time they were in Kiev and are as clinical as they were in the first half of the semi-final, then Spain have every reason to worry.