Ben Hayward

Spain Expert

Follow on
It was clearly an exaggeration. On their front page on Saturday,
El Mundo Deportivo
announced that a whole team of La Masia graduates would dispute Sunday's final of Euro 2012 between Spain and Italy. The seven Barcelona players in the Spain squad, they explained, plus Jordi Alba, who will return to the Catalan club later this summer after signing from Valencia, would be joined by former Barca goalkeeper Pepe Reina, plus Italy's Brazilian-born midfielder Thiago Motta, and Mario Balotelli.
Mario Balotelli? The Catalan daily soon came under fire on social networking sites for claiming the Manchester City and ex-Inter forward as a product of Barca's famous academy, but there was an element of truth in the story: Balotelli had a trial at the Catalan club in 2006 and, had things worked out differently, could have stayed in Spain.
Mario was adopted to Italian foster parents at the age of two and grew up in a small town in the north of Italy. His passion for football soon became apparent and, according to his brother, he would spend hours watching videos of the world's top players in an attempt to improve his already tremendous talents.
"Mario was restless, he was full of energy and you had to keep him active all day so that he would sleep at night," Giovanni Balotelli told
Canal Plus
in a special programme.
"He would spend hours and hours studying videos of the great players: [Marco] Van Basten, [Diego] Maradona, Ronaldo, [Michel] Platini - he knew them all by heart. Then he would go to the garage or the park to try and imitate what he had seen."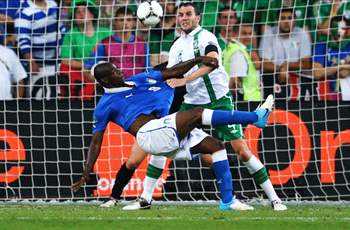 "

He would spend hours and hours studying videos of the great players. Then he would go to the garage or the park to try and imitate what he had seen

"

- Balotelli's brother

And after impressing at Serie C side Lumezzane, Balotelli's family arranged a trial at Barcelona in June 2006.
"We thought it would be a good thing for Mario to have an experience abroad," his brother explained. "We made contact and were told to come for two or three days.
"Mario was spectacular - it was one of the best times I had seen him play."
Former Barcelona defender Jose Ramon Alexanko was head of the youth team back then. He recalled: "Mario played an exceptional game, he scored five goals. He was good enough and we could have signed him."
But he added: "Mario was a kid with a lot of attitude, but aside from that there were agents involved and the deal proved impossible."
Another Barca coach at the time, Fran Sanchez, said: "An agreement couldn't be reached with his agent but the coaches thought he was good enough.
Balotelli's brother, however, claims the Catalan giants preferred to focus on local talent. "We were never explained the reasons but they wanted to concentrate on Spanish players. They said, 'What a shame Mario isn't Spanish'."
So Balotelli returned to Italy and after almost sealing a move to Switzerland, was scouted by Inter, where he began his professional career in earnest.
During his short stay at Barca, the precocious forward was just 16 and is remembered by coaches as quiet and unassuming. The Manchester City striker has photos from his time at La Masia on his official site and can be seen in one of them with a young Thiago Alcantara.
When Spain met Italy in a friendly in Bari last year, Balotelli interrupted a television interview with Thiago (who had made his debut in Bari) and told the cameras: "He is the best. He is an old friend and a great footballer."
Had things been different, they could have been team-mates.
Follow Ben Hayward on