Kris Voakes

Euro 2012 correspondent


Follow on
ANALYSIS

On June 25 2010, the Dutch national team packed their bags and left Cape Town. After collecting nine points from nine in Group E, they headed for Durban and the beginning of a run in the knockout stage which would take them to the World Cup final.
Fast forward exactly two years, and vice-captain Rafael van der Vaart was informing the world of his latest adventure via Twitter. "Relaxing and enjoying the nice weather here in St Tropez with @sylvievdervaart."
Whereas they were just getting going this time 24 months ago, the Netherlands are long gone from Euro 2012 and as focus switches to this week's semi-finals, the Dutch stars are already on the beach with their families having lost all three group matches amidst the latest in a long line of controversial intra-squad bust-ups involving the Oranje.
What's more, the latest reports from Voetbal International suggest that Van der Vaart will be among a number of fall guys should Bert van Marwijk stay as coach thanks to his unprofessional attitude in Ukraine this month. He, along with Klaas-Jan Huntelaar will pay the price for causing trouble in the camp after being left on the bench during the finals, while Gregory van der Wiel and Arjen Robben could also face the chop for their poor demeanour.
'EVERYBODY HAS SOMETHING TO SAY'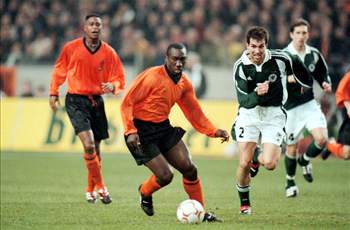 JIMMY FLOYD HASSELBAINK

"I'm not sure how big the problems were in the Netherlands camp but, whatever they were, it is nothing new. Everybody in the squad always has something to say. The players like to express their feelings and emotions. It is normal.
"It has been made bigger than it really is by the media, but it is the Dutch culture to talk openly and honestly. That is not a problem when you are winning.
"France have had their problems, but I can see why someone like Samir Nasri is annoyed. He is not too clever having wars with the press but maybe he should have played against Spain. France looked quite average without him. They had a really defensive team and the best way to beat Spain is to attack them, because defending is their weakness. If I was Nasri, I would have been upset too."
Jimmy Floyd Hasselbaink scored nine times in 23 games for the Netherlands between 1998 and 2002. He is also a regular on Goal.com's GoalCast.

Such difficulties are as much a Dutch legacy as is total football, and similar can be said of France, whose exit to Spain in Saturday's quarter-final came after coach Laurent Blanc had admitted there was trouble in the camp following their Group D loss to Sweden.
The 2-0 reverse in Kiev prompted a dressing room spat between Alou Diarra and Samir Nasri, who had already had one run-in with the French press earlier in the tournament.
"There were some words exchanged and there was a reaction," Blanc said. "We have a lot of difficulties in my opinion and we know as coaches our role is not easy. We know we are building and there are a lot of players who still have demons. Everyone recalls what happened at the 2010 World Cup. After two or three raised voices people worry this will happen again."

Following on from Raymond Domenech after the bitterness and recriminations of 2010 was never going to be easy, but there is more to Les Bleus' current malaise according to leading football author Simon Kuper.
"With the French, I think that the younger generation particularly want to express themselves a lot, and also there are a lot of colour issues going on there as they're not necessarily willing to listen to a middle-aged white man who tells them what to do," says Kuper. "I think that's an underestimated part of what goes on in the French team. And you have a gap in communication between a middle-aged white guy like Laurent Blanc and the younger players who grew up in ethnic ghettos outside French cities and almost speak a different kind of language."
And Kuper, who has written acclaimed books such as 'Football Against the Enemy' and 'Ajax, the Dutch, the War', believes that international football, particularly involving some of the more historically creative footballing cultures, will always be prone to such troubles.
"You're never going to eradicate disagreements and quarrelling, but if you did you'd probably not get very good football," explains Kuper. "There have been teams with very domineering players who didn't get on that have won prizes, so it's not necessarily a death knell for a team to have quarrelling players, or have disagreements inside the team.
"But players in many countries are encouraged to think in order to improve their football, and it promotes creativity, but it also means that there is more likely to be conflict. Just as a left-back may decide he needs to move 10 yards forward at any given time, there could also be clashes as a result of something a player does or says.
"International football is a very intense environment because players are living with each other for a sustained period of time. Also, players who are used to having their way over certain things, maybe being a first-choice set-piece specialist or something, can find himself being one of five or six such players in his national side."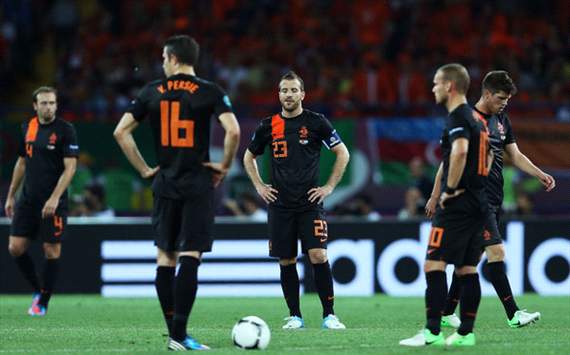 Live together, die alone | The World Cup finalists fell to three straight defeats at Euro 2012
But what of an example such as Italy in 2006, whose team spirit was hailed as one of the key factors for them winning the World Cup despite the backdrop of the Calciopoli scandal back home?
"I think Italy were just a very good team in 2006 and obviously when you are winning matches in a World Cup, spirit is great," Kuper continues. "I don't think good spirit causes good performance, I think good performance causes good spirit. It's easier when the enemy's on the outside like in that case, but I think we overestimate spirit in a football team.
"When you win the spirit is going to be good, and when you lose the spirit is going to be bad and everybody starts saying 'It's your fault that we're losing'. There has been talk of bad spirit in the Dutch team, and there was, but it might have been because they were losing."
And therein lies the key. The Netherlands' issues did not show up in 2010 as they made their run to the World Cup final, but as soon as they lost to Denmark in their opening fixture of Euro 2012, the cracks began to show. France's reaction to a first defeat in the tournament was a similar implosion.
With creative minds and freedom of expression, there comes both the ability to make a difference and the opportunity to wreak havoc. It has always been the case in international football, and will remain so for years to come.
So when placing your bets ahead of the next World Cup, ask your local bookmaker if they are taking bets on the first squad to have a bust-up. It's more a matter of 'when', rather than 'if'.
The revised and expanded version of Simon Kuper's Soccernomics is available now.