Martin

Langer




In Kharkiv



EXCLUSIVE
Pedro
is confident
Spain
will have the measure of
Portugal
captain Cristiano Ronaldo when they meet in their Euro 2012 semi-final on Wednesday.
The Real Madrid man has been in excellent form in his last two games, scoring three goals against Netherlands and Czech Republic and firing his side into the final four of the competition in the process.
Despite Ronaldo's scintillating play in the tournament, the Barcelona man believes he and his international team-mates will be able to stop him in his tracks.
Pedro told Goal.com: "Cristiano is a fantastic player who's in great form and that must be taken into account. But I think we know how to neutralise him, so let's wait and see what happens, we are very confident but it will be difficult."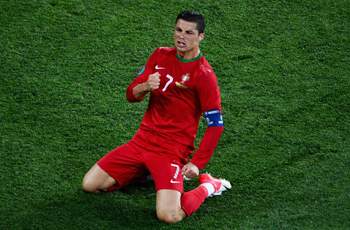 "Cristiano is a fantastic player who's in great form and that must be taken into account"

The 24-year-old believes Vicente del Bosque's side are peaking just at the right time in the competition, and feels this team matches the quality of the squad that triumphed in Euro 2008 and the World Cup 2010.
"We are virtually the same players as in the past, we are confident, playing well, and I think in that sense this team is as good as in the last Euro or World Cup," he added.
"We're hitting our stride at the right time and we hope to play a great game against Portugal."
Pedro was delighted with Spain's performance against France after they eased to a 2-0 victory, and he admitted it was satisfying to beat a good team in such a manner.
"The team played well, the first goal calmed us down and we managed to keep possession. Being in control against a good team such as France should make us feel very satisfied," he said.
"It was also important because of the history between the two teams. They have always been a very tough rival, so it was so important to play a great match and finally beat them."
The winger made his first appearance of the tournament against Laurent Blanc's side when he came on as a substitute 25 minutes from time, and he helped La Roja see out victory from a more defensive position.
And he admitted he was pleased to get onto the pitch and did not mind fulfilling his new role.
"I'm happy to play even if it's a few minutes, and even happier to have helped my team-mates, and especially for having got the ticket to the semi-finals," he said.
"Del Bosque told me to play as I know, to assist in defence because their side was attacking more and to make our team play deeper. Luckily it worked."