ANALYSIS

By Jay Jaffa
This is the first time
England
and
Italy
have met in a competitive knockout fixture and fittingly the margin of difference is so slim, bookmakers are struggling to separate the teams. Both sets of players seem happy to face each other and both share the belief that they will triumph.
The sides boast a host of similarities prior to Euro 2012: Italy entered a new era finally casting most of the 2006 World Cup winning team adrift, while England changed their manager six weeks before kick-off in Poland and Ukraine.
However, after successful group campaigns – both teams are unbeaten – they carry a similar air of confidence into the game. Roy Hodgson openly admitted avoiding Spain was a huge bonus, while Leonardo Bonucci asserted that the Azzurri were "better" than England as they aim to reach the semi-finals.
But before both teams look too far ahead,
Goal.com
has put together the five key points likely to settle the contest.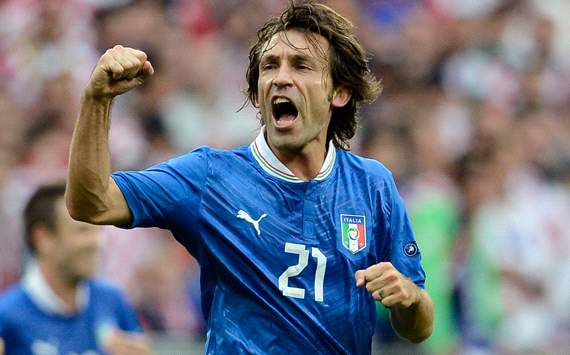 At 33 years of age, the ill-informed among us could be forgiven for thinking Andrea Pirlo entered Euro 2012 approaching the twilight of his career. However fresh from the back of an unbeaten Scudetto-winning season at Juventus, Pirlo has seamlessly slotted into Prandelli's team.
His assist for Antonio Di Natale's goal against Spain was one of the passes of the tournament, his free kick against Croatia the only direct set-piece goal of Euro 2012. Yet, ironically, Pirlo was at his very best against Spain and Croatia – both 1-1 draws – where against Ireland, he had his poorest game of the tournament and Italy triumphed 2-0.
To beat Italy,
England will have to find a way to negate Pirlo's influence
– whether it be pressing him high up the pitch, dropping a striker to track him when not in possession, or the more likely option – rest in two banks of four (much like Ireland) and reduce the space in behind the defence.
Do this and although Pirlo may receive plenty of the ball, England's deep line will test even the Italian playmaker's ability to find the gaps.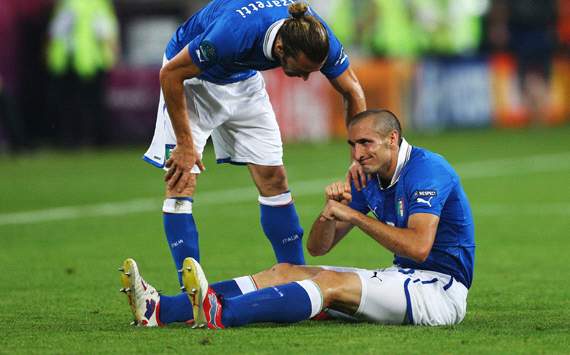 Italy lost Andrea Barzagli – the best defender in Serie A last season – through a calf injury, keeping him out of the first two Group C games.
However, Prandelli delivered a masterstroke, deploying De Rossi in a back-three and coping until Barzagli's return.
It is the loss of his Juventus team-mate Giorgio Chiellini that should worry Azzurri fans more. Withdrawn towards the end of Italy's must-win final group game against Republic of Ireland, Chiellini has been ruled out of the quarter-final with a thigh injury.
Though the return of Barzagli should go some way to alleviating the defensive fears Prandelli may have, Chiellini is unique in that he offers crucial balance to Italy's back line. Able to play at left-back as well as centrally, Chiellini complimented Leonardo Bonucci and De Rossi in a back three.
Without him, Prandelli may hesitate to return to the 3-5-2 formation that provided a chance to name an all-Scudetto winning defence in Gianluigi Buffon, Bonucci, Barzagli and Chiellini.
THE TICKING TIME-BOMBS: BALOTELLI V ROONEY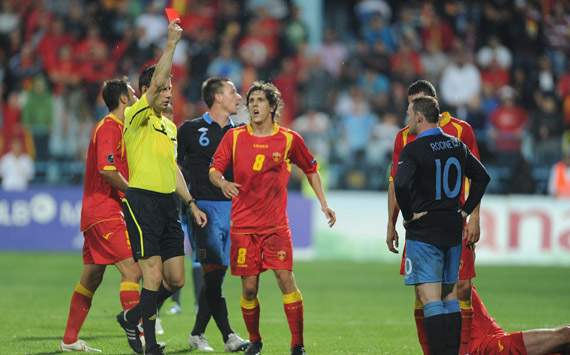 Mario Balotelli's two-and-a-bit games for Italy have been a microcosm of his time in England.
We have seen the sublime – the back-heeled control on the touchline and the superbly executed overhead kick that sealed Italy's win over Ireland. But we have also seen the short-temper and lax attitude that has plagued his early career – the celebratory tirade snuffed out by Bonucci and the brain-freeze that allowed a 20-yard space to close as he bore down on goal against Spain.
As ever, it is hard to predict what will come from Balotelli. For England, Wayne Rooney's behaviour has been scrutinised for years but perhaps finally we are seeing a change in attitude.
At 26 years of age, Rooney is entering the second-half of his career and his season at Manchester United shows that, with just one booking, he is maturing. The underlying worry, of course, is a repeat of either the 2006 stamp on Ricardo Carvalho, or the kick aimed at Montenegro's Miodrag Dzudovic that kept him out of the opening two Group D games.
MISSING IN ACTION: ASHLEY YOUNG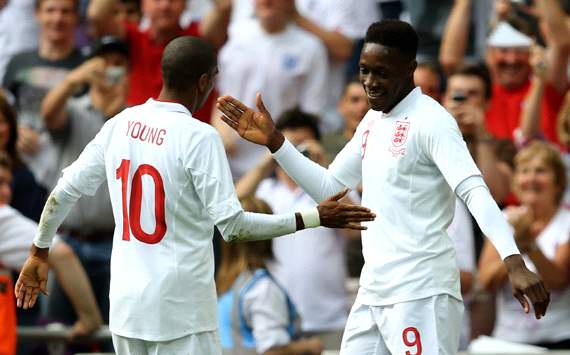 Rooney's goalscoring return to England duty helped secure first place in Group D, but it also saw the tag of the 'missing man' in Hodgson's squad shifted to United team-mate Ashley Young.
There were a lot of uncertainties surrounding the pre-tournament squad but Young's form seemed steady enough: an impressive first year at Old Trafford had run parallel with a lively return for the England team. Two goals in three games prior to kick-off in Group D had Young earmarked as one to watch but that honour has still not been realised.
Picked apart by pundits for the lax defensive cover he gave Ashley Cole, Young has benefited neither attack nor defence in his three outings so far.
It could have been different if James Milner had tapped home against France or Rooney had drilled his header into the net against Ukraine, but both 'assists' have been the exceptions rather than the rule.
Hodgson is set to name the same XI that faced Ukraine but will demand (and need) a far more telling contribution from Young against Italy.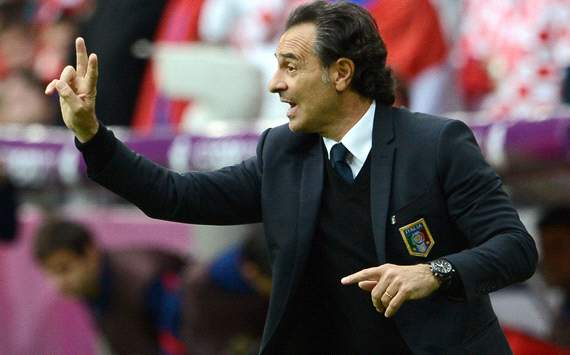 Prandelli's Italy are the most flexible team at Euro 2012 – the antithesis to Hodgson's England and their rigid set-up. A case can be made for both the 3-5-2 and the 4-3-1-2 but injuries may force Prandelli's hand.
Selecting three at the back will mean a return to defensive duties for De Rossi, especially with Chiellini ruled out. But it is the injury to the left-sided centre-back that should cast enough doubt for Prandelli to avoid using it.
The 4-3-1-2 poses as many questions as answers, though. Italy defeated Ireland 2-0 with this shape, they also lost a pre-tournament friendly 3-0 to Russia, looking alarmingly open at full-back. However with the pacey Ignazio Abate replacing Christian Maggio, Italy should be more robust.
The
trequartista
role is something of a problem, with no specialist available in the squad. Thiago Motta played there against Ireland to mixed reviews. That said, it could be down to how well England's wide players perform on the night.