Julien Laurens

Euro 2012 Columnist


Follow on
It was March 2003 the first time I truly saw Zinedine Zidane. He was training at Clairefontaine a few days before France's 6-0 win over Malta in Euro 2004 qualifying. One of his first actions was to control a ball at full stretch and shoot on the half-volley into the top corner.
I was two metres behind him, my eyes wide open, fascinated by the beauty of his movement, his elegance, his natural talent. I was 22-years-old that day in March, and I'll never forget what I saw.
I had just started following the France team for
Le Parisien
. Since then, I have crossed pathes with ZZ 10s of times, in interviews, in training, in matches and in the mixed zone. The charm has always been the same, and the magic has, too.
My favourite memory of him is, of course, World Cup 2006 in Germany – my first major competition as a journalist. It was there that I have understood why he is the equal of the greatest. He was more than a playmaker or a captain.
It was an era in which Raymond Domenech was coach only by name. It was Zidane who led everything.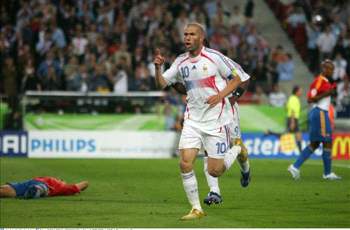 "Zidane was more than a playmaker or a captain"
The success of les Bleus that year, technically, tactically and mentally was down to him.
He quickly understood the incompetence of Domenech, who begged him to return to France to prevent the sinking of the French boat. After many secret meetings at the Hotel George V in Paris, Zizou finally accepted, on the insistence of Claude Makelele and Lilian Thuram to return after he had previously retired.
But in his mind, Domenech was already useless.
We cannot redraw the story but today, on his 40th birthday, he will maybe think again of the final against Italy...
For guys of my generation (I was born in 1980) who were not in the world to have seen Di Stefano, Pele or Cruyff and are too young for Platini or Maradona, Zidane represents football.
He made the entire world dream with his goals in the 1998 World Cup final, or in the Champions League final of 2002 at Hampden Park, which is probably the most beautiful goal scored.
But Zizou is more than just a leader on the field.
He has restored the reputation of French football after the corruption scandal that hit Marseille in 1994. He initiated this wave of radiation and social mix across France.
When I meet him (which is very often), I pass the time listening to Robert Pires speak of Zidane.
After 40 years of a life well filled, we can say that everything the No.10 has touched has turned to gold.
Of course, there are dark sides, a dualism between angel and demon. He had 14 red cards in his career – a remarkable number for a player in his position – including, of course, in his final match in the final of the 2006 World Cup final against Italy and the clash with Materazzi.
| | |
| --- | --- |
| | Zizou is more than just a leader on the field. He has restored the reputation of French football after the corruption scandal that hit Marseille in 1994. He initiated his wave of radiation and social mix across France. |
I saw him take many blows during his career, but all these expulsions reflected his poor temperament. There is vice in him - the excess of hatred and evil, sometimes. We have seen this on the field, but also outside of it at certain moments.
But if we leave this obscure side of the star, the rest has been nothing but an immense success.
Today, he is perfectly mastering, and continues to get better and better, his role of sporting director at Real Madrid. He - at one of the greatest clubs in the world and in a post that his introverted character is not perfectly created for - is quite incredible.
Zidane has surrounded himself with people he trusts. He learned much of Franck Riboud, Danone's CEO, who became a close friend and introduced him to business to the boards.
And then his knowledge and his understanding of play is strong, some very important. One day he will surely be a coach, there is no doubt.
He was not immediately ready at the end of his career, but six years after, things are now different. He is more at ease, more open, more accessible and also has the soul of a coach.
Parallel with his activities at Real, there is a business side of Zidane that is fully functioning. Since 2000, he has been the head of Zidane Diffusion - a small company that he runs with several family members.
Zidane Diffusion negotiates the image rights of the legendary No.10, and this is where the revenue of his sponsorship agreements with Grand Optical, Generali or Adidas goes. The brand 'ZZ' is still benefiting from his notoriety.
Today he celebrates his birthday with his family, including his wife and their four children, close friends and also former Real Madrid players. They will meet at the little world of Z5 (Z denoting Zidane and of course the No.5 he made famous with Real), his sporting base in Aix en Provence and they will play lots of futsal. He will also invite ill children who are part of the ELA, an association in which he is very involved and gives many donations.
So, on this Saturday, June 23 and before the exciting France–Spain fixture tonight in Donetsk in the quarter-finals of Euro 2012, I suggest you go and watch some videos of Zidane the player on the internet - his volleys, his turns in full flight and his genius.
Happy 40th Birthday Mr Zidane. And thank you for everything.