Spain
have become too predictable and are not an entertaining side to watch anymore, according to 48.8 per cent of
Goal.com
readers.
La Roja won Group C at Euro 2012 but stuttered to a draw against Italy before sneaking past Croatia thanks to a controversial last-minute Jesus Navas goal.
EXPERT VIEW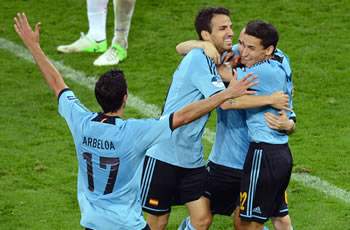 BEN HAYWARD, SPAIN EXPERT

The Spanish team, despite the murmurings of their country's press, are in good shape. The accusation that they are boring stems from their success.

Teams approach games against Vicente del Bosque's men in one of two ways; they either sit back, and look to break on the counter or they try and press Spain high up the pitch in order to force errors and retrieve the ball in dangerous attacking areas.
LUIS HERRERA, GOAL.COM SPAIN

I wouldn't say Spain aren't fun anymore; after all, La Roja have stayed true to their style and most of the squad of the past five years. The problem is on the other side of the ball.

Most teams are focusing on neutralising them, so the Spaniards face a defensive wall in almost all their games. Combined with Villa's injury and Torres' decline, that's what is making Spain not so fun to watch.
Vicente Del Bosque experimented with a striker-less formation against the Azzurri and his side struggled to penetrate the Azzurri back line without a focal point in attack, although 'false nine' Cesc Fabregas managed to grab the equalising goal in that game.
Spain are the current World Cup and European Championship holders and could make history by securing a third consecutive major championship title in Ukraine and Poland.
The national team have mirrored the style of Barcelona for several years, due to Barca's huge success and the presence of Camp Nou players in the side.
We've collated your thoughts on the matter and gathered opinion from our experts on the Spanish game on whether La Roja need to vary their game if they are to recapture the world's imagination.
Carl believes results should take precedence over style and that Spain are still a great team as they continue to win.
"They play football well and there are no style points in football. Besides, when you look at their World Cup campaign (1-0 wins a lot) it has never been as much about entertainment as it has been about playing really well."
Comparisons are drawn between the Spanish side and Barcelona and Doctor spots a crucial missing link between the two teams.
"The only reason this style works for Barca is because MESSI makes 50 yard runs from back of midfield to the opposition's goal. No Messi = Boring style."
Hew Herng is another in the 'results matter' camp, insisting that Spain's recent performances are just good tactics.
"The most important thing is to win that's what matters, passing the ball and not let your opponents have it is also part of defence. Anyway, a win is a win, not necessary fun to watch. A match can be fun to watch but you end up losing, what is the point?"
Finally, Strand believes that teams have found out Spain's system and those who can maintain their concentration will find success against La Roja.
"The Tiki-taka only lives because of the goals, without it's just boring. Just passing the ball around until a defender slips, and then plays it through, boring and predictable. They are like vultures."